Two summers ago, we visited the largest bat colony in North America, coincidentally 20 miles from us in the Bracken bat cave.  It was a fabulous evening with 20M furry flyers, and is now sadly closed to the public.  With our great niece Laura visiting from Houston last week, we decided to pile into the old family truckster and head to the second larges bat colony in North America, coincidentally 90 miles from us in the Frio bat cave.  Only 12M bats, but still all kinds of awesome.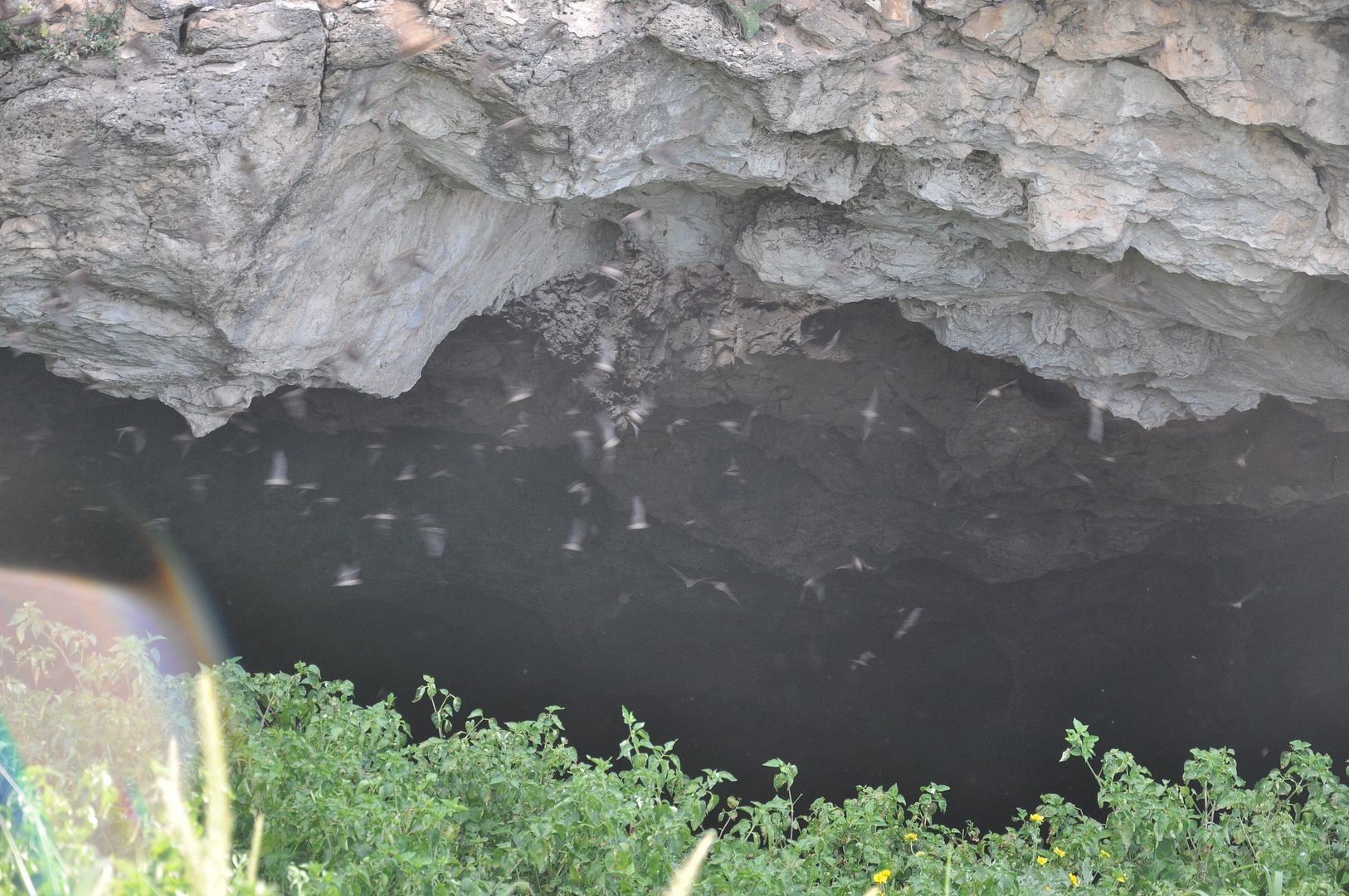 The front of the Frio cave.  You can see the Mexican free tail bats swirling, ready to fly out of the cave at an unknown signal.  These bats are nursing mamas who will return to the cave as many as four times in an evening to feed their babies.  A mother bat will feed only her baby.  If Mama becomes dinner for a hawk – and the hawks circled above/dived on the bats ferociously – the baby starves.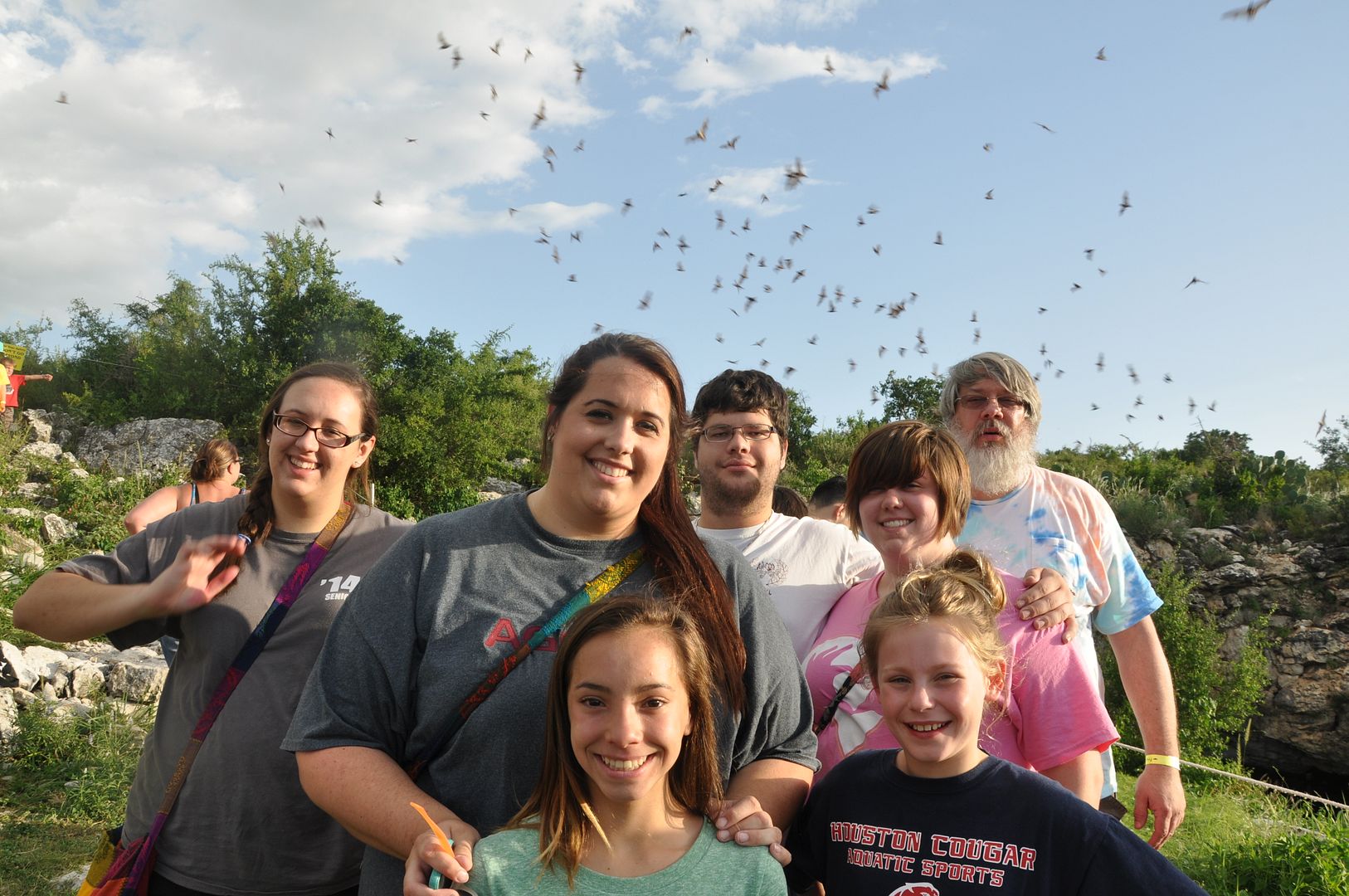 People of the Bats:  (l-r, clockwise) Hannah, Rachel, Lois' boyfriend Alex, Lois, Keith, Laura, Julia.  Hannah didn't feel so great, but still wanted to go.  Found out the next day she had tonsillitis and strep.  Lots of Gatorade and ice cream around here now.


Standing on the rocks near and above the cave – you could practically touch them. 
Keith warned the girls to keep their mouths shut while looking up.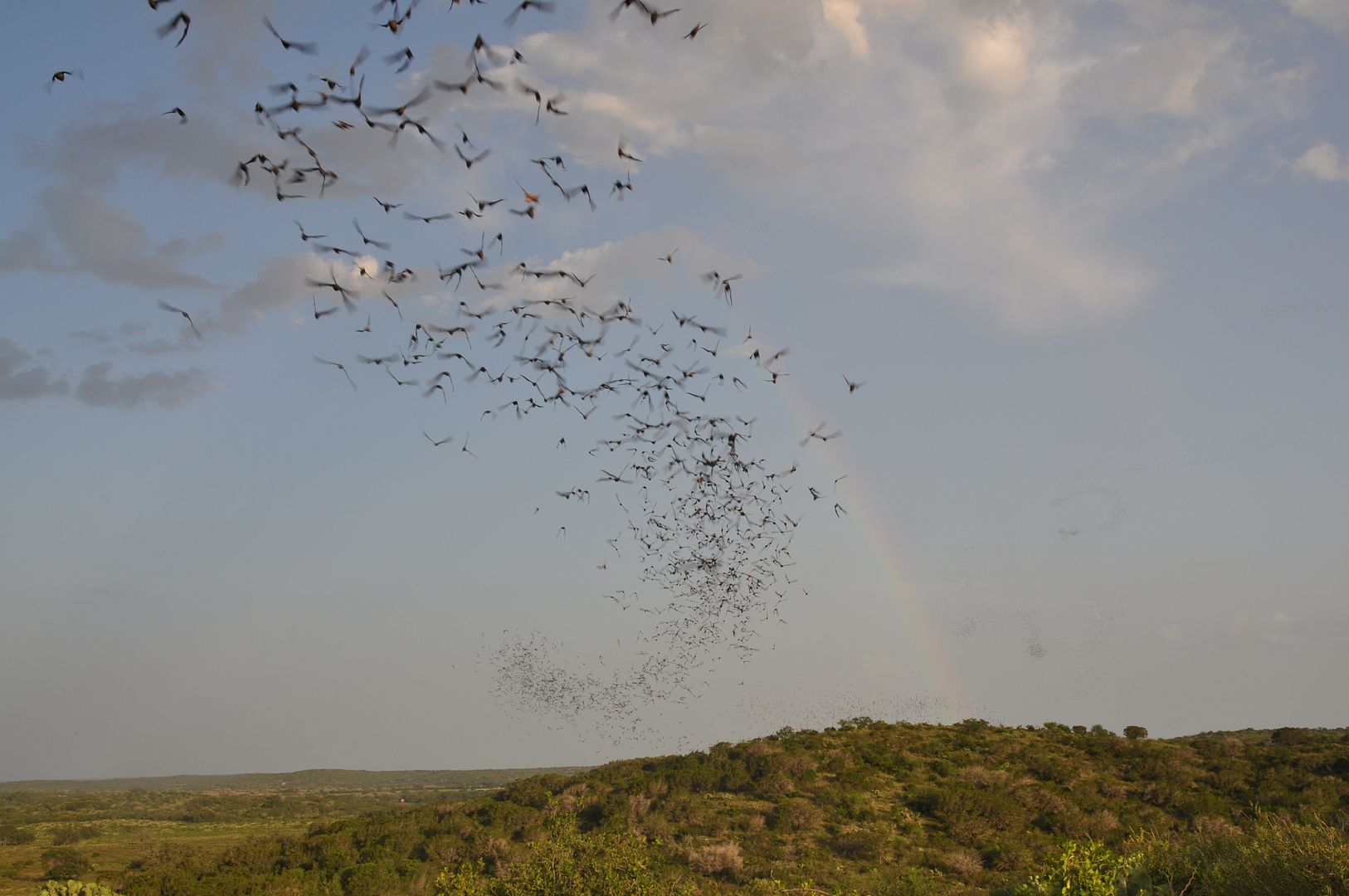 Hard to see, but there's a rainbow, and the sight of the bats silhouetted against it was just gorgeous.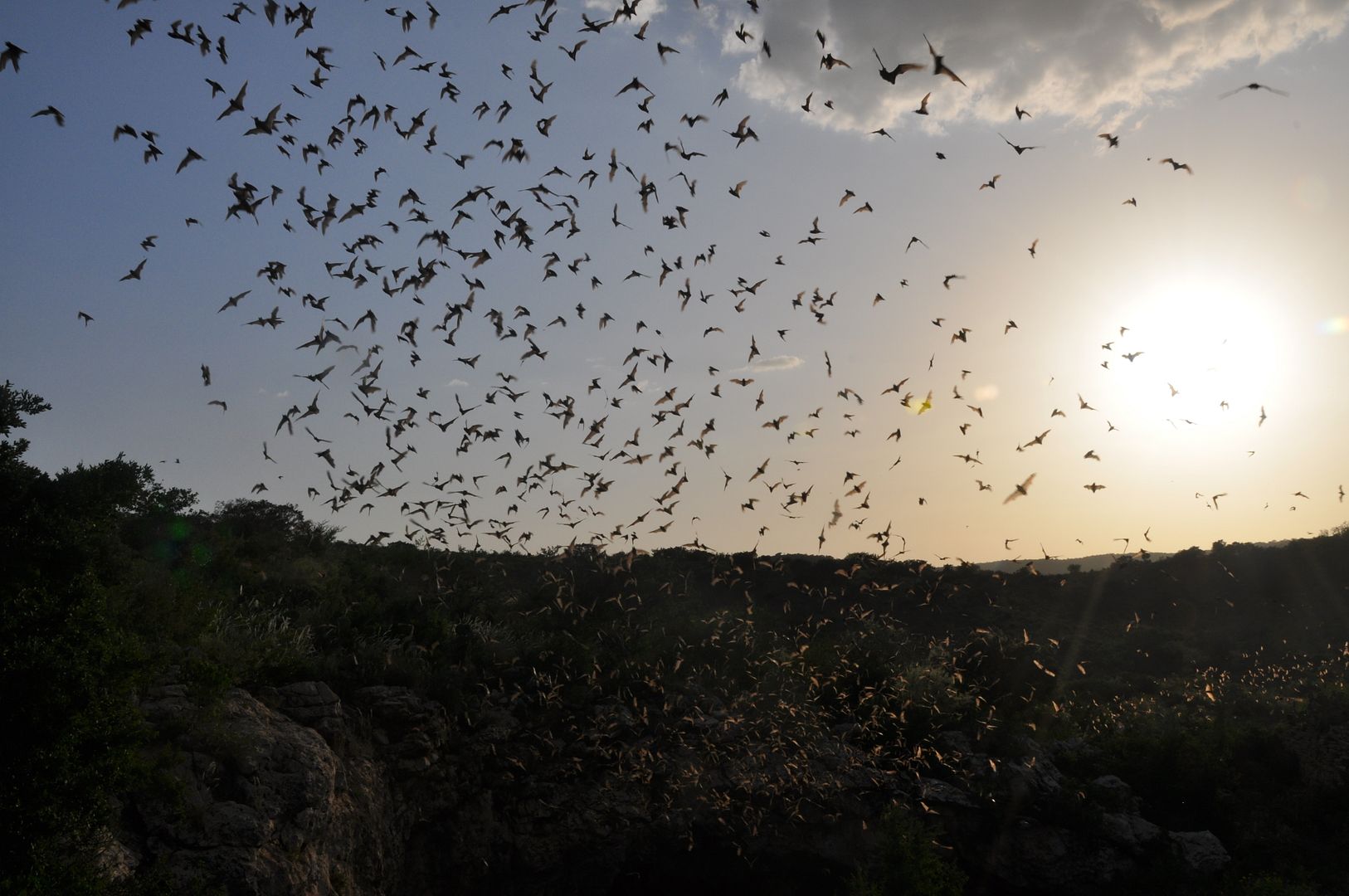 We were told to arrive by 7 p.m. – which we did – but we really didn't expect the bats to leave until dusk – maybe 8:30 p.m.  Nope.  They were flying by 7:20.  Near dusk, they were trickling out, not funneling out. 
Near the cave entrance is a giant kiln which was used during the Civil War and WWI to dry bat guano and produce salt peter for gun powder.  As Keith commented, 'Wow.  This was a munitions plant." 
While the bats winter in Mexico, their guano is harvested for fertilizer.  Keith estimated each of these large bags weighed one to two tons each.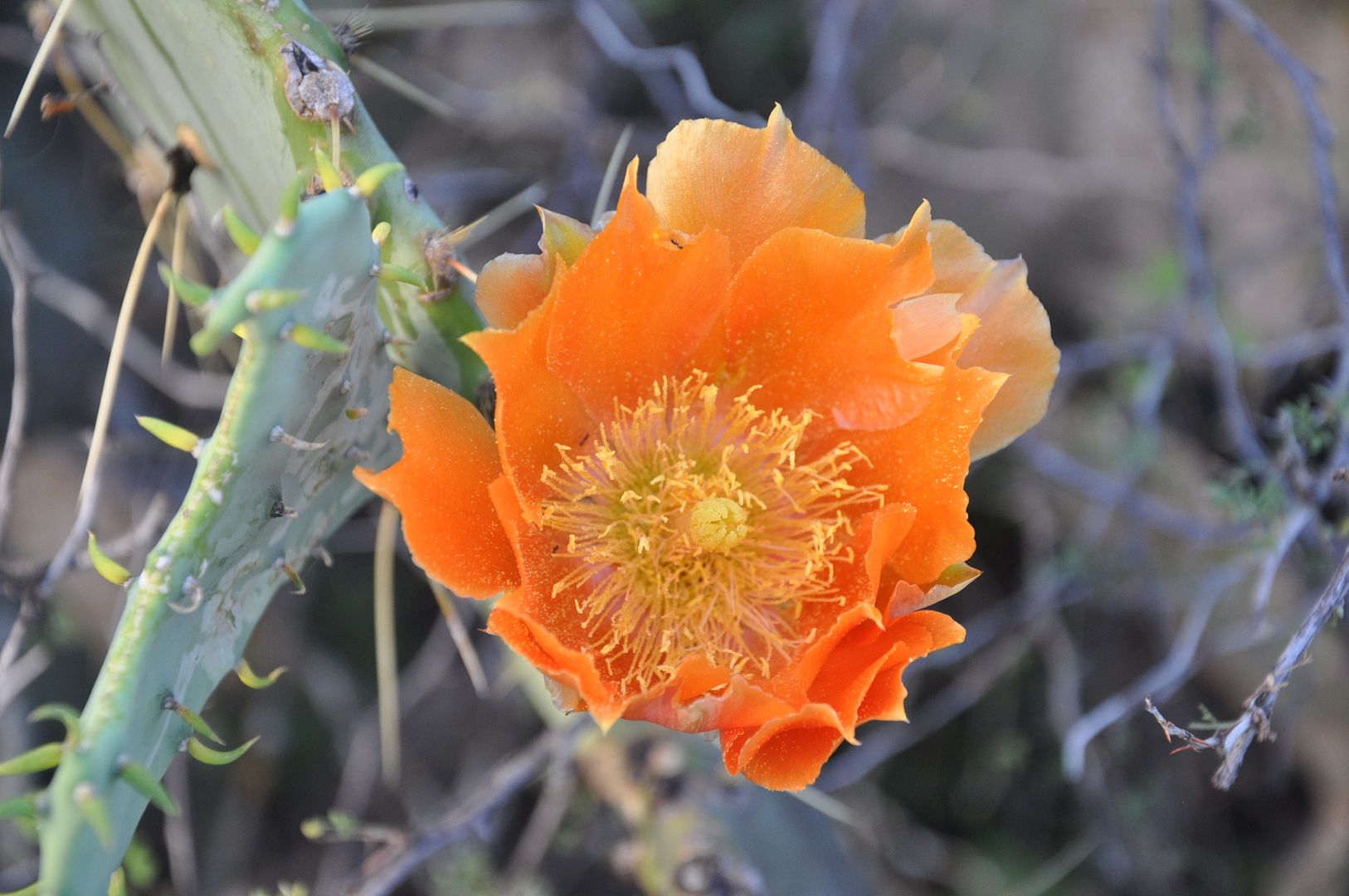 And in contrast to all that poo – a cactus flower on the walk out.
So much fun, and the eight of us in the Expedition – also very "cozy."  I think I may need the Google machine to tell me the location of the third largest bat colony in North America sometime soon.