Ten years ago this month, we lost my almost-42-year-old brother David to a totally unexpected, three-week series of strokes.  At the time, my grief was so profound I doubted I could endure the next 10 minutes, much less the next 10 years.  But – as my mother was so fond of saying – you do what you have to do.
David was born without arms or legs.  He had one partial finger on a right arm stub; a partial foot attached to his right hip.  No specific reason was ever defined and even if one had been, what difference would it have made?  What is simply is.   And you learn along the way, experiencing what most people never will.
I've had this blog germinating in me for decades.  It's time to let it loose.  This is what I've learned from living with and deeply loving a one-off (David's self-description), and associating with many other families who also have.  I ask no one to agree with me, and I'm sure many won't.  I am seldom politically correct in my thoughts, language or actions.
Be warned.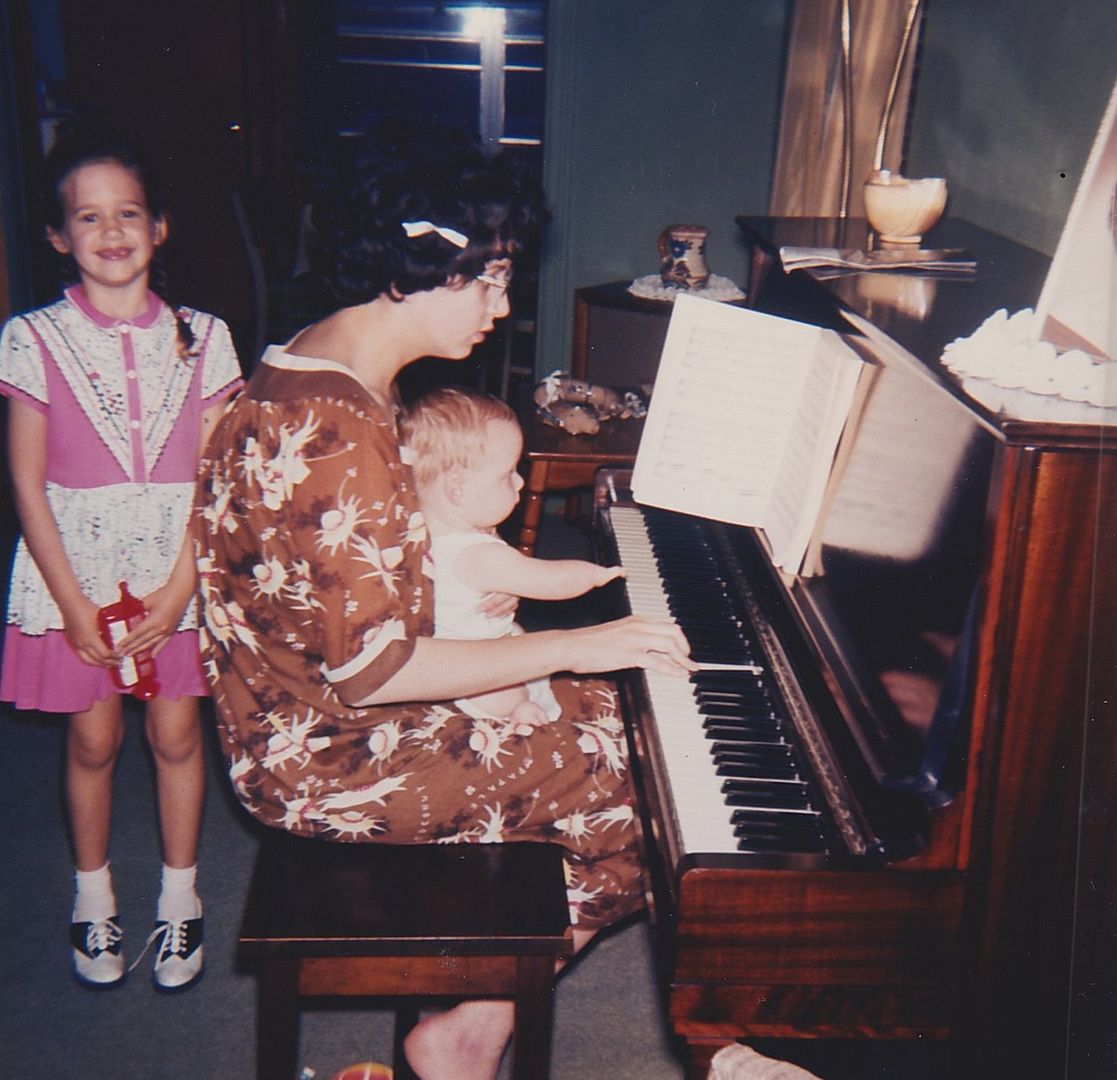 Me (5), Judy (16) and baby David at the piano, which Judy played beautifully.  A few years later, I convinced David that he could fly if he jumped off the top of this piano, which he did – three times.
What pushes you together can also push you apart.

Few marriages survive disabled kids.  There's too much blame, and too much pain.   I think it's especially hard for men who more typically want to fix things.  And sometimes people can't be fixed.  I think women who have carried a baby are going to fight for that baby fiercely.  Exceptions?  Sure.  But that's my experience.
My mom and baby David.  My parents' marriage did not survive for many reasons, but the strain of rearing a one-off was right on up there on the "why" list.
I loved David with a near-parental fierceness, but there were times I resented him, too.  The day Mom and I went to get my driver's license, it started to rain.  Mom immediately told me to turn the car around – she had to hurry home so David wouldn't have to sit in the rain in case the school bus was earlier than expected.  It was near by birthday, I wanted my license and I told her I didn't care if he drowned, this was my time.  We did get my license.
All family activities center around the one-off, not by intent, but as a natural consequence.  Hard to get a wheelchair in there?  Not going.  Can't sit through an entire movie?  Okay, no theater, we'll rent it.  He needs a new wheelchair, she needs new hearing aids, he's got to have more tutoring, there's a new whatever that might help her?  Well, allrighty, let's forget that new TV or trip to the beach.  Not easy for siblings to accept.  Love has nothing to do with how tough it can be to swallow disappointment.  Nothing.
The entire family is impacted by a one-off, and while you can be united in a passionate desire to help that child survive or thrive, the stresses along the way can blow you apart.
Real life is not a Hallmark card, or a scripture verse, or an embroidered pillow.
God does not always open a window when he closes a door.  Things don't always look better in the morning.  God does not think someone is so special that he gifted them with a one-off.  One-offs do not get compensating super powers.
Think really, really hard before mumbling platitudes, because the value of the rest of what you have to say can be tainted.
I infinitely prefer, "I'm so sorry.  You must be hurting.  I'm bringing dinner Thursday night.  Can I knock and visit a minute, or should I text you when I leave it on the doorstep?"  to, "You are so special.  Something so wonderful is going to come out of all this.  Isn't God good?"
I think God is good.  I think people are a mess.

David and me at Judy's wedding in 1965.  By then he was wearing artificial arms and legs.  Once a church elder took his kids and us to a kiddie park.  David stuck his artificial arm out of the little train; it caught on a wire fence and he went flying.

It's a tough world for one-offs.  And it gets tougher as they get older.

Nothing is cuter than a disabled kid in a wheelchair, walker, whatever.  Now fast forward 15 years, add puberty and attitude – still just precious?
Special education, the ADA, adaptive technologies – all kinds of things have helped one-offs.  But as kids get older, gaps grow wider.  The different-looking child who could handle Sunday School doesn't fit in at youth events.  The toddler who could be lifted grows into the teen that can't be.  The young adult with the minimum-wage job slowly realizes that's the best he's going to do.  Always?  No.  But often.
Some people try to get past the different-ness and treat the one-off as a person who's just like the rest of us – neither all saint, nor all sinner.  Some people don't try.  I want to shake them.

David and me in 1981, when he moved himself to Austin.  Mom was not happy with his leaving home, but he (rightly) knew it was necessary.   In his teen years, David ditched the artificial limbs.  He could do 100x more without the encumbrance of plastic arms, and the legs were simply awkward stilts.

There is never enough.  Go figure.
There is never enough time, money or any other resource to do what you think needs to be done for a one-off.  Living requires solving an ever-shifting complicated equation with lots of pluses, minuses, and derivatives, but seldom an equal sign.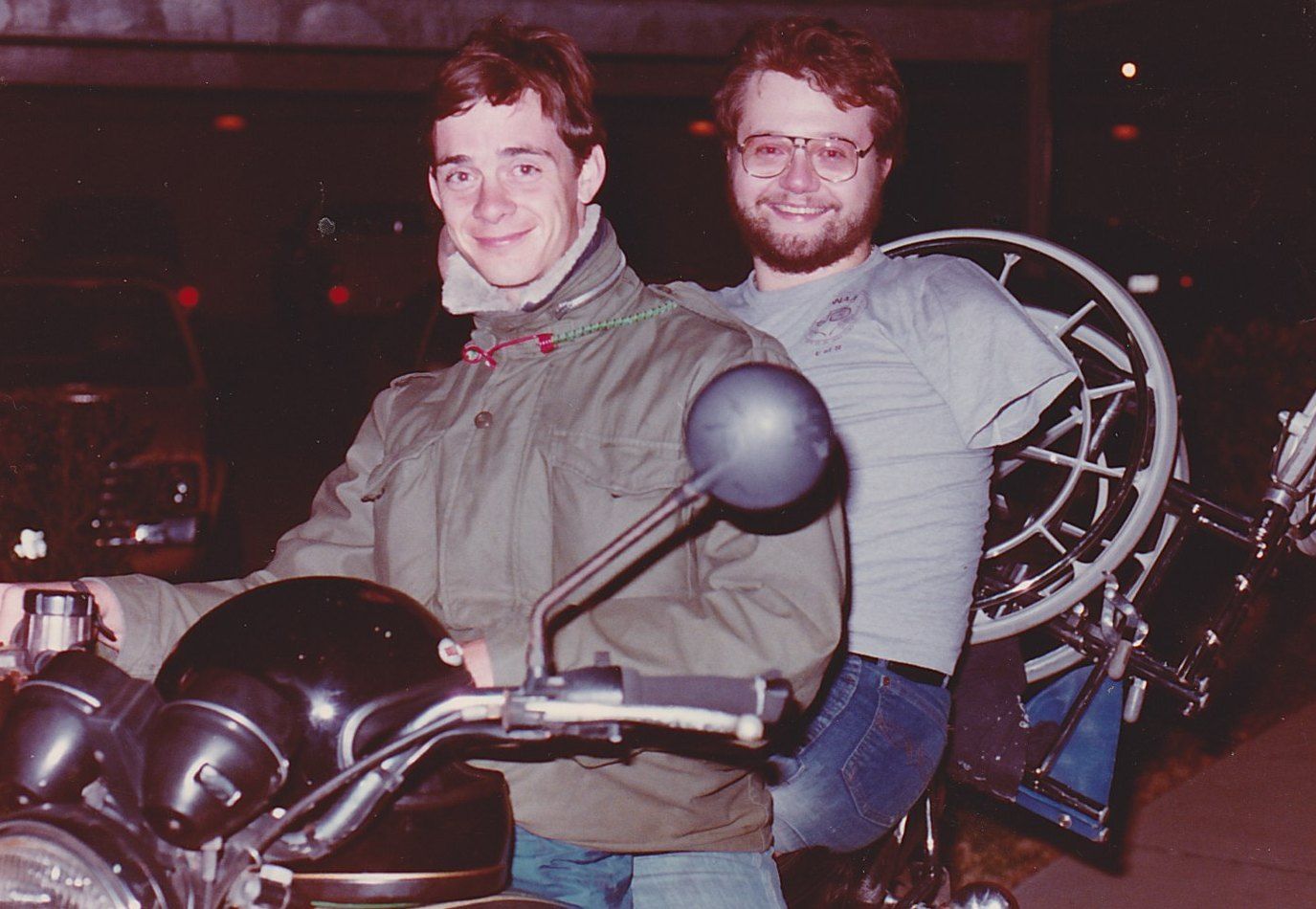 In the wee hours one morning, our condo guard called to tell me I had a visitor.  As my sleepy brain started to clear, I thought I heard a roaring engine.  I thought, "I hope that's not David on a motorcycle."  It was David on a motorcycle.  He'd hooked his one finger into a bungee cord around his friend's neck and ridden from Austin to Houston with his wheelchair strapped on back.
Realism.  It's necessary.
Not every child is going to be President.  Sometimes working at Goodwill is at good as it's going to get.  No amount of tax money shoveled into a school district is going to compensate for a child's inability to learn.  Only really gynormous institutions (like churches) that aren't legally-required to do so are going to be able to accommodate most one-offs.  Not every stray comment or request is a slight.
When David was in college, he worked in Washington, D.C. for a summer producing a disability-something slide show for the Navy.  He didn't get along with co-workers or his boss, who was blind.  He routinely rearranged her office furniture and constantly complained about his work group.  Mom wailed one night that his co-workers didn't like him because he was "handicapped."  I snorted, "Or maybe because he's a jerk."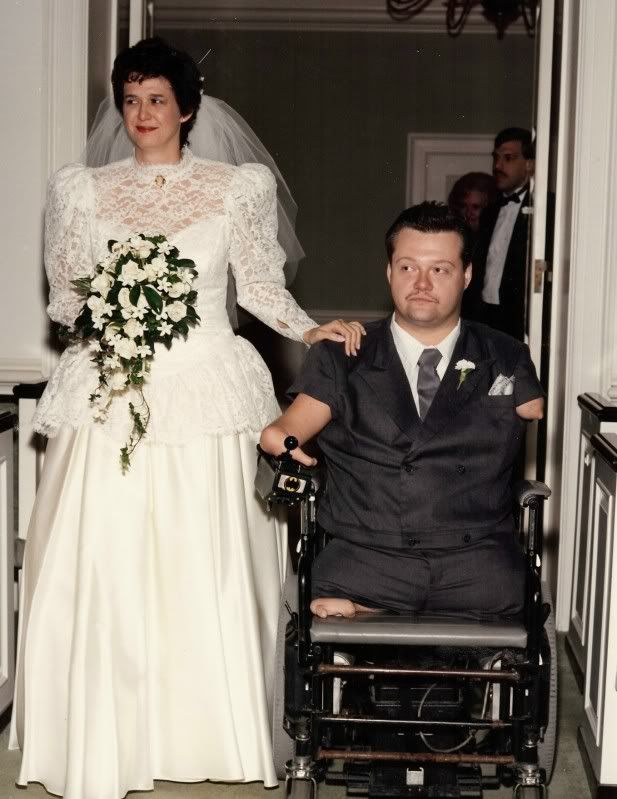 David walked me down the aisle when Keith and I married.  We had practiced in street clothes, but not in our wedding attire.  About 3/4 of the way down the aisle, my dress caught in his wheelchair and slowly began feeding into the motor.  When I felt the tug, I realized what was happening and started hissing, "Reverse!  Reverse!"  He whispered back, "I can't!  I can't."  Finally our minister uncle – who was marrying Keith and me – joined our brother-in-law in freeing my dress.  If one of our girls wears it one day, she'll be sporting a faded grease spot in the back.
I learned a lot being David's sister.
And today – like many days – I'd trade a lot for one more day of it.