….smack into the holidays, and me still in a cast for this broken wrist.  Sigh.  My dear friend Linda and Rachel helped prepare side dishes just before Thanksgiving, and my brilliant niece Sarah did most of the cooking on the big day.  Good thing, or it would have been mighty slim pickings around Casa Woodworth.  As it was – we feasted, and with four of America's heroes from Lackland Air Force Base.
(l-r) Avery from Michigan;   Jake from Arizona; Kyle from Oklahoma; Jimmy from California.  We love living in patriotic San Antonio with its Operation Home Cooking.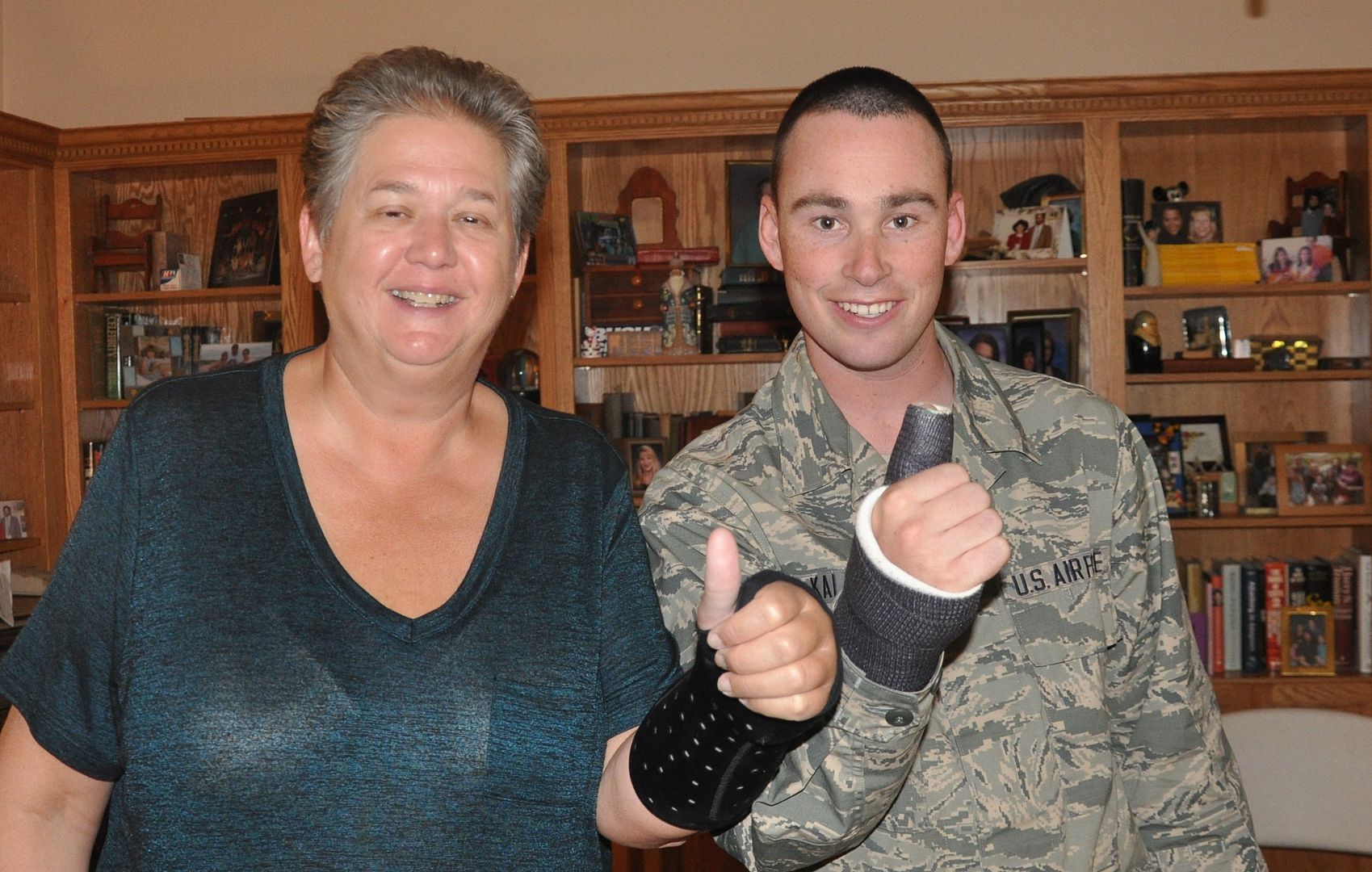 Jake and were "twinning" with broken wrists.  We compared the joy of tying shoe laces, cutting meat, carrying more than one plate, etc.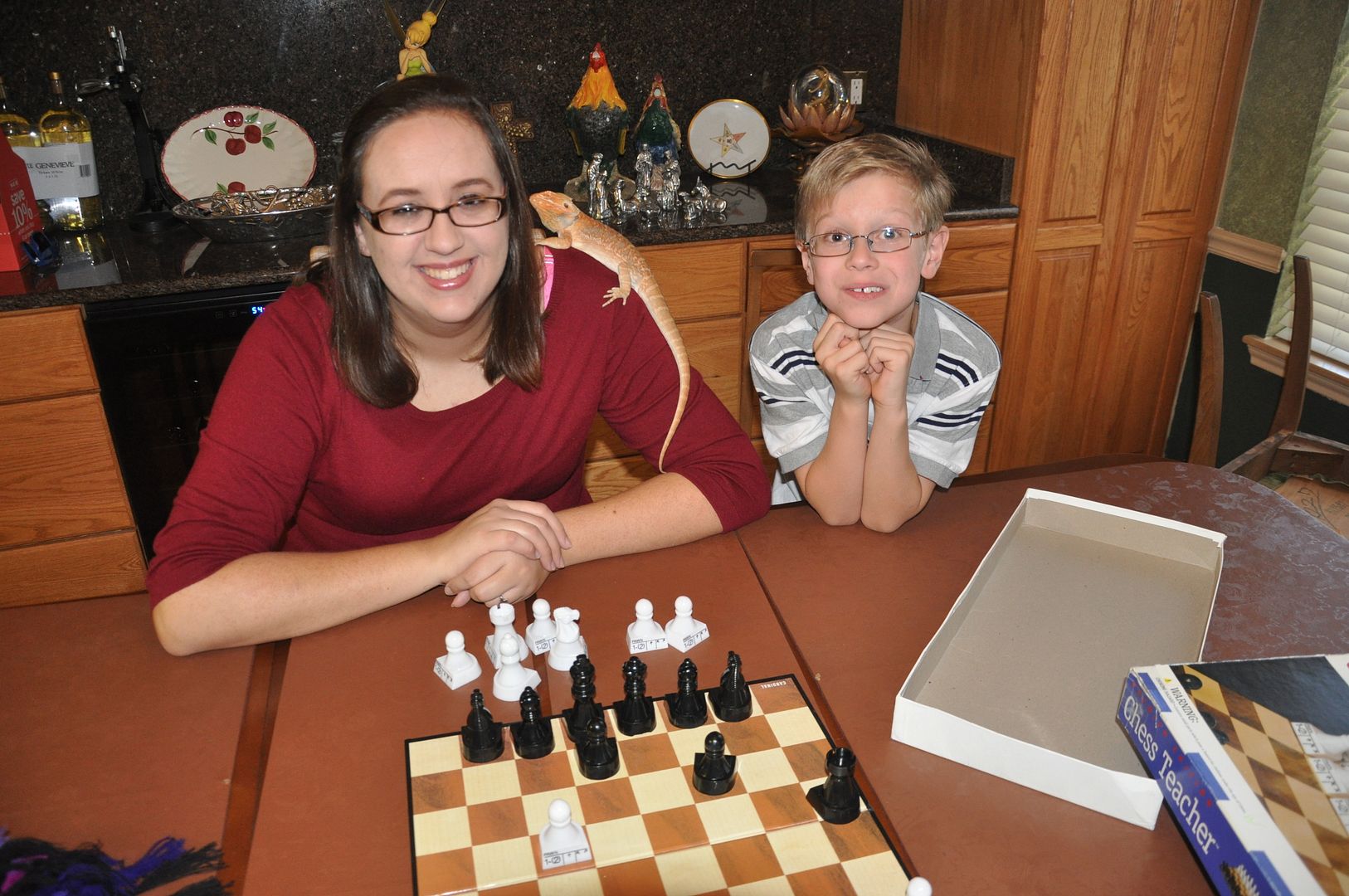 Some pre-dinner chess with Hannah, great nephew James and Rachel's lizard Louis.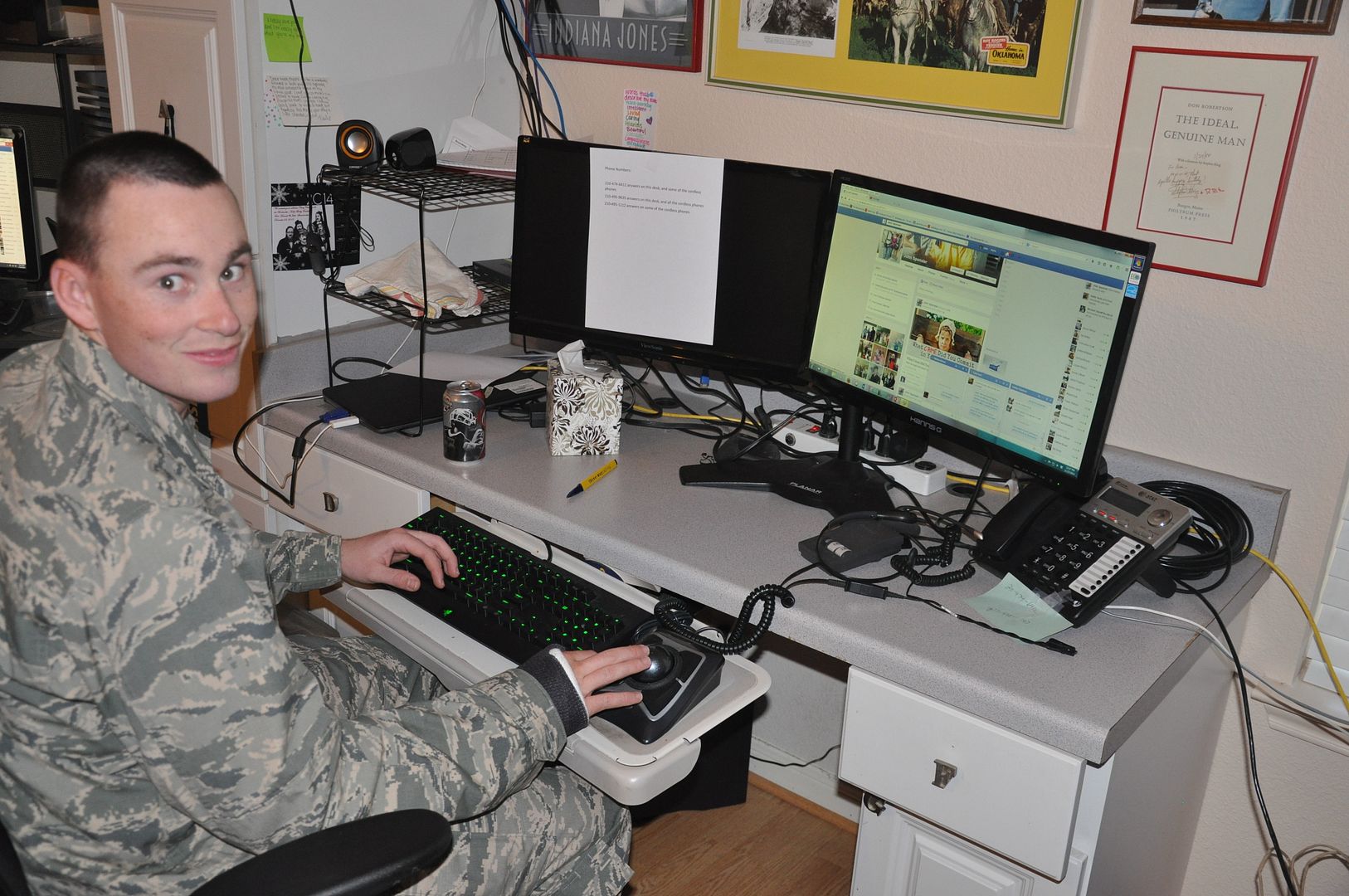 Gotta check up on Facebook!  We've learned to tape our phone numbers around (as shown on the left monitor) so if a family needs to return a call, the guys know our numbers.
The airmen generally "run out" the cordless phones.   We have three phone lines they can use, with a confusing array of instruments.  If you pick up the line and someone is talking, pick another line/device.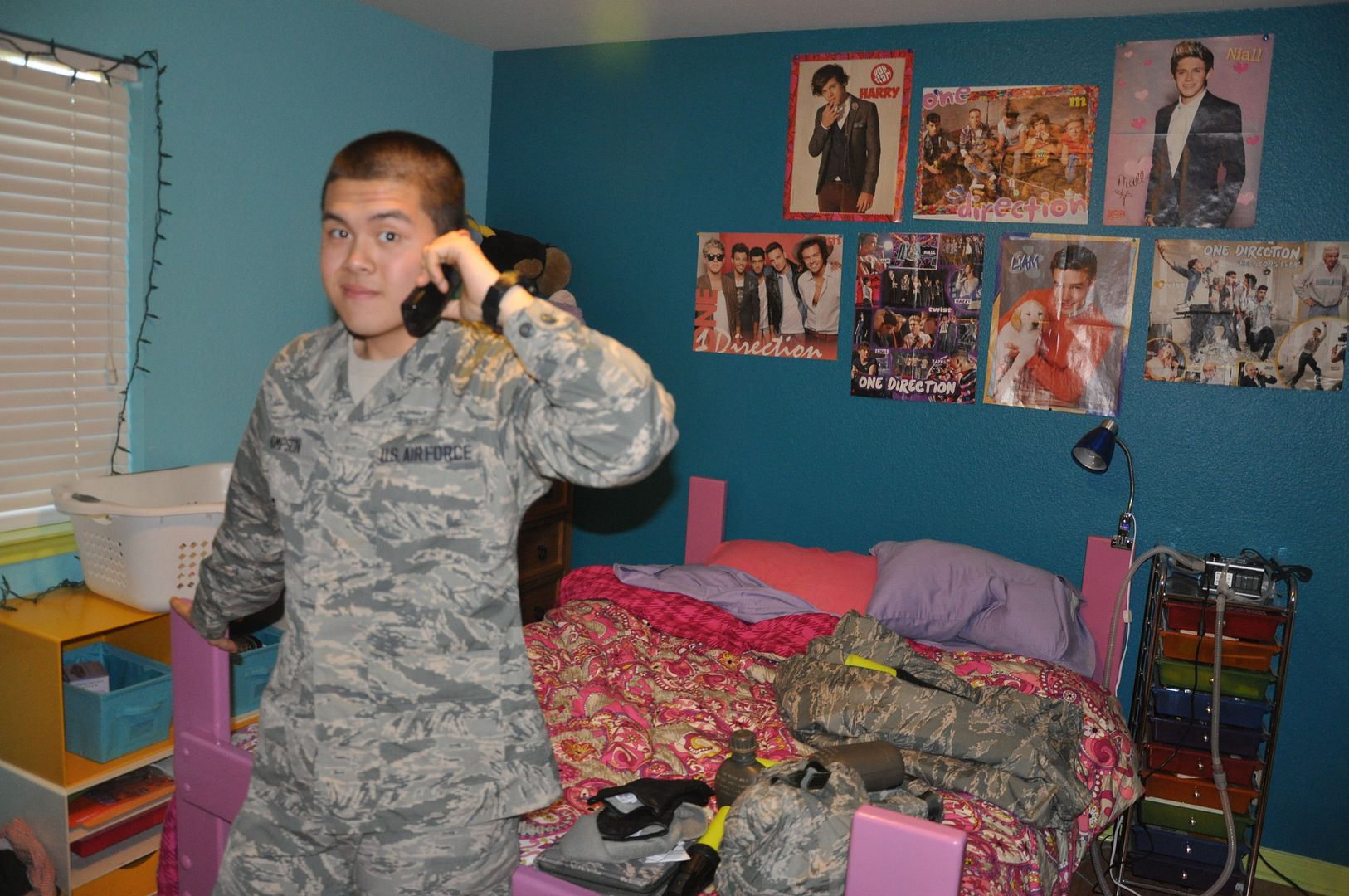 For a little more privacy – Julia's room .  Jimmy's uniform looks a little out-of-place with all the Vera Bradley and One Direction decor.
A little boogie woogie for Kyle's girlfriend on Skype (screen behind him)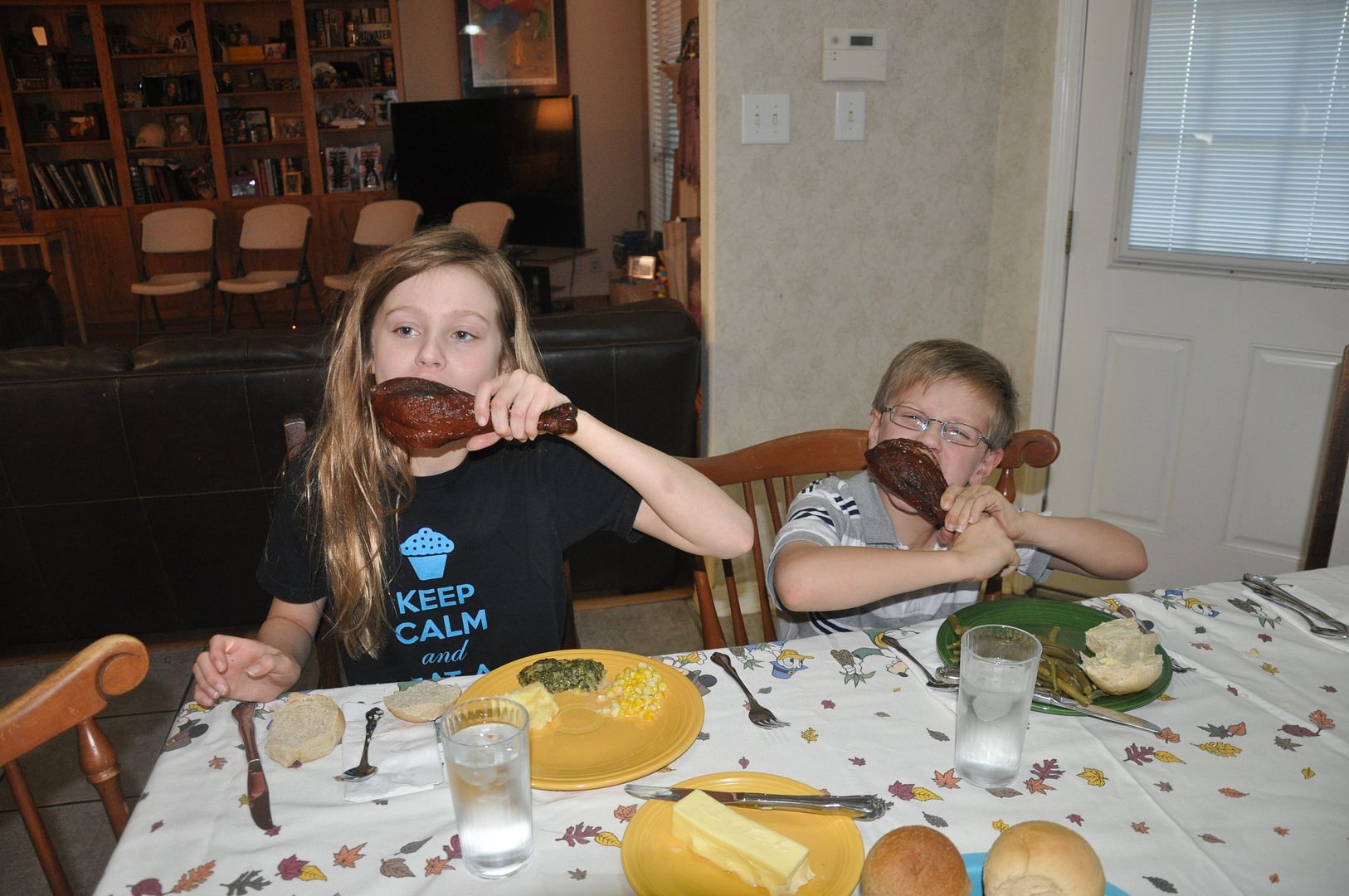 Laura and James scarfed two of the four turkey legs.
Our much-loved Houston family left yesterday, so we've had time to clear away the remnants of Thanksgiving, and get the Christmas tree decorated.  Best of all – we got out our Christmas Fiestaware, and Keith surprised me with several new plates.  Be still my heart, I love Fiestaware.  And….truly…I just love fiestas in general!
Feliz Navidad, here we come!