I just celebrated my 35th service anniversary with AT&T.  By "celebrated," I mean I got some very nice congratulatory emails/letters, a new watch and Keith and I get to go out to dinner soon.  I choose a watch as my gift for my 25th and 30th anniversaries, too, so, I've told my boss – she can't fire me for five more years.  I need four watches – one for each daughter.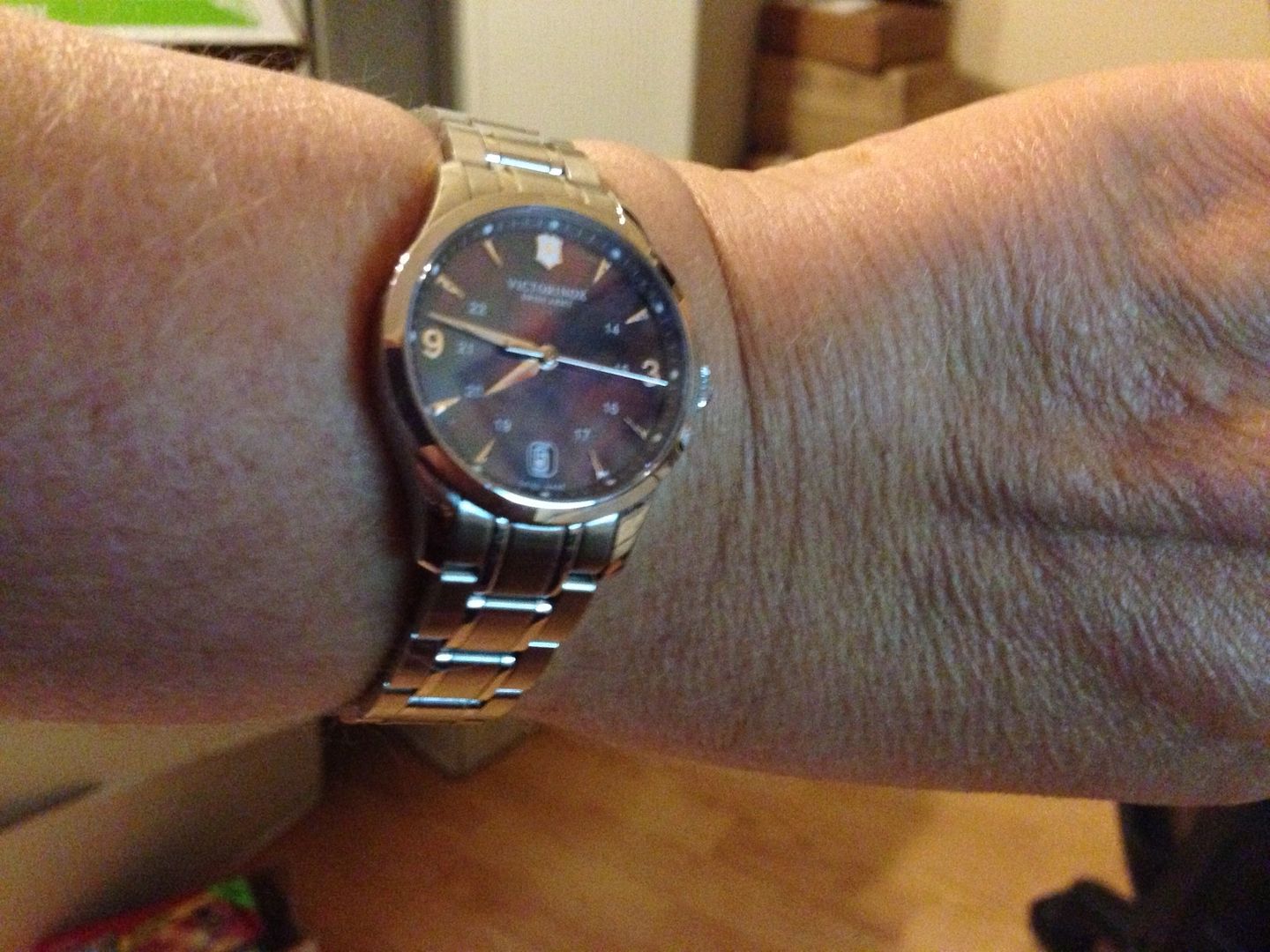 Sorry, kids, I like a watch to tell time – not a cell phone  I gotta dig out of my purse.  And I like a nice big dial.  And no extra buttons.  A few years ago, I bought a cheap waterproof watch to wear during our frequent trips to Fiesta Texas.  Somehow I set the alarm for 3 a.m.  I could not figure out how to un-set it.  Finally I stuck the watch in the bottom of my underwear drawer and waited a few months for the battery to die.
A lot has changed in 35 years.
I plopped my briefcase at 23 different AT&T desks before starting to work from home in May in 2013.   I worked for AT&T, then Southwestern Bell, then Southwestern Bell Telephone of Texas, then SBC and finally AT&T again.  When I started with the company in 1979, I had to return to my former employer – Remco TV Rental – and swipe a phone book because they were all out at 9051 Park West in Houston.   Calculators were considered a "capital expense" and hard to get, so my creative boss found a company to bill the $100 wonder over three months.
Now any phone book left on our doorstep goes straight into the recycle bin, and if Excel doesn't total it, I whip out my iPhone.
I was the first in our work group to get an IBM System 36 in 1986, but it wasn't totally necessary for my job.  Now I die a little inside when my laptop is slow to boot.  It was a red-letter day when I got a speakerphone in 1988 and my unit could cluster around to ask questions of a plant foreman, or an M&P writer.  My friend Kim Soo described its color as "baby poop yellow," but I thought it was the most beautiful thing I'd ever seen.  Now I am tethered to a headset, and once I log off for the day – forget the phone, I curse every ring.
I don't miss working in an office.  I surely don't miss the commute, or the noise, or the odd lighting.  I do miss having friends I can see, though.  Yes, believe it or not, I still have working AT&T friends, and I treasure them.  But I can't see if their eyes are bloodshot, or if that limp is still bad, or if they're ducking their heads when they say "it doesn't matter."
(clockwise, l-r)  Vicki (retired), Maggie Bob (retired), Gaye (quit), Me, Lisa (retired), Lisa's Kristen (grown up), Donnette (quit) and Kim (retired) soon after I went to work for the company.  We used to actually eat lunch – together!  And sometimes dinner, just for fun.  Crazy.

But lots hasn't changed either.  Not really.
Good managers are still good managers.  And others…well….
My friend Vicki used to say "a good manager can manage anything."  Oh sure, plenty to quibble with there – but largely, I think she's right.  And good managers are still good managers.  The kind of people from whom I used to sit across a table during monthly/annual close (Accounting) and know they were doing their jobs so I could do mine – now I just talk to that same type of people on the phone, and we share documents in T-space.   They're reliable and mean what they say and don't confuse activity with productivity.  They don't wait to be told, and they don't have to bully to get their way.  They're not afraid to express an idea or an opinion, and they support others that have good ones.
Mechanized means faster, but not necessarily better.
I'll all for mechanization of tasks, but when it's not well thought-out, it just means you make more mistakes faster.   So do it right, or don't do it.  I used to roll my eyes when my mom said, "That's what you get when you try to hurry."  Now I understand it.
You still have to look in a mirror.
So your boss used to see you come in, knew when you went to lunch, knew when you went home, etc.  And now so many people are remote – or, like me, working from home, so who really knows?  Well, in my case – I do.  I used to marvel that someone would risk their job by stealing a pair of scissors (jamming down a opened blouse, no less), or falsifying a time report (How many dead grandmothers have you had?!)  Now when I learn someone is a cheater, I am irritated – but I also fear for society.
There's still a place for fun.
Granted, no more skits, or leaving a Baby Ruth in the toilet bowl for the QWL Manager to find.  But there's some hilarious stuff posted in Q-rooms, and one joke on a conference call can lessen a lot of tension (of which there is often a prodigious quantity.)  Plus Facebook – yeah, that's a place lots of us work friends whoop and holler.  I used to say it was harder to get/stay mad at someone I'd met – still true.  But now it's also harder for me to get/stay mad at someone whose life I share digitally.
Ready or not, here it comes.  There's always something new to learn.
None of the jobs I've done since 1997 existed when I came to work for the company in 1979  – certainly not my current one working with super users and the content of the AT&T Community Forums (which I love, BTW.)  But wow – never get too comfortable.  There's always a new product, a new organization, a new "something" coming.   I'm not a fan of much hype – don't tell me how wonderful it is, just tell me how it fits and what I need to do.
You can still do good things.  Or not.
We don't pass envelopes for baby gifts or funeral sprays any longer – but paypal, hey, it works.   A congratulations or sympathy card mailed to a home address still gets there.  eCards just take a minute to send – and many do.  Kind words are still kind words, whether said in person or by email.  And my AT&T – and/or retired/former AT&T friends – remain the biggest source of selfless gifts to Samaritan's Purse Operation Christmas Child in my world.
Our game room is now – and will be for a few weeks – an "Operation Christmas Child Disaster Zone." 
So Happy 35 to me!  And at least five more.  I need that fourth watch, people.