When Rachel was born in 1991, Keith and I started a secret tradition.  Unbeknownst to our girls – I crafted a letter for them each year.  All year long, I dropped happenings, thoughts, and later blogs and Facebook posts into a single letter.  Each letter had family news at beginning, and then a specific section for each girl.  Each girl also got a tree ornament for the year, or something that could be used as a tree ornament (like key chains, American Girl grin pins, etc.).  The intent was always that the first girl to move out would get her set of letters that Christmas.  Then the jig would be up, and everyone would know about them.
Rachel got her letters and ornaments tonight.  Lois, Hannah and Julia each have a set of letters waiting, too, for when they move out and will get tree ornaments this year forward – but no more letters.  The element of surprise is (rightly) ruined now.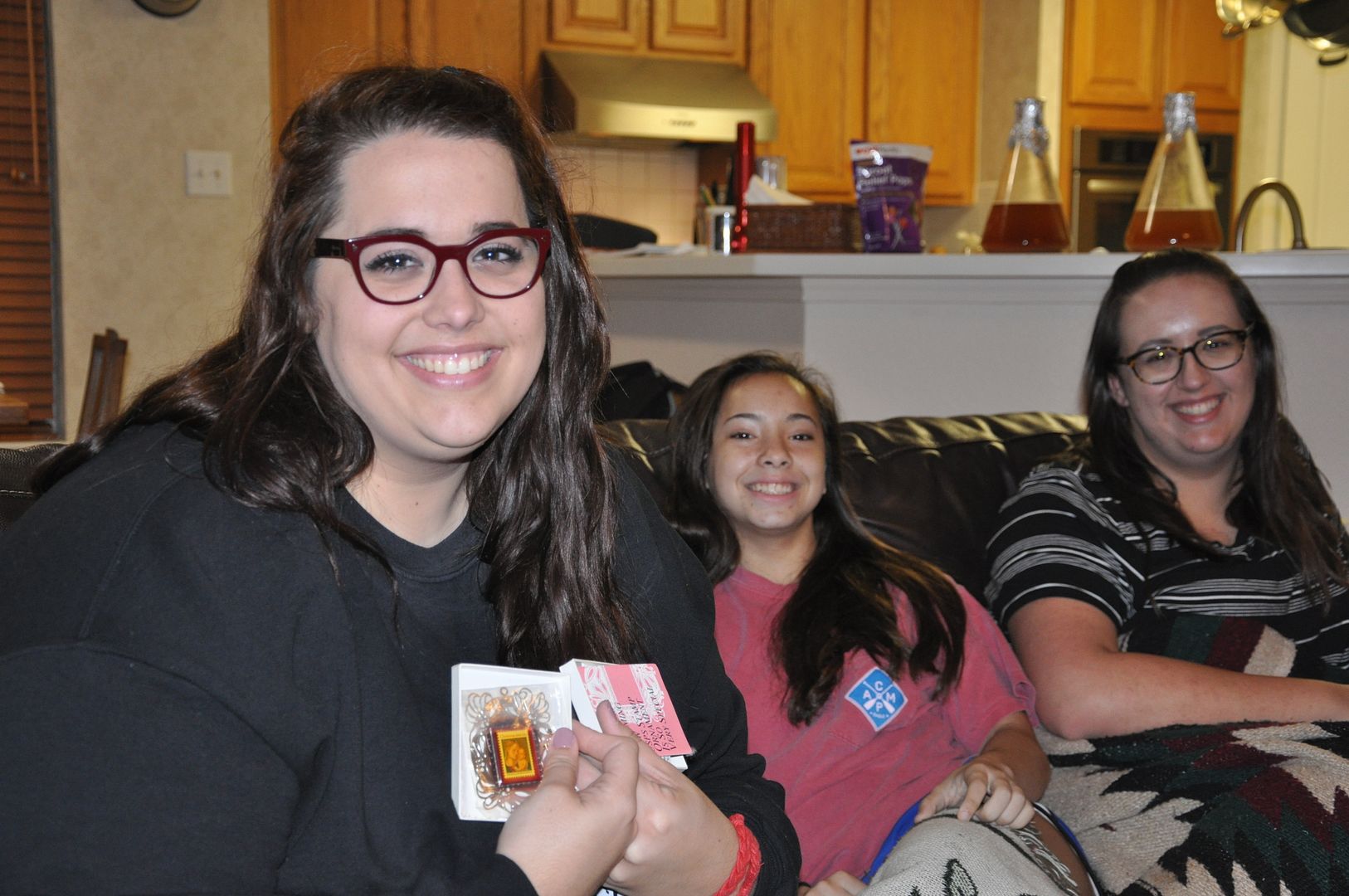 Rachel's first ornament – vintage 1991 – was a Post Office replica of a Madonna painting Keith and I had admired at the Houston Museum of Fine Arts.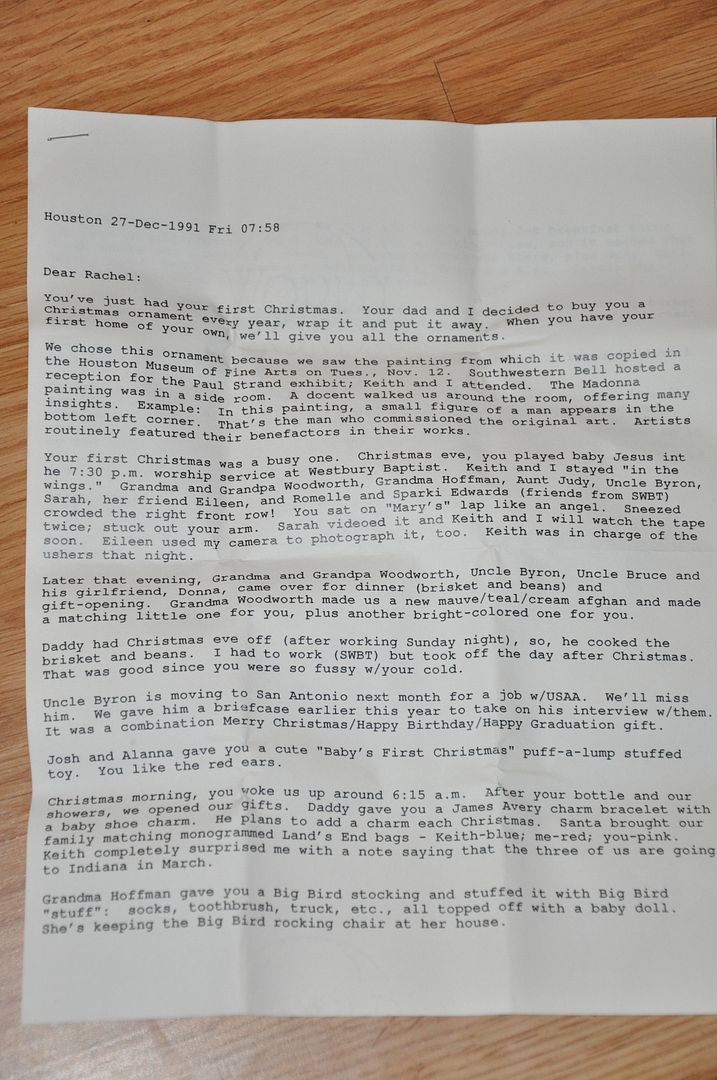 I did not keep copies of the letters and had no idea what was in them.  She opened only a few tonight.  I'll be glad when she opens them all so I can read them.  Of course, I'll need to be invited over to do that…like maybe for dinner, hmmmmm, Rachel?!  I'll be sure to drop my shoes 'wherever' and put my dirty plate near the dishwasher.

Hannah was surprised as Rachel read Hannah's portion of her 2000 letter:  "One night at Wendy's I heard you making a loud slurping noise in the toilet next to mine.  In response to my 'Hannah, what are you doing?' question, you replied 'I'm drinking toilet water.'  I was trying to pull up my panties with one hand and bang on your door w/the other when you sauntered out holding a Frosty cup and straw and said, 'Freaked you out, didn't I, Mom?'  That same evening at HEB, you lifted up my skirt and applied a package of frozen sausage to my backside after I failed to react quickly enough to your grabbing my wrist after you'd put your cold hand in the freezer.
I turned on the local Christian station to hear David Jeremiah preach one morning in December, as is my custom, but the sermon was a few minutes late.  'Go Tell It on the Mountain' was playing.  You asked if we could turn the station; I said no, my favorite program was coming up, and it was about Jesus.  And I asked, 'Hannah, don't you want to learn about Jesus and be a Christian when you grow up?'  To which you sighed, rolled your eyes and replied, 'Not if I have to listen to this music.'"
The early letters were short and easily inserted into boxes with the ornaments.  I wrapped each with the girl's name, and the year.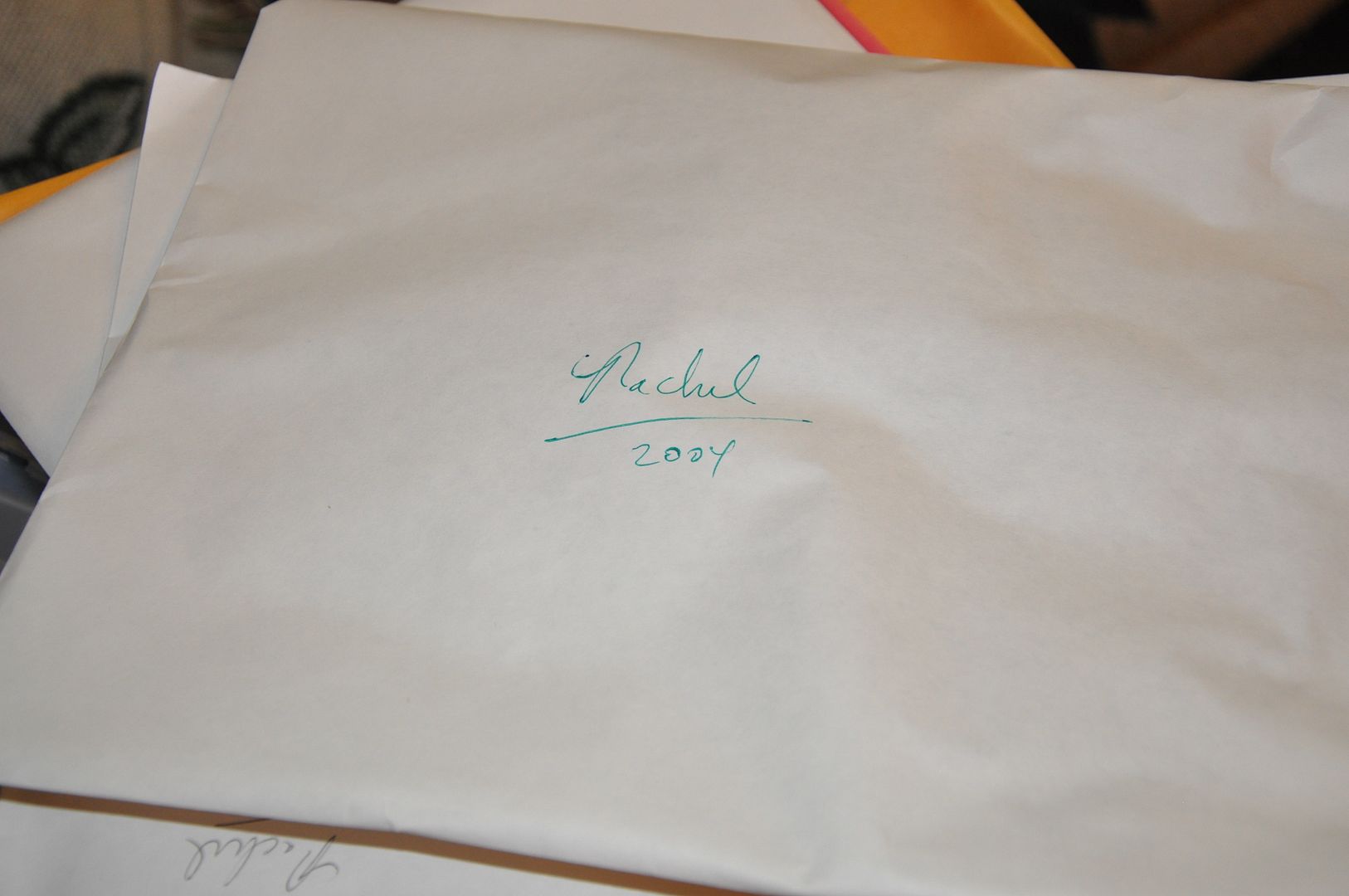 Later letters were longer and needed to be inserted into large envelopes.  I have no idea what's in 2004 other than it was the year David died.  One of the most bittersweet aspects of any family history is the people not there to enjoy recounting it.
Recent years – like 2011 here – had to be spiral bound.  Rachel opened only a few tonight.  I believe years 2012 – 2015 are in binders.

I'm still a little surprised they never discovered what we were doing, and/or that none of our friends that knew told them.
So thank you, friends that kept the secret.  Tonight was fun!  Who knows….maybe I'll write you a letter about it.