Keith and I have been married 25 years this month.  Though – as Indiana Jones so wisely observed – it's not the years, it's the mileage.
We decided to put some mileage between us and the workaday world to celebrate.  What better first-ever-vacation-with-no-kids than a cruise?  Nothing's better, that's what.  I love our family vacations, but they generally involve a few hours in the car (which I despise), cooking/freezing ahead of time (work), massive laundry loads (more work) , "finding things," settling arguments, washing dishes, bagging trash, etc. (even more work.)  A cruise – you pack, you get there, you get on the boat.  Everything else is a choice.  THAT is a VACATION.
So it was off to Miami and then the Western Caribbean for us!
The Carnival Glory – and how glorious it was to have an upgraded room offered to us at a very reasonable cost days before sailing.  The service was great, with one exception – I think their tendering (boat to shore as opposed to docking) process needs some attention.  Too much wasted time and cattle herding in the stairwells.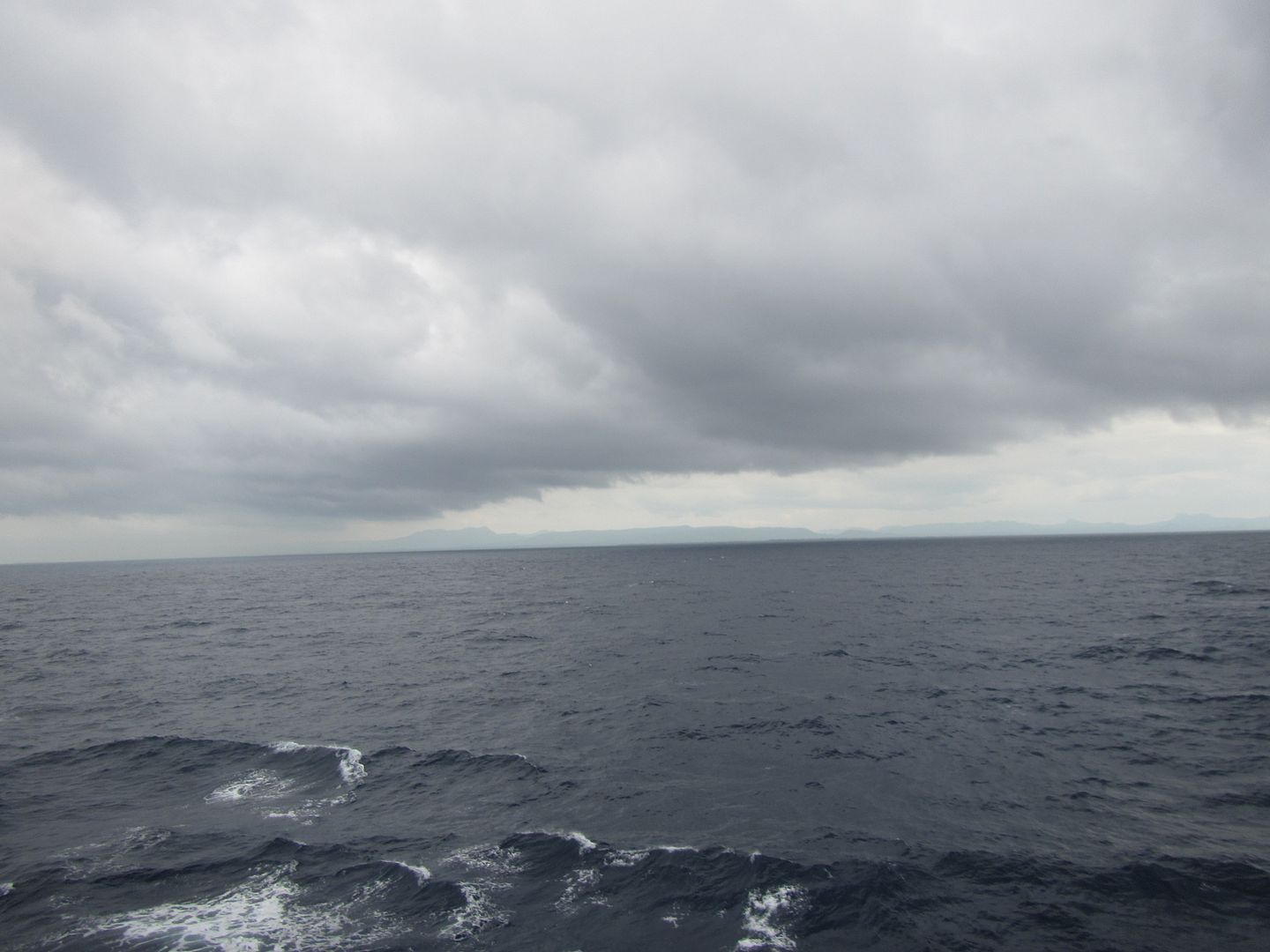 Likely the closest we'll ever be to Cuba, which is seen on the horizon.  Views from the balcony were my favorite part of the trip.  We started every morning and finished every evening in the fresh air.  Keith and I would just sit on the balcony and remark on the clouds, the waves, other boats, the occasional bird, etc.  No drama.  No phones (shudder.)  No interruptions.   Just the sound of the waves, the smell of the ocean and the feel of a breeze.  The first two nights, we each slept for 10 hours, plus napped – ridiculous, right?  I didn't realize how really tired we were.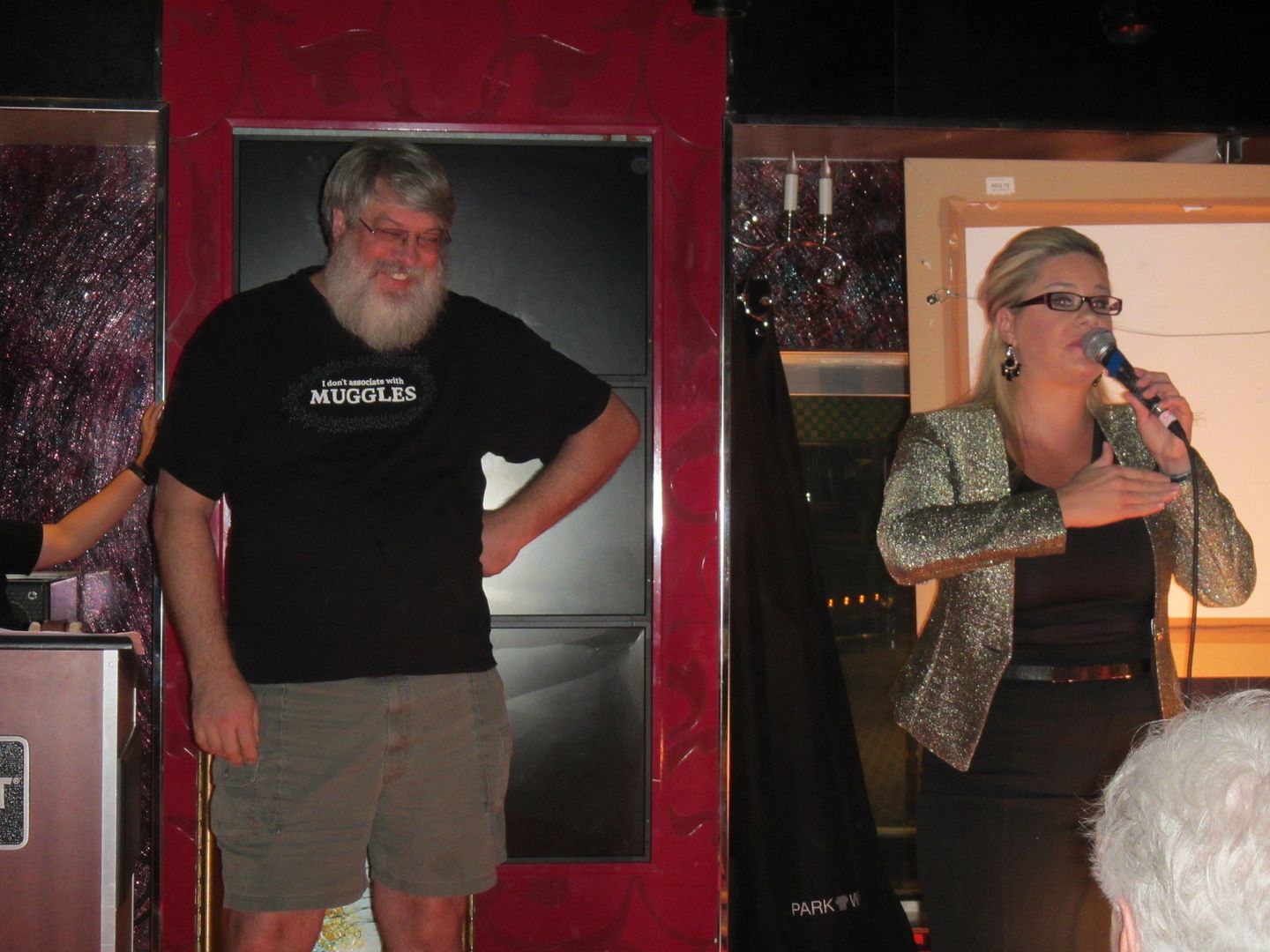 Did someone say "free champagne at the art auctions?"  Naturally, we had to go.  Keith was chosen by the auctioneer to hurriedly recite all the bidding numbers in the room, which he did – winning all of us a free print.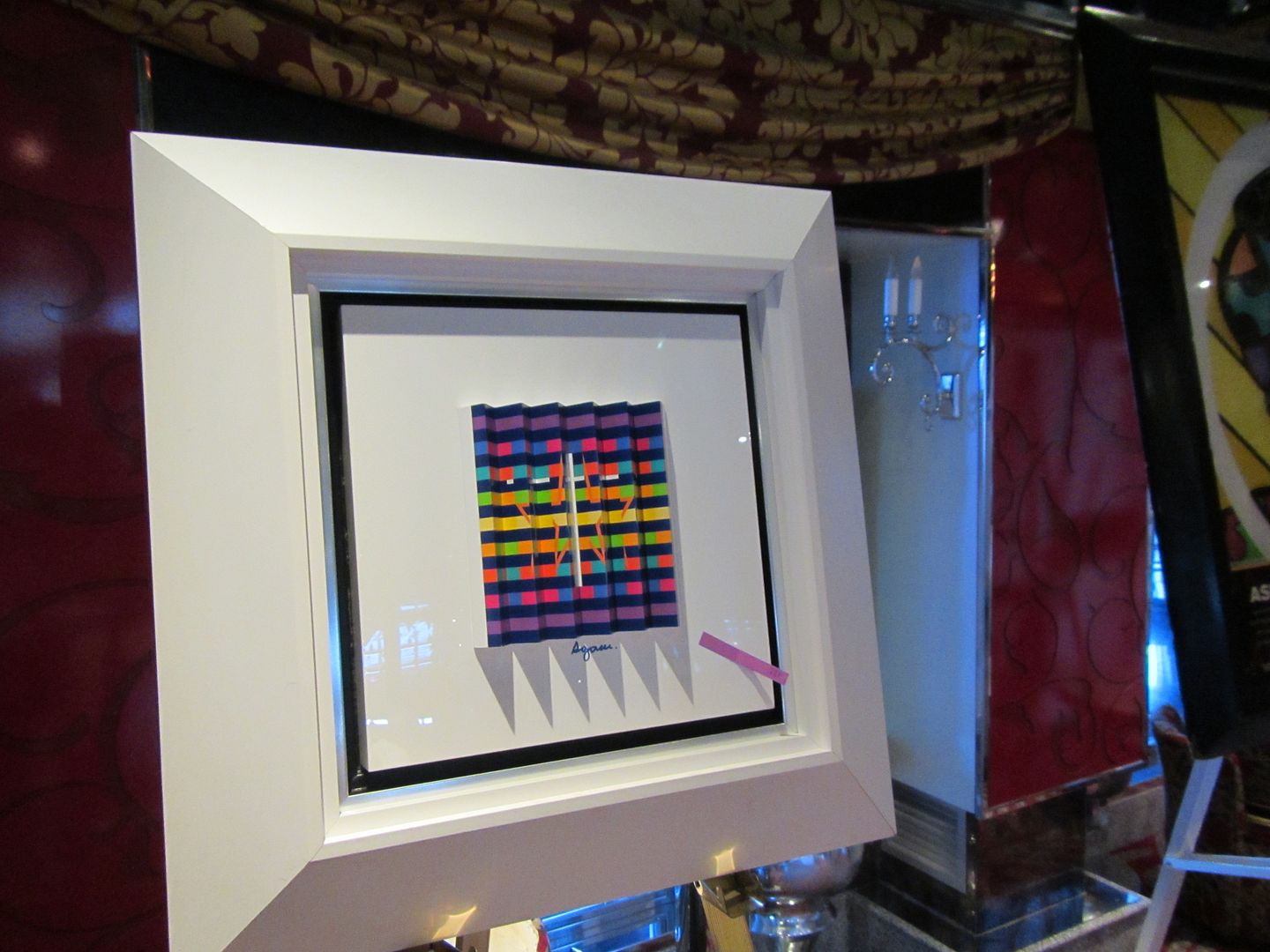 I much admired – but did not buy – this Yaacov Agam geodesic.  (Repeat after me:  "Three kids in college, three kids in college.")  It was only $4,500, should you be looking for my birthday gift.
I confess:  I love the Carnival pillow (towel) pets each evening, plus the turn-down chocolates. 
First stop:  Cozumel, Mexico.  But first – an explanation of the black thing on my left arm.  That's a waterproof cast, an object I did not know existed until I tripped, fell and broke my left wrist four days before we sailed.  The cast allows me to move my fingers, but I can't grip, or twist, or lift, or put any weight on it.  Sigh.  That untimeliness necessitated several quick-quick packing changes for me, plus a lot more work for Keith.  I could not – for example – take a bag down an escalator, or open the tight door to our balcony, or hang clothes, or cut my meat, or even fully dress myself.  My wrist is healing nicely, and I hope to have the cast off in late December/early  January – and it's not like there's anything going on in late November/December that involves cooking, cleaning or decorating or dressing up…am I right, ladies?!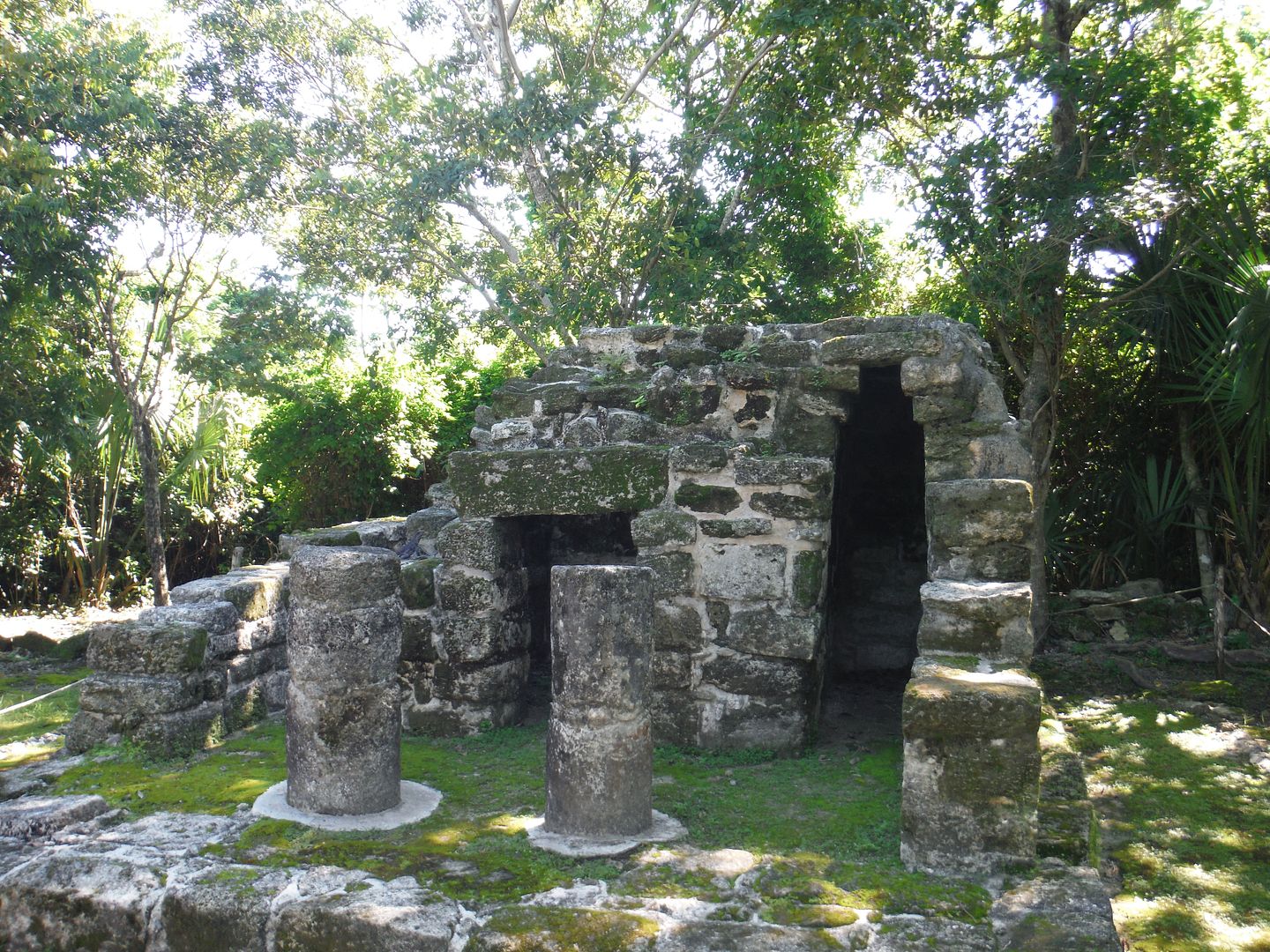 The Mayan ruins on Cozumel .  Our tour guide told us that in this century(!), many had been torn apart to build modern structures.  Heartbreaking.  I know many people scoff at tour guides, but I like a good one – and ours were all good.  I didn't do as much reading as I should have before we left, and I love having people, places and things put into context for me.
We figured this guy was a distant cousin of Louis.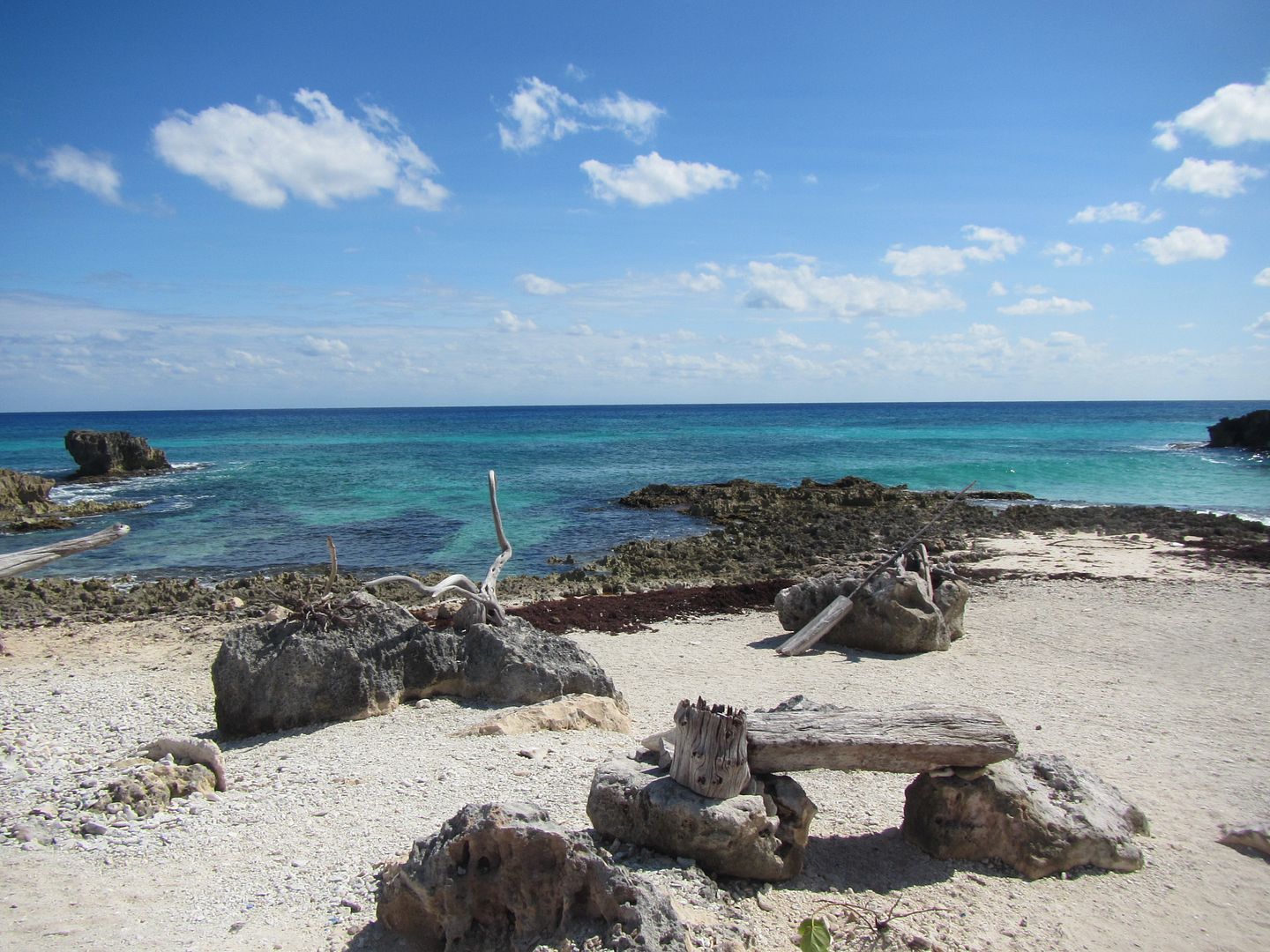 Cozumel beaches – gorgeous!  I would love to spend a week in one of their resorts.  The water was crystal clear.

Carnival servers – and nearby diners –  serenaded us for our anniversary.  We liked eating in the dining room as opposed to the more informal Lido deck.  I tried a few things I'd not enjoyed before – stewed frog legs (I'd had them fried), beef tongue, ox tail soup, Welsh rarebits.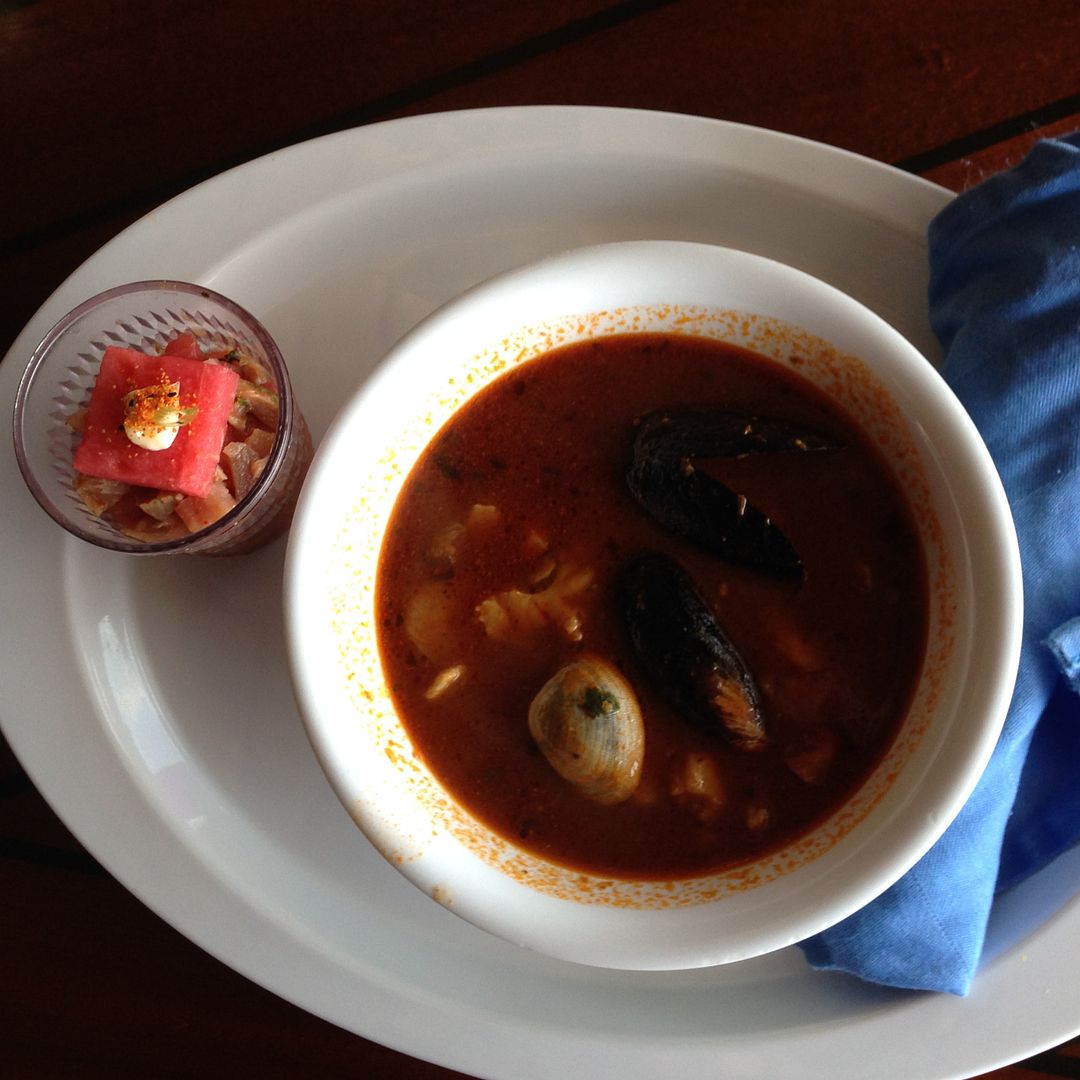 Far and away, the best food on the ship was served in a remote sea food shop called "Fish and Chips."  Keith found out about it from a You Tube video.  Shown here:  A bowl from the never-ending pot of bouillabaisse full of shrimp, clams, fish, etc. in a spicy tomato broth.   Plus – on the side – a raw tuna and watermelon cup, which may sound odd, but tasted delicious.  I devoured two bowls of bouillabaisse and two tuna cups three different times.  I swear I could eat a bowl every day.  I may have to learn to make it.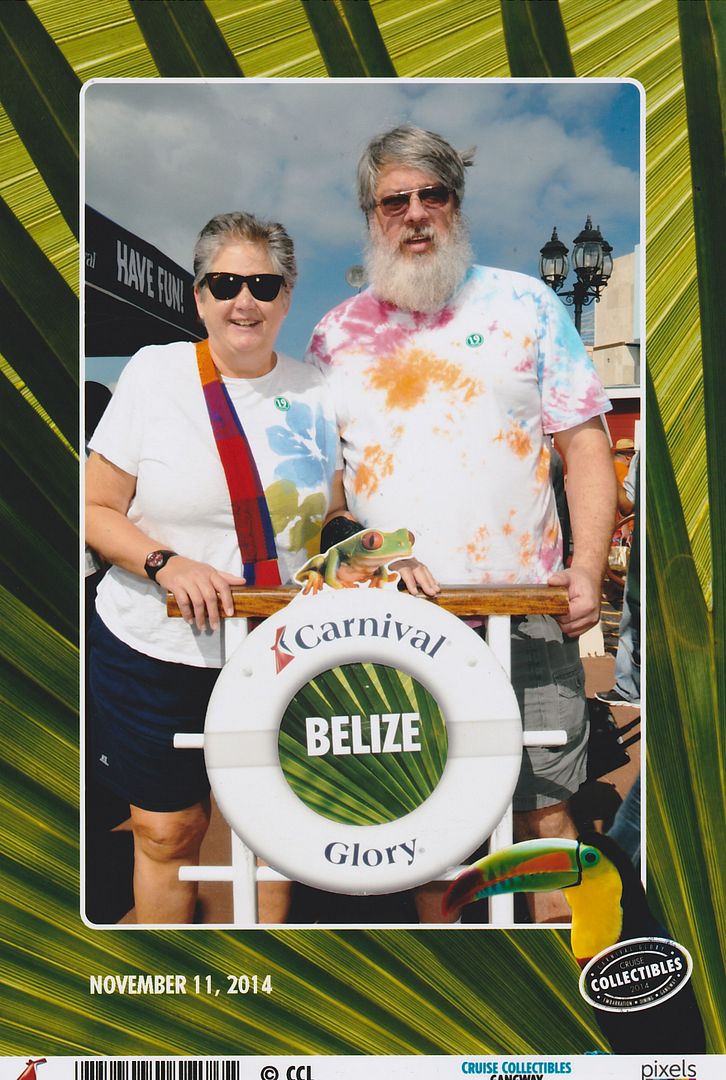 Next stop:  Belize (formerly British Honduras.)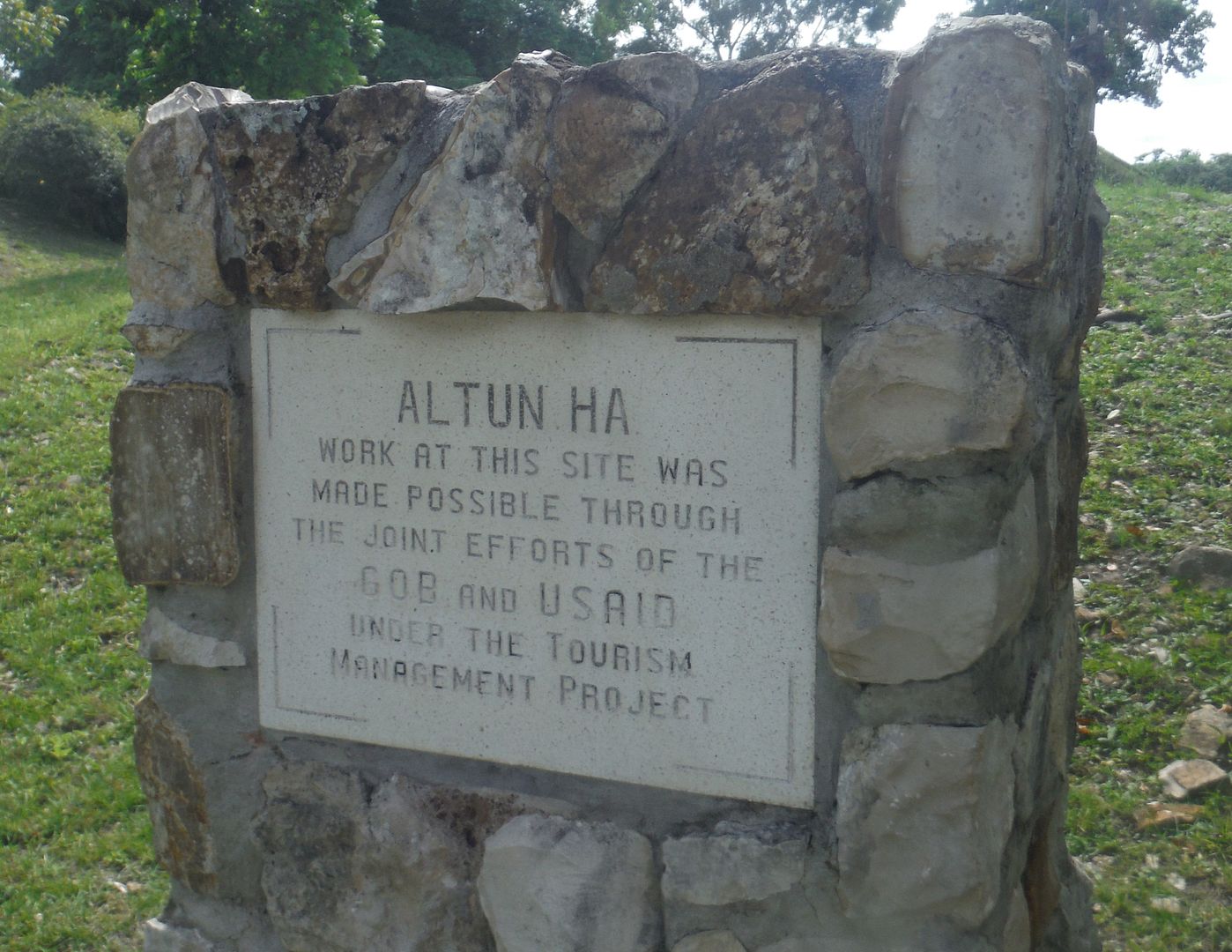 Altun Ha was more of what I was expecting with Mayan ruins, namely, pyramids.  Getting to the site took about 90 minutes by bus, and the drive was depressing.  We moved too fast for photos, but all I could think was "India."  Squalid shacks, half-naked women and children, and a horrible road.  I wouldn't vacation of Belize unless I was in an armed compound (no kidding.)    Beautiful, lush jungle, though.  But no beaches – jagged coastline.  Food is incredibly expensive.  Corn flakes are $27/box, and reserved for special occasions.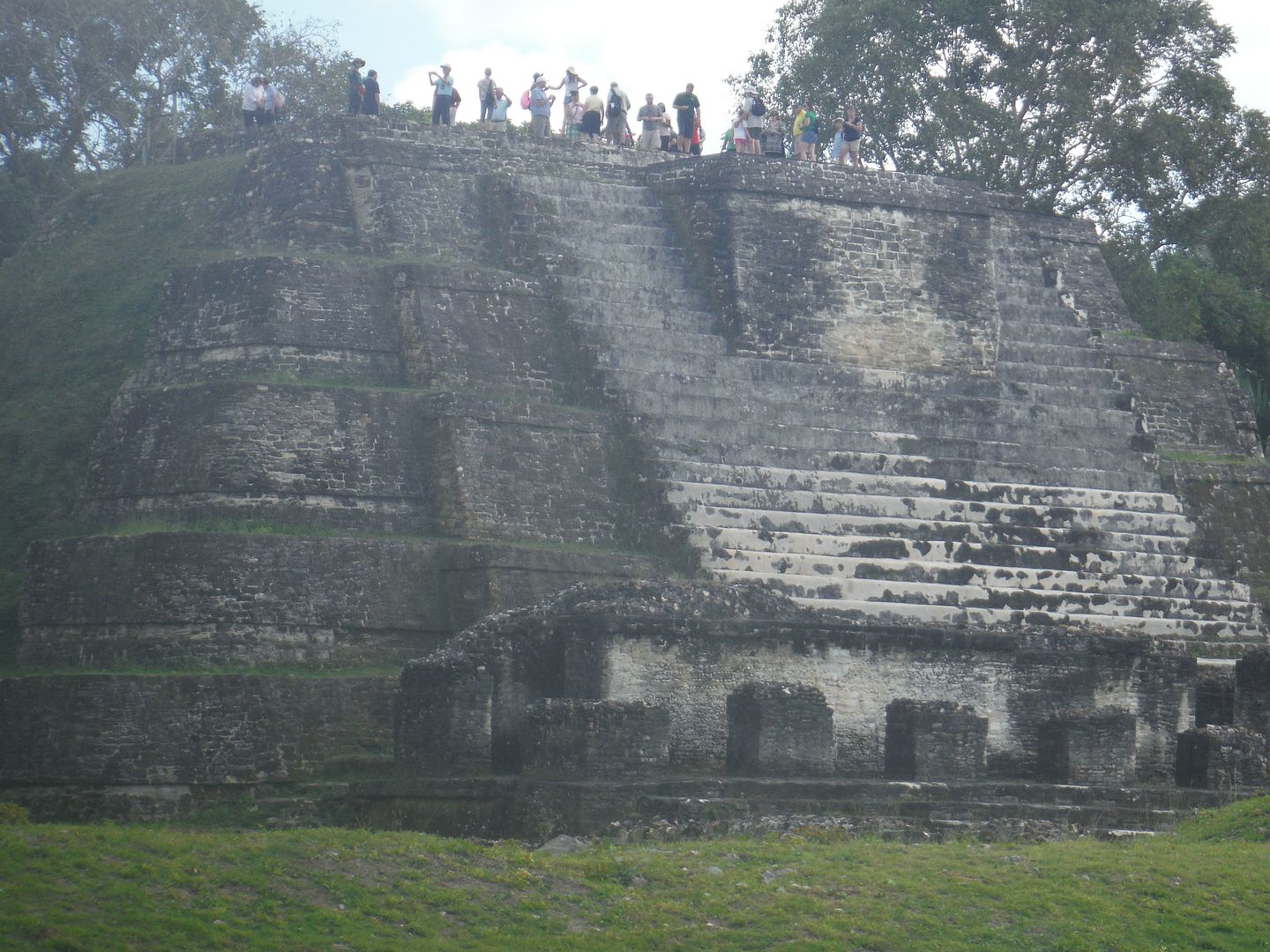 Keith climbed with the more adventuresome.  I was doing nothing to risk a fall on my broken wrist.  (sqawk-sqawk)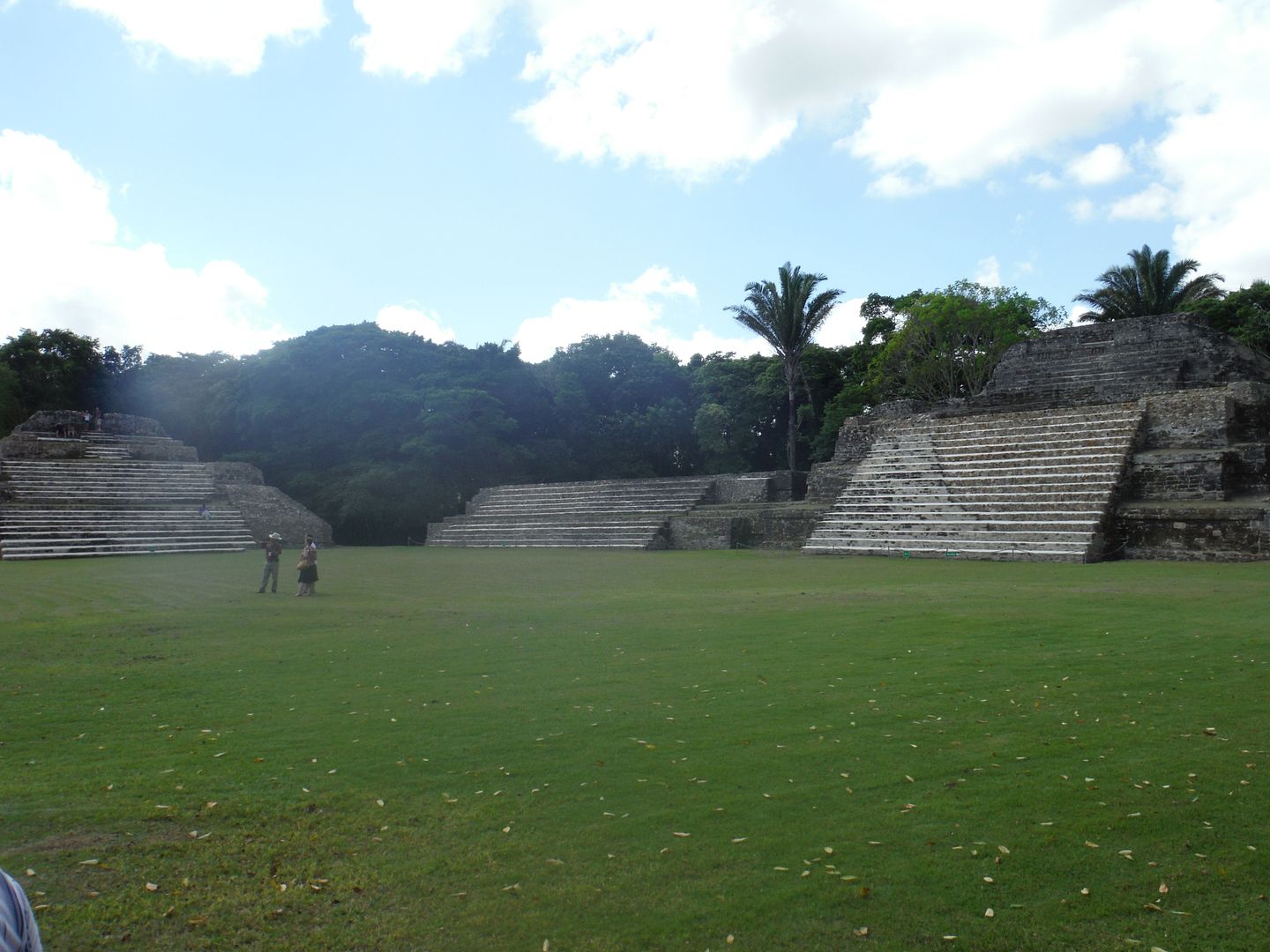 Our tour guide explained the open area between the pyramids was where the crowds would gather to worship.  My old(er) friends know I was saving to visit the Egyptian pyramids when I met Keith.  Instead of traveling, we spent that money on a wedding.  So seeing the Mayan pyramids for our 25th anniversary was especially meaningful.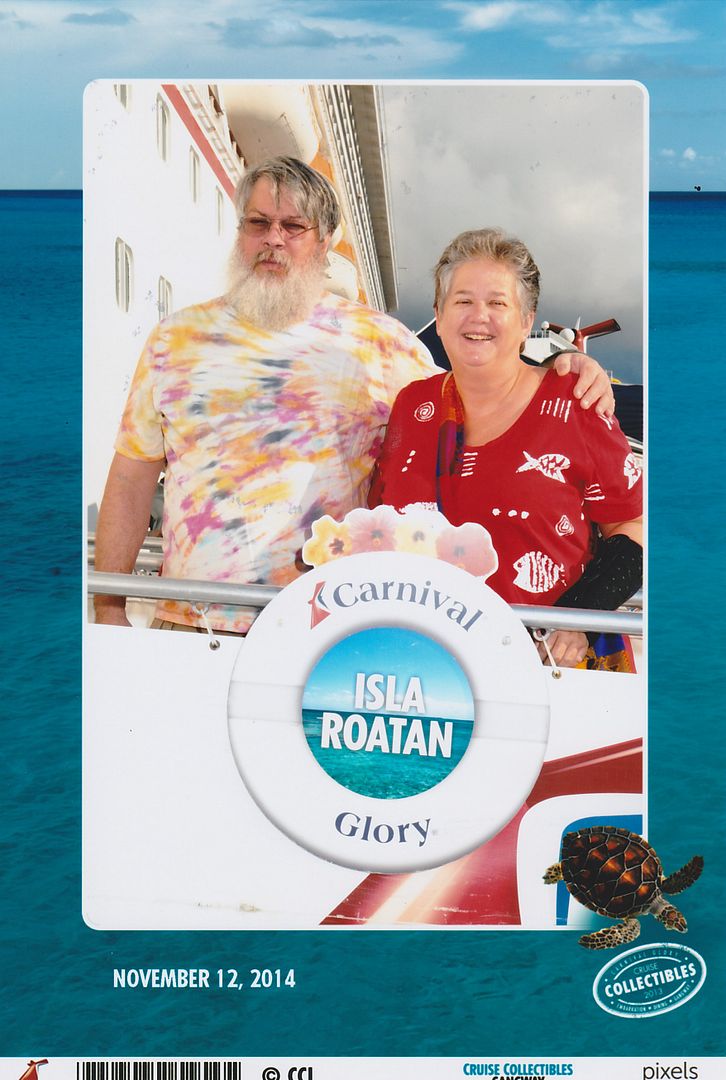 Next stop:  Isla Roatan (Honduras.) 
Absolutely beautiful island, but a little creepy to see armed troops scattered about with machine guns.
Playing with dolphins was our very favorite excursion.  Dolphins shed their skin every two – three hours and it feels like a baby's bottom – so smooth.  Wonderful experience.  My waterproof cast got its first real workout.  This wasn't a cheap excursion, but I'd do it again in a heartbeat.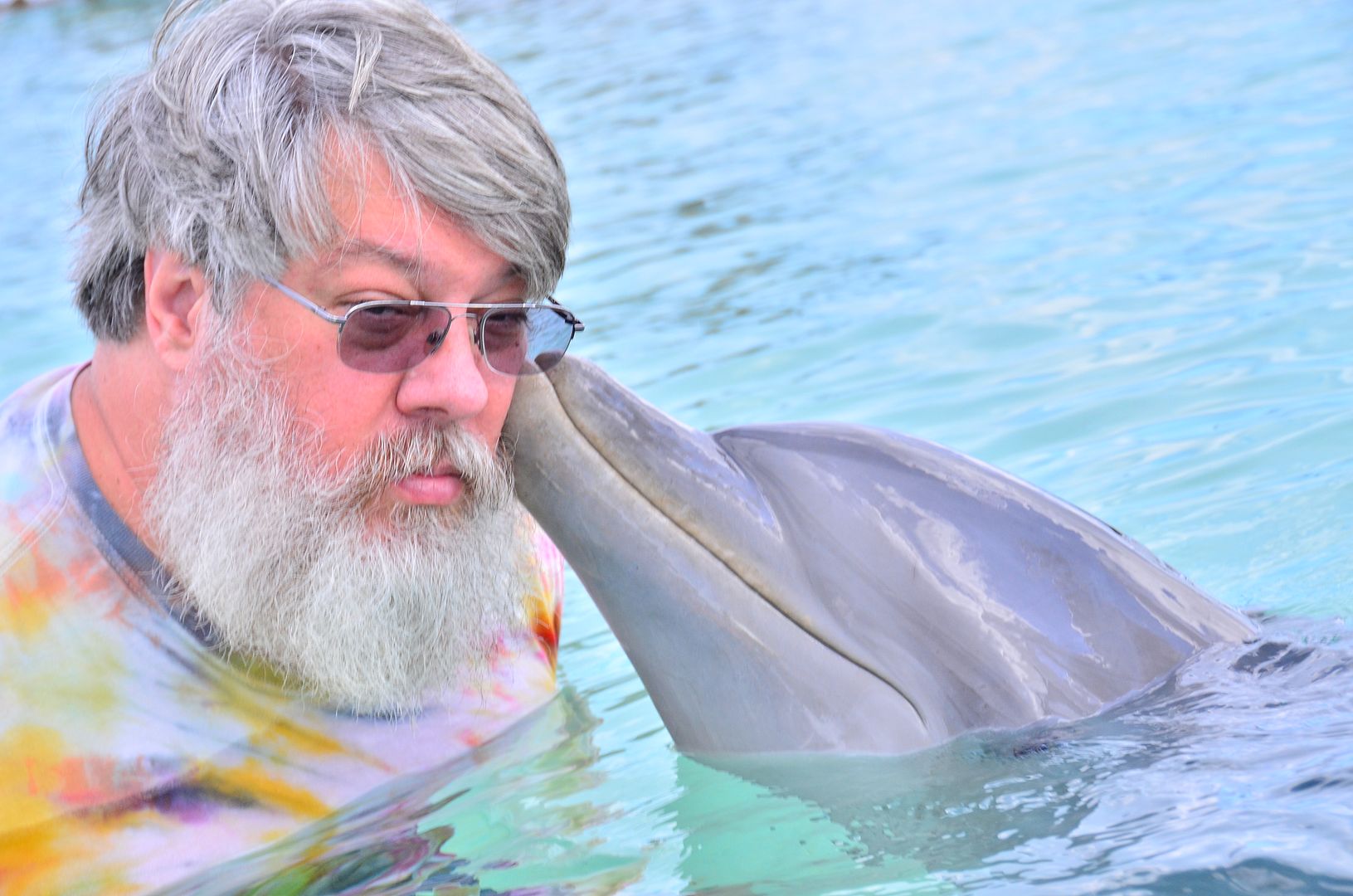 Pucker up, Buttercup!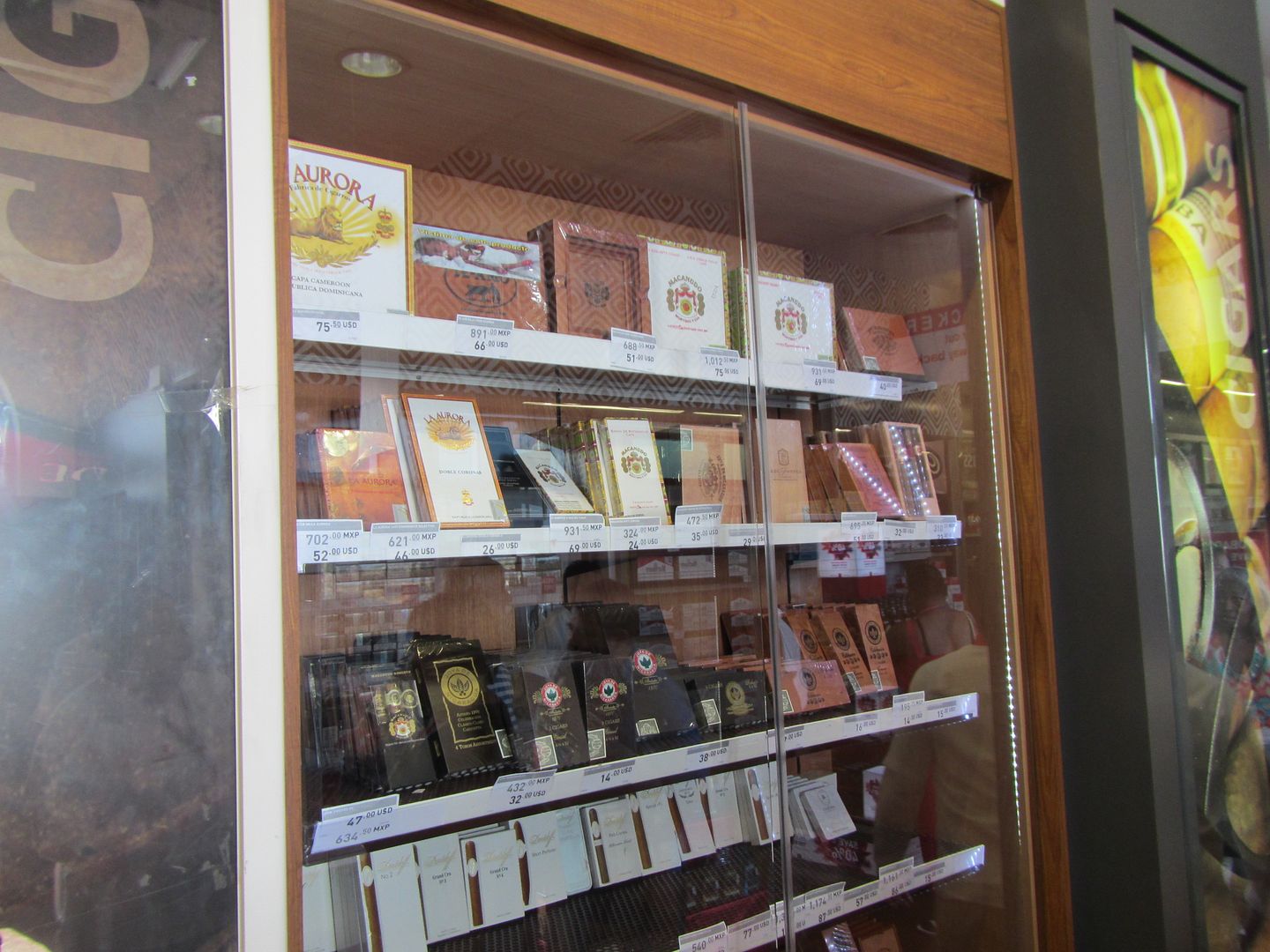 Keith wanted some Cuban cigars, but almost everything for sale was fake.  Cheap fakes, expensive fakes, some better than others, but still fakes.  The hunt was intriguing – even I started looking at their water marks and banding.  He did eventually purchase a few real ones, but could have easily been tricked.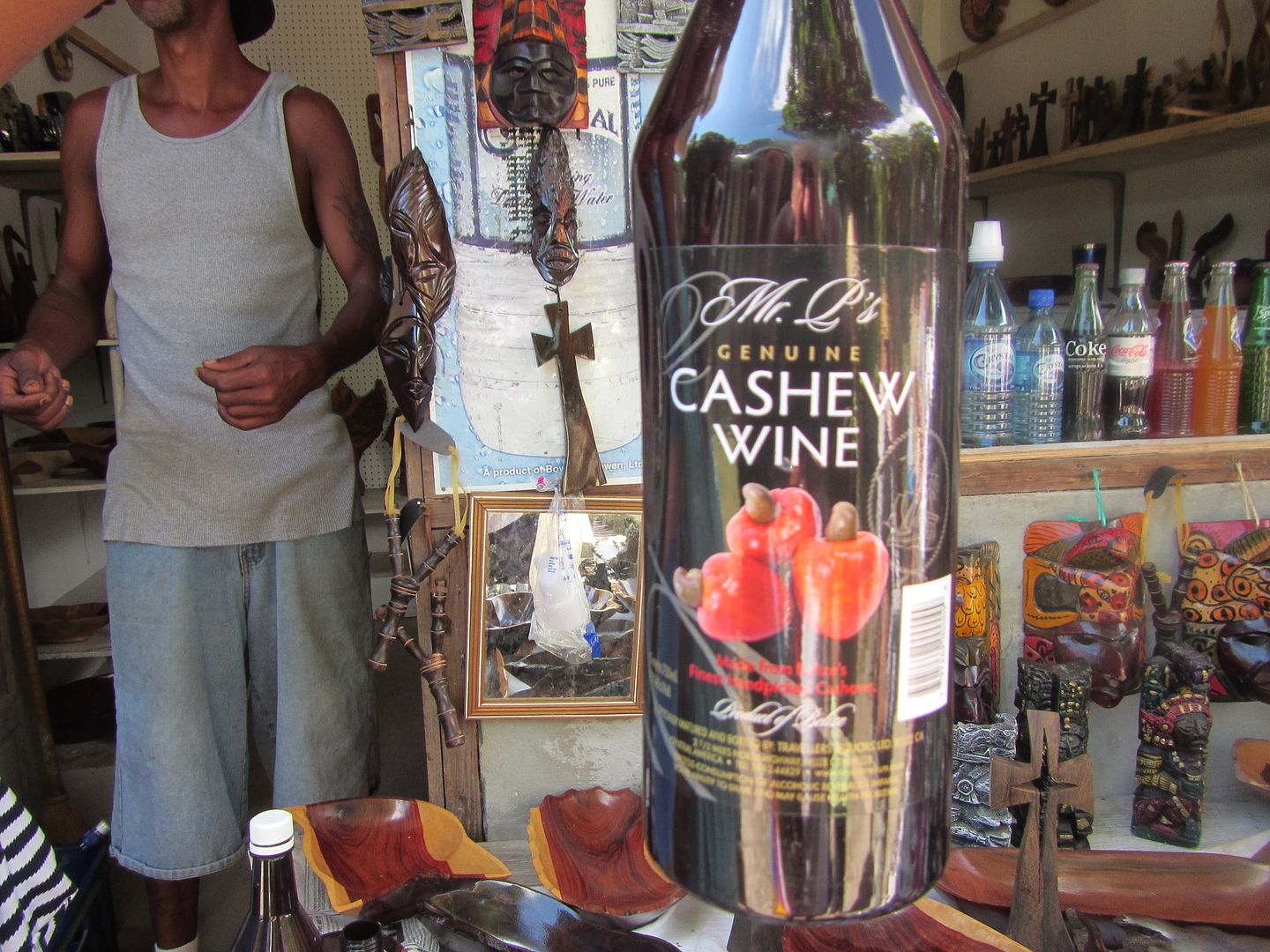 Coming soon to a wine glass near me.  Supposed to have quite a kick.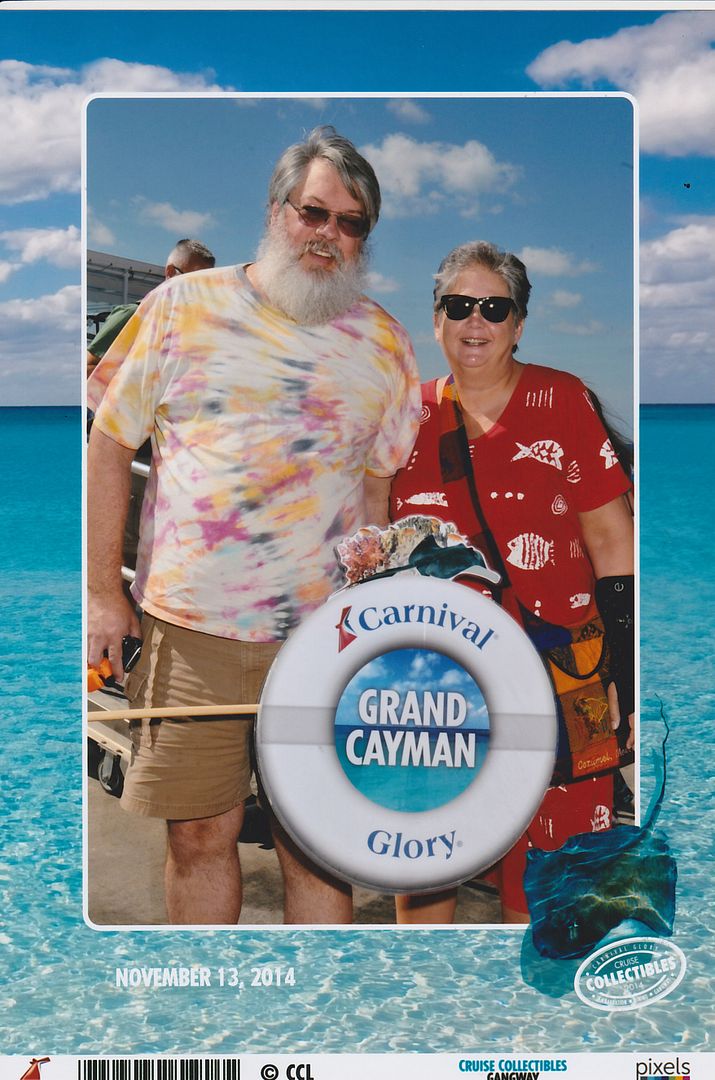 Last stop:  Grand Cayman.
The girls were horrified at our photographed "clothing repeats."  We did do laundry.  Well, Keith did laundry.  We just didn't want to pack a bunch of clothes to have to haul around, especially since I wasn't doing much hauling.
November 13 was "Pirate Day" in Grand Cayman, so in addition to lots of dressed-up mateys, this beauty greeted us.  RRR-rrr-rrr!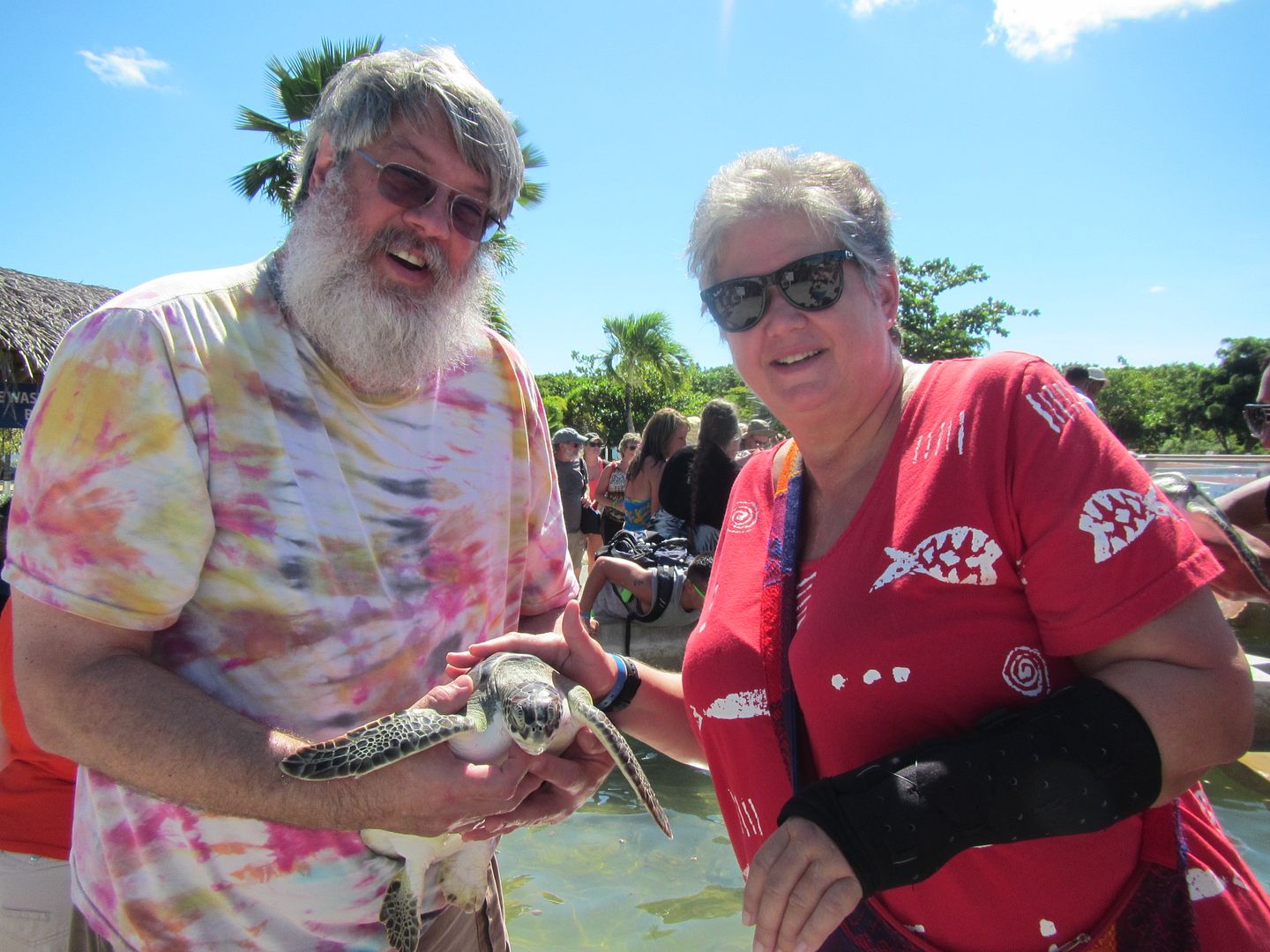 Another really special excursion – the Cayman turtle farm.  We're turtle people, and seeing/holding these big ones was really special. 
We got to swim with the turtles, too, in a winding, man-made lagoon – very cool, except I think my much-loved Canon D-60 leaked in the process.  It's being repaired (I hope) now.  Fortunately, Keith had his little waterproof Fuji.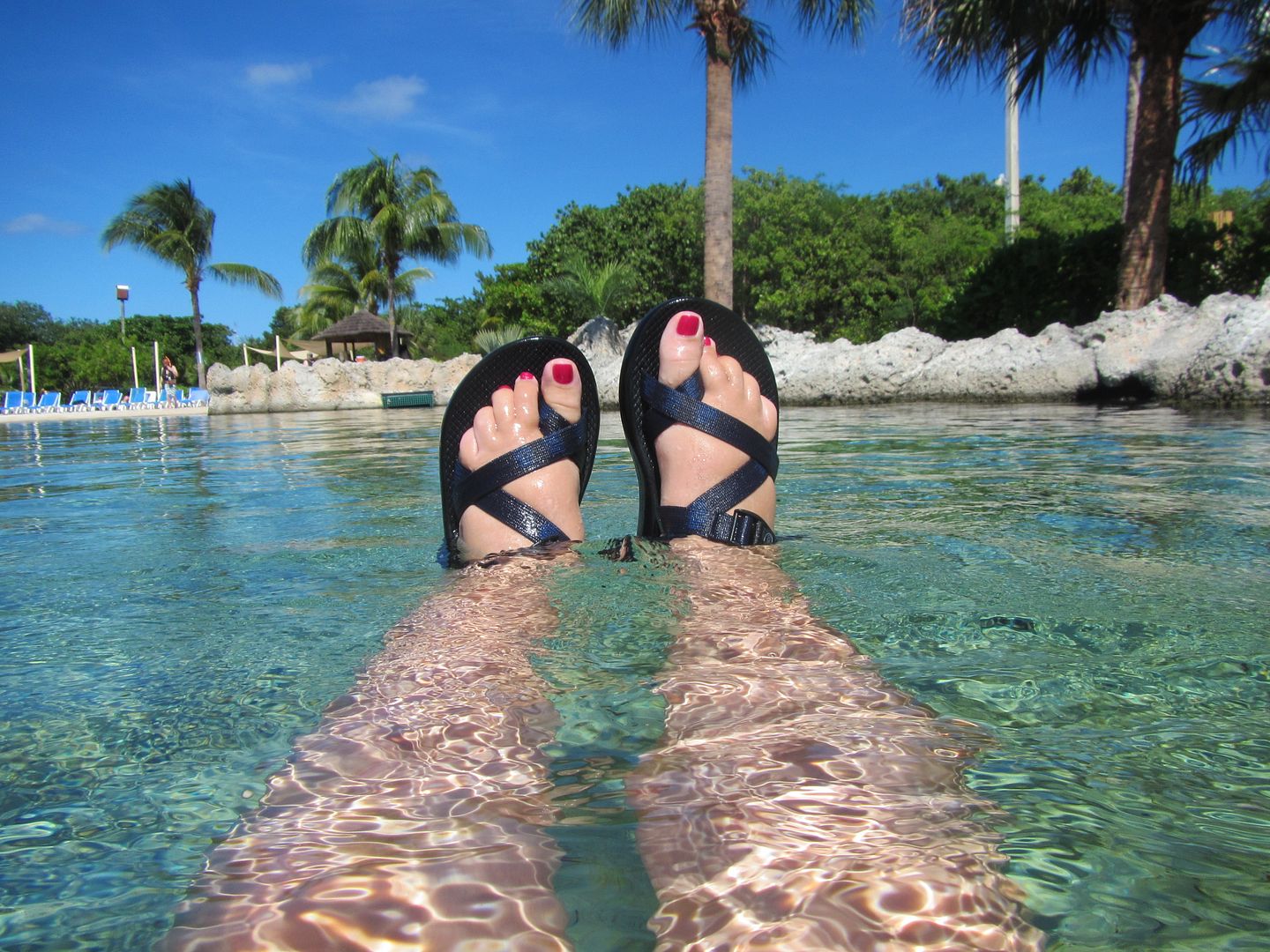 My most-wise purchase the day after I broke my wrist – these Chaco sandals.   I couldn't tie my own sneakers and didn't want to burden Keith with that, too.  And – with my cruddy ankles – I wanted sturdy shoes with some arch support.  Rachel with the rescue recommendation – the Chaco's.  They're awesome.  And waterproof.  I wore them the entire cruise except at dinner, when I slipped on a dress and black Crocs flats.  Panty hose – no can do.  Discovered I couldn't put on/take off my regular hoop earrings, either, and I didn't want to leave my hoops in to sleep.  Again – Rachel to the rescue with a pair of cheapie studs which I likely won't try to take out until the cast comes off.  Actually, these Chaco's are my default daily shoes until the cast comes off.  I like regular Crocs, but they're a little "wobbly," and I'm a little paranoid about this wrist.

Lots of fish to swim with, too.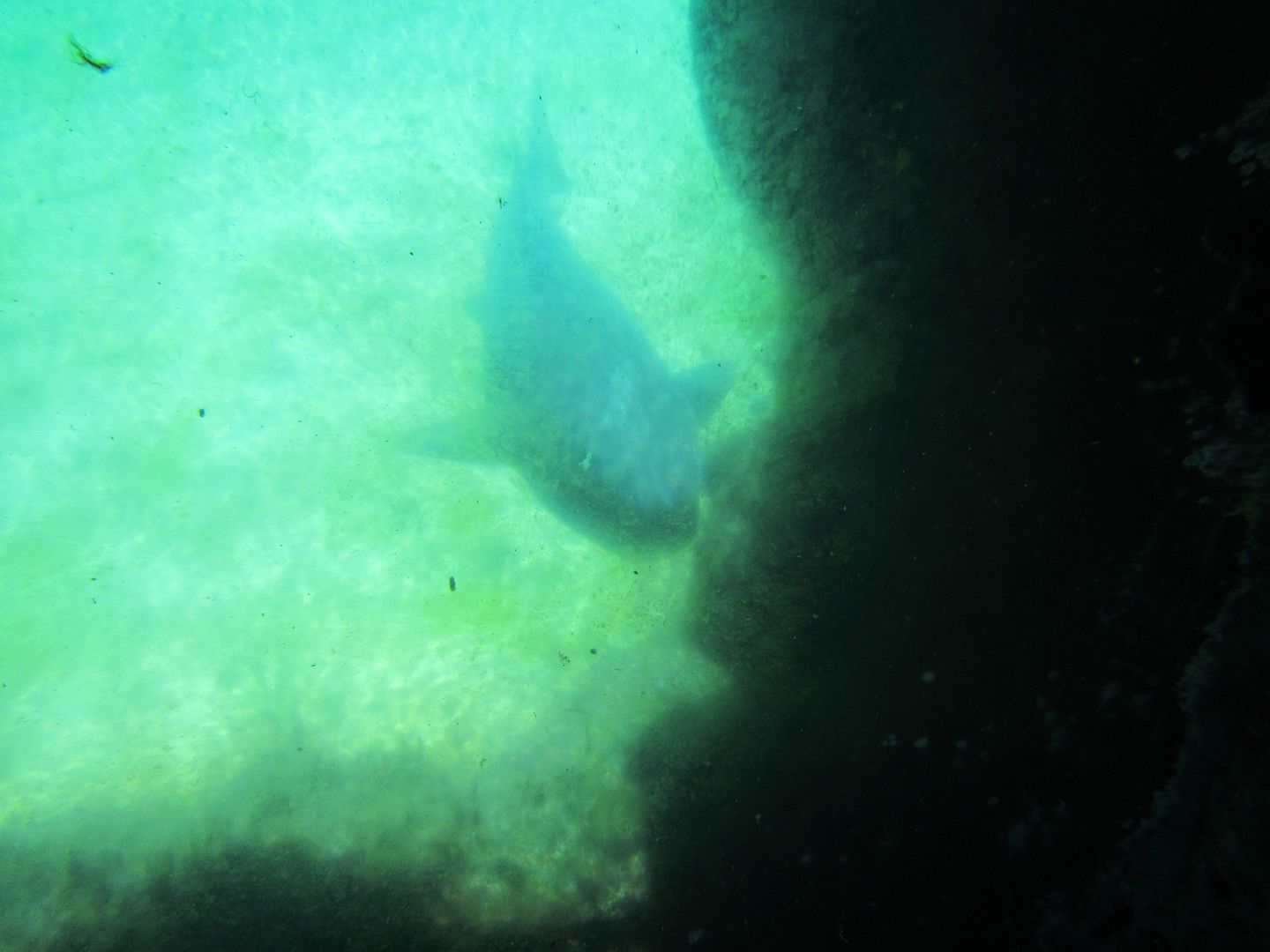 Yes, that's a shark – on the other side of a thick Plexiglass wall.  The turtles, fish and I did not swim with him.  Tell you what – even knowing the Plexiglass was sound, seeing that thing so close gave me the heebie-jeebies.
Then it was time to come home.  Sigh.
This guy asked me if I loved him.
The answer was the same one I gave 25 years ago – "I do."