Thisreminds.me had some technical hiccups last year, so I created a temporary blog to capture 2015 Operation Christmas Child joy.  But now Thisreminds.me is back in business – and my game room is piling up with donations (yeah!) so I'm transferring the blog over.
Here we go:
My regular blog "This Reminds Me" is down for a bit of maintenance.  I wanted to recount the joy and wonder of this year's Samaritan's Purse Operation Christmas Child journey, so this temporary outbuilding will have to suffice for awhile.
There's no way to thank everyone involved.  You know who you are, and you know why you do what you do.  Some of the most generous people do not want to be mentioned.  Again, you know who you are.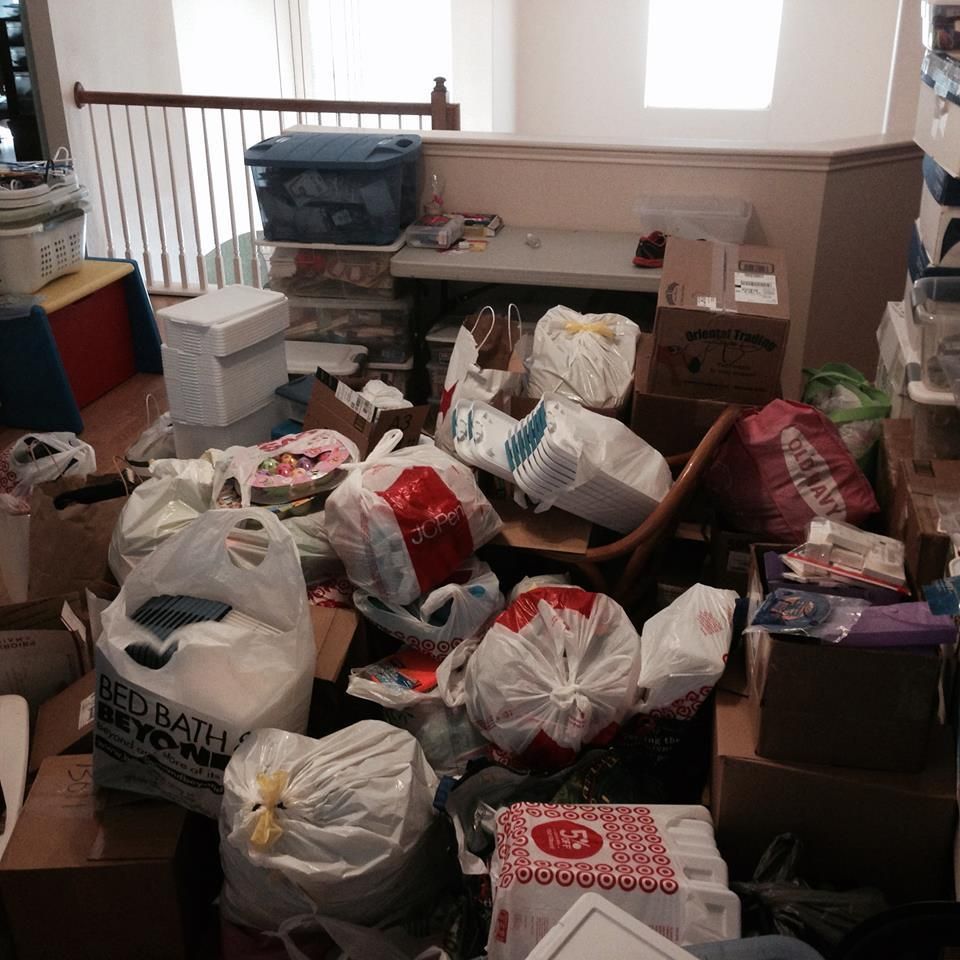 My friend Paula came over mid-year to help make sense out of the boxes and bags piling up in the game room.  She and her daughter Kelley do 99% of the dirt-work cloth bagging (T-shirts, wash rags, etc.) so she took a lot home when she left.   Many friends and I buy all year long (Hello Target Dollar Spot 70% off!), and dear friend Lisa in Houston is the Queen of Online Bargain Hunting, so it just piles up.  BTW – Lisa has already purchased 5,650 ziplock bags for next year!  Yes, she's amazing.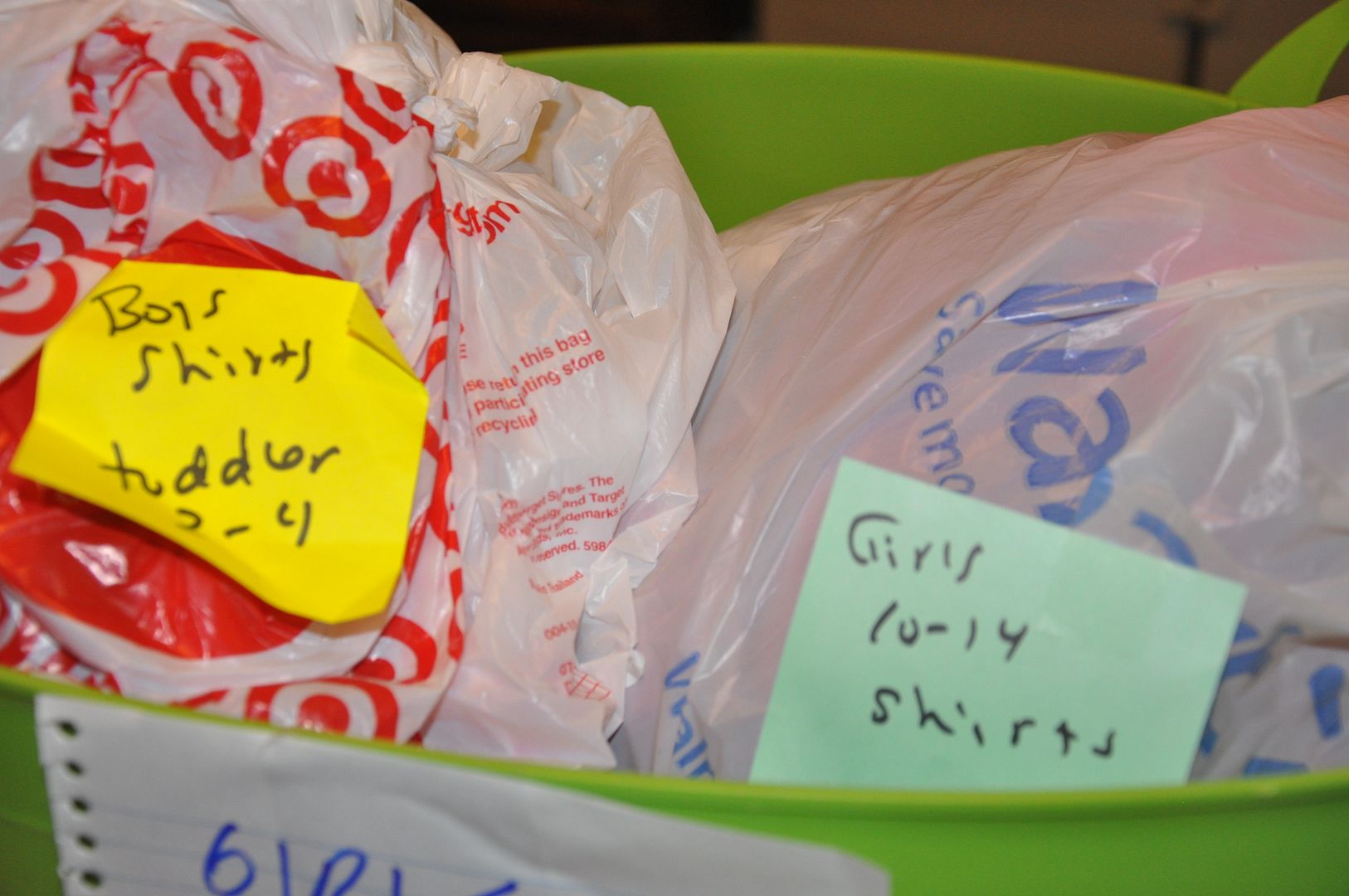 When Paula returns the material – miraculously, it's all bagged and tagged by item description, age and gender – truly a godsend.
 
Paula's daughter Kelley works all year melting and re-forming crayons into beautiful new crayons and small toys for the children receiving boxes.  She's also our #1 candy bagger.  If you have broken crayons, we'd love to have them!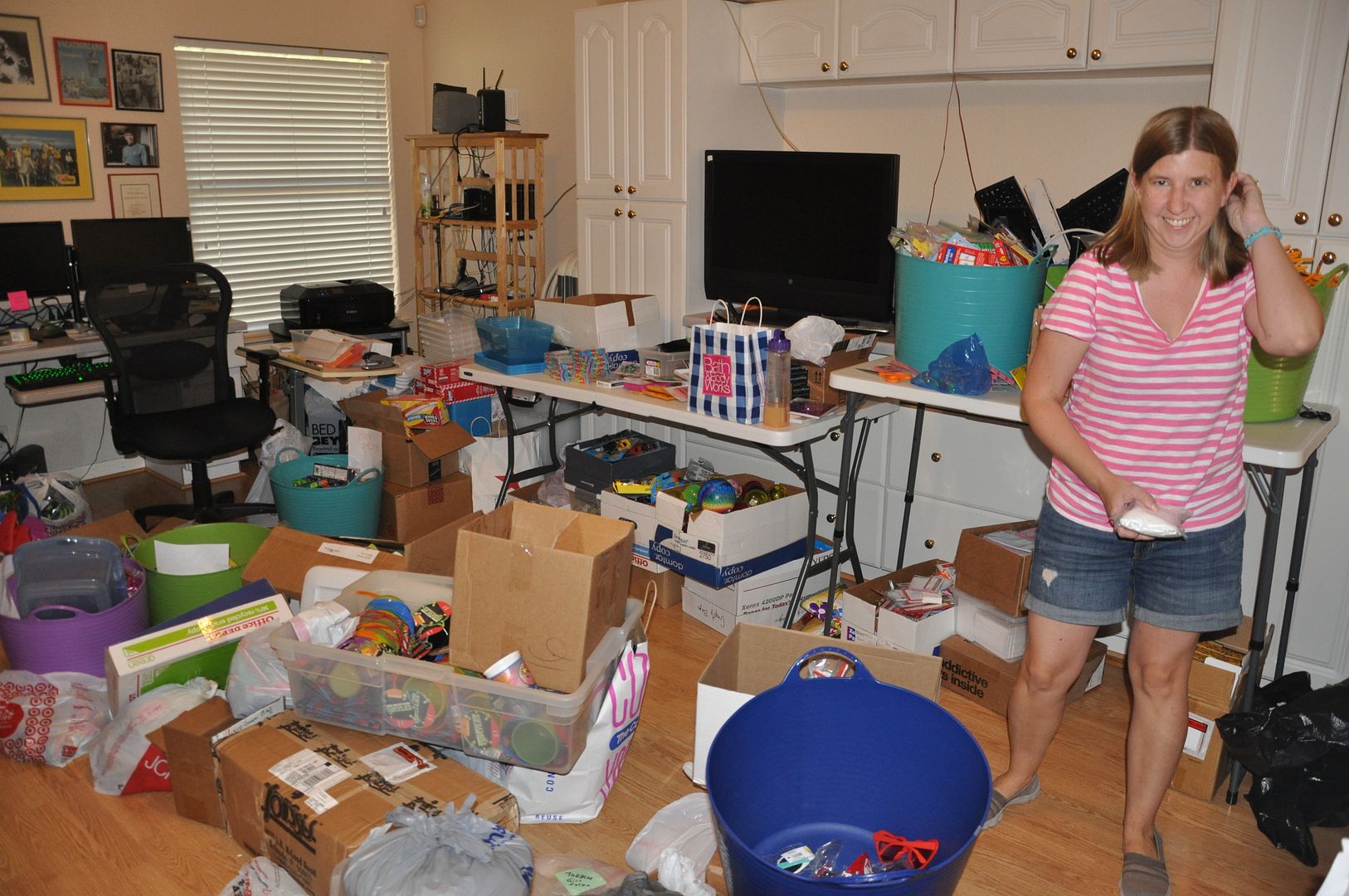 The saint that is Amy H came over to help organize.  There are few people I would allow into our game room when it's in this shape.  Takes experience (and a strong stomach.)  Really, it's a horror.  Amy also cut labels, brought over other kids from church to help, stopped by with lunch and…..

….led the charge in her Sunday School class to buy 30 deflated soccer balls and pumps for boys ages 10 – 14.  We've never had soccer balls before.  So cool!  You know the boys are going to love them.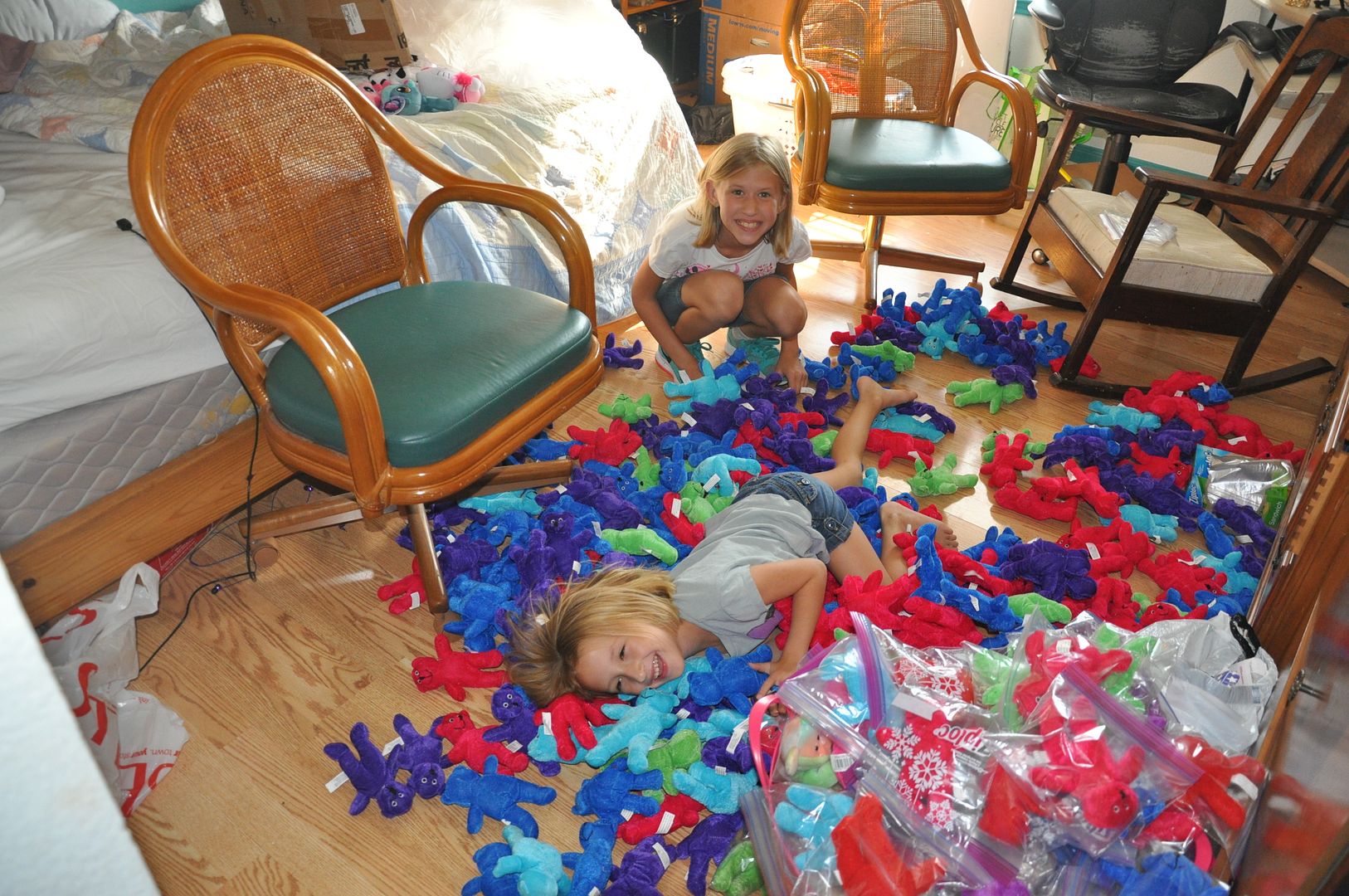 Her kiddos stuffed 300 bears into baggies one Sunday afternoon as we waded through the piles.  Lois' and Julia's rooms turn into staging/stuffing/holding areas.  They're good-natured until they literally can't walk among the clutter, but by then – we're ready to pack.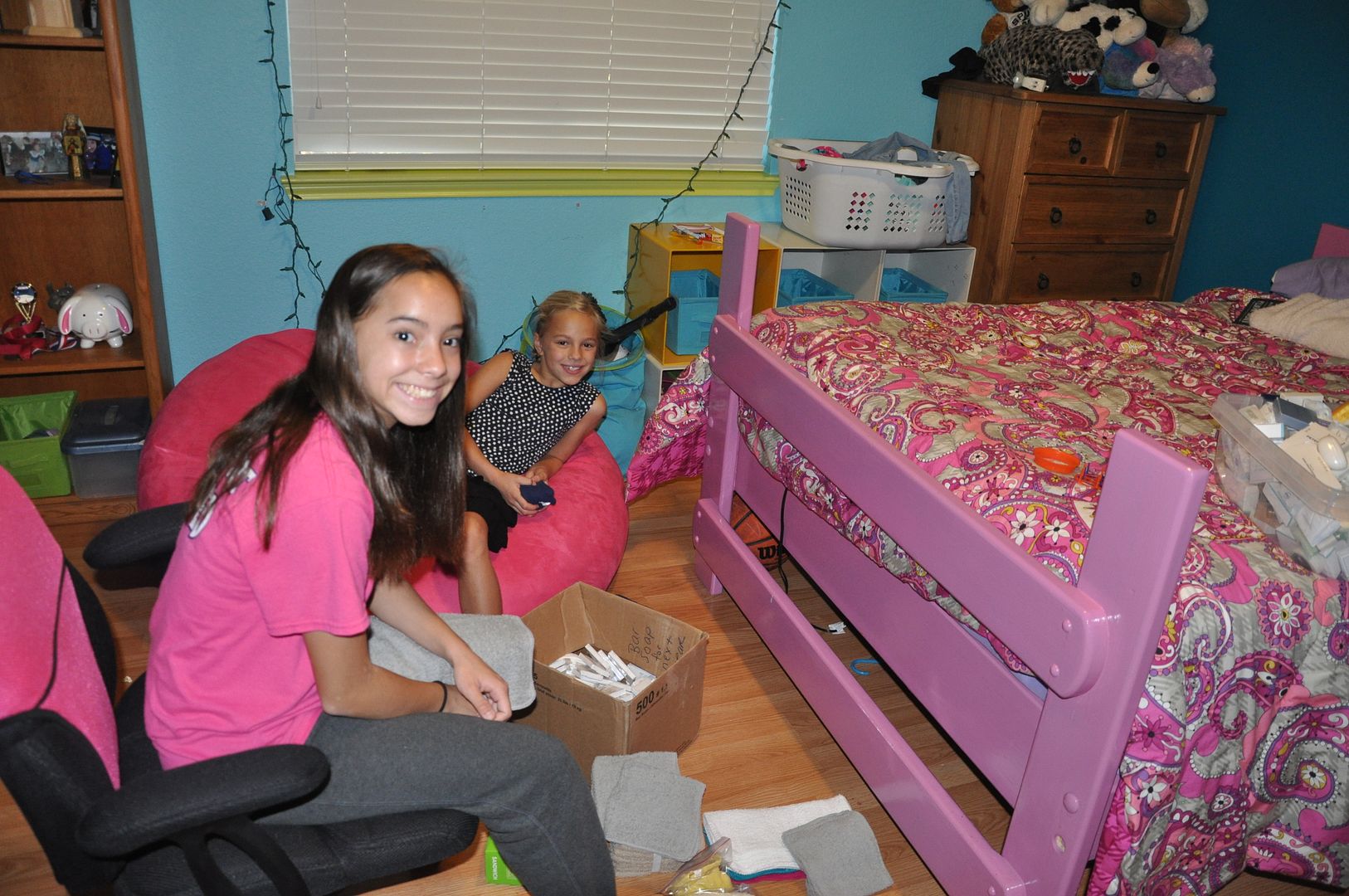 Toothpaste, anyone?  We try to take all of it out of packaging so save room.  Julia and Mabry filled an entire black trash bag with empty boxes.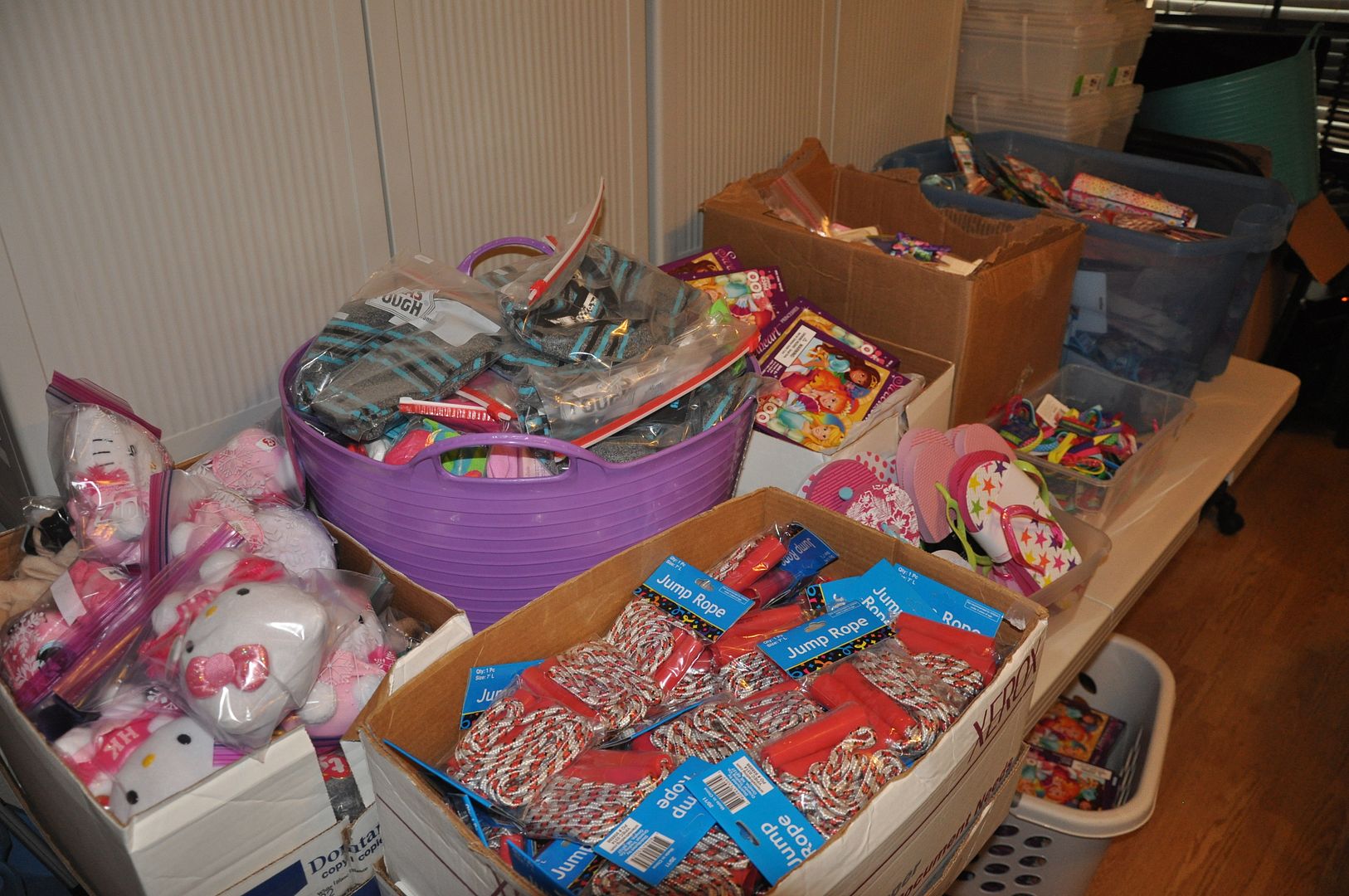 Eventually, we get items organized by age and gender to make packing easier.  I try to throw away all excess packaging and boxing all the way because we literally run out of trash space.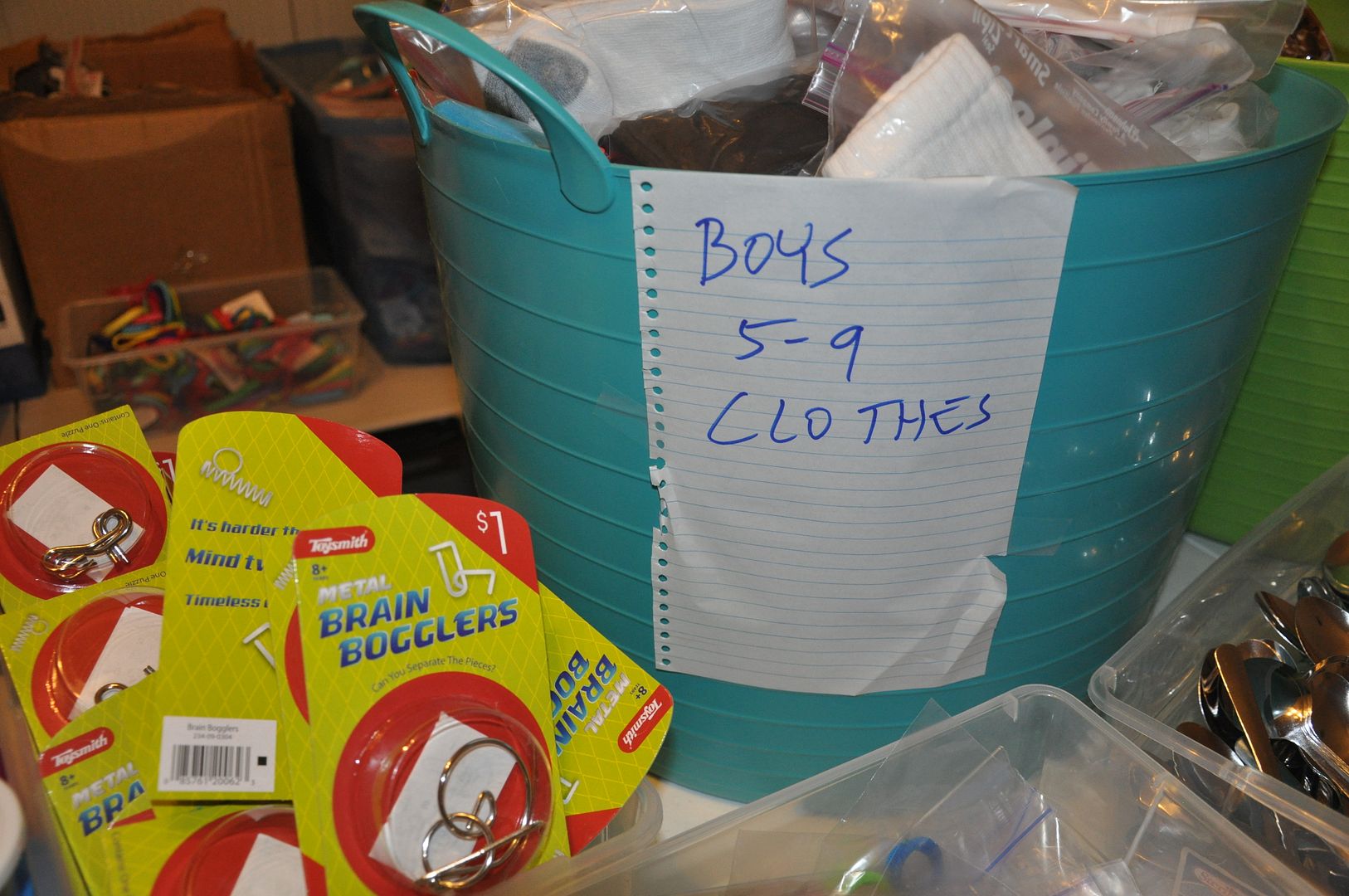 Lots of Boy 5 – 9 clothes this year, plus some interesting puzzles for older kids.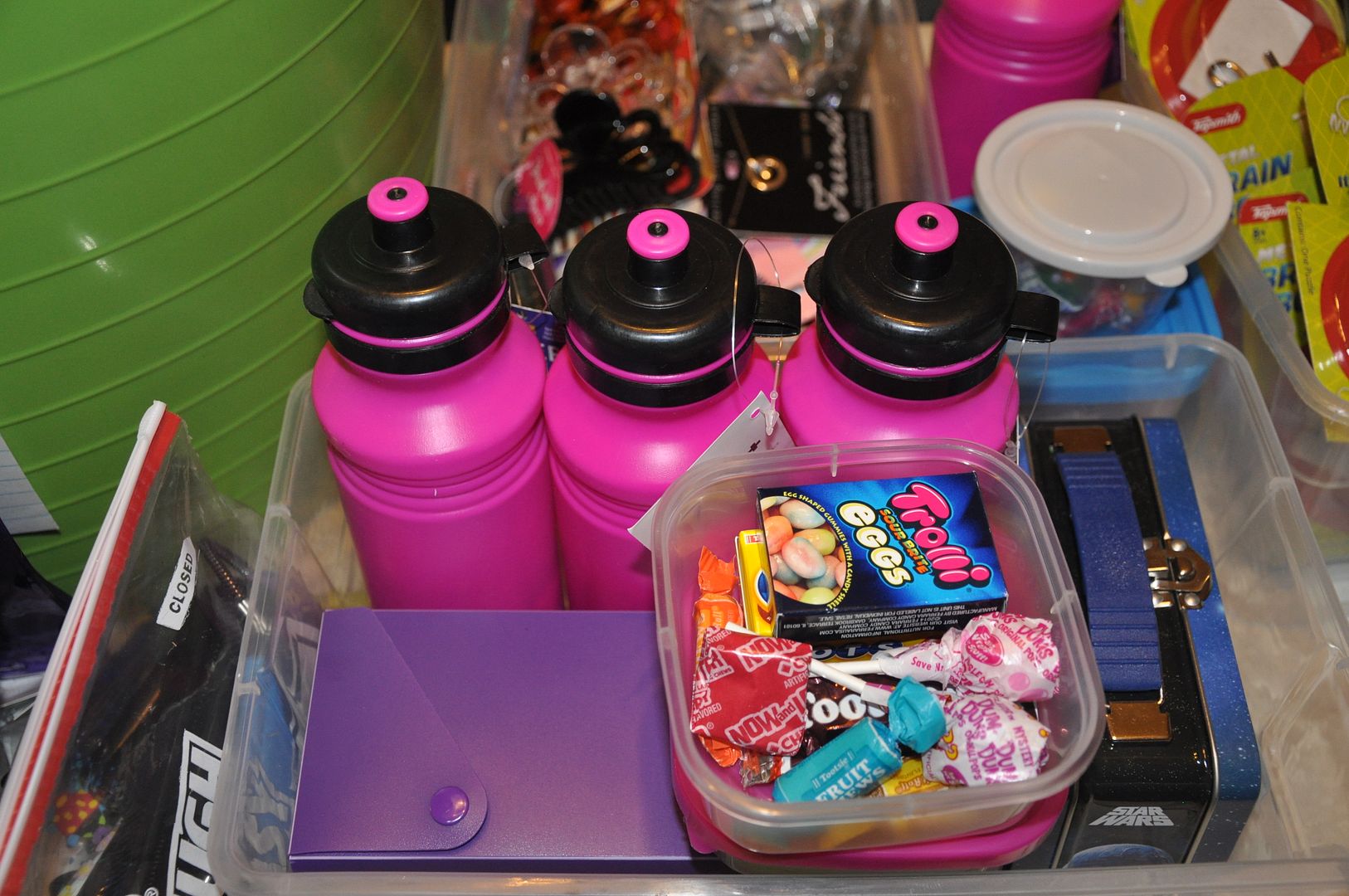 We had a wide variety of water bottles and small Tupperware-type containers this year, plus a few small novelty lunch boxes, each of which we filled with candy before packing in shoe box.  At $7@box shipping – nothing goes empty!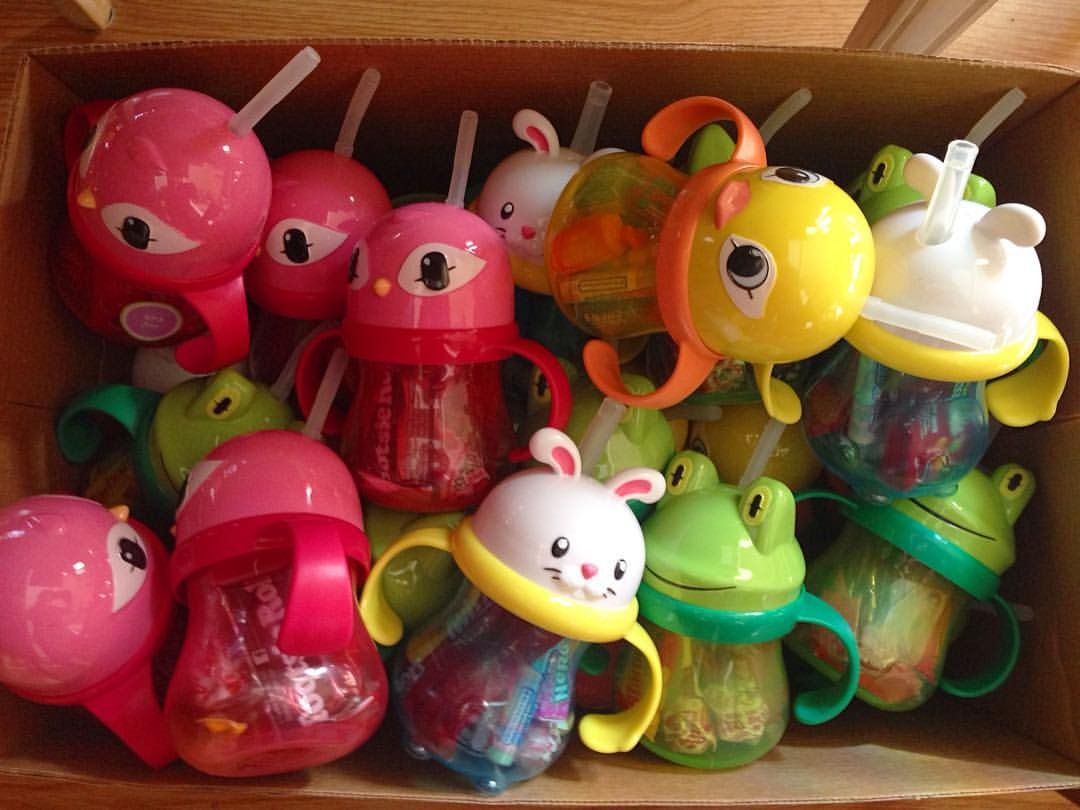 Sippy cups for toddlers, all candy-stuffed.  So cute!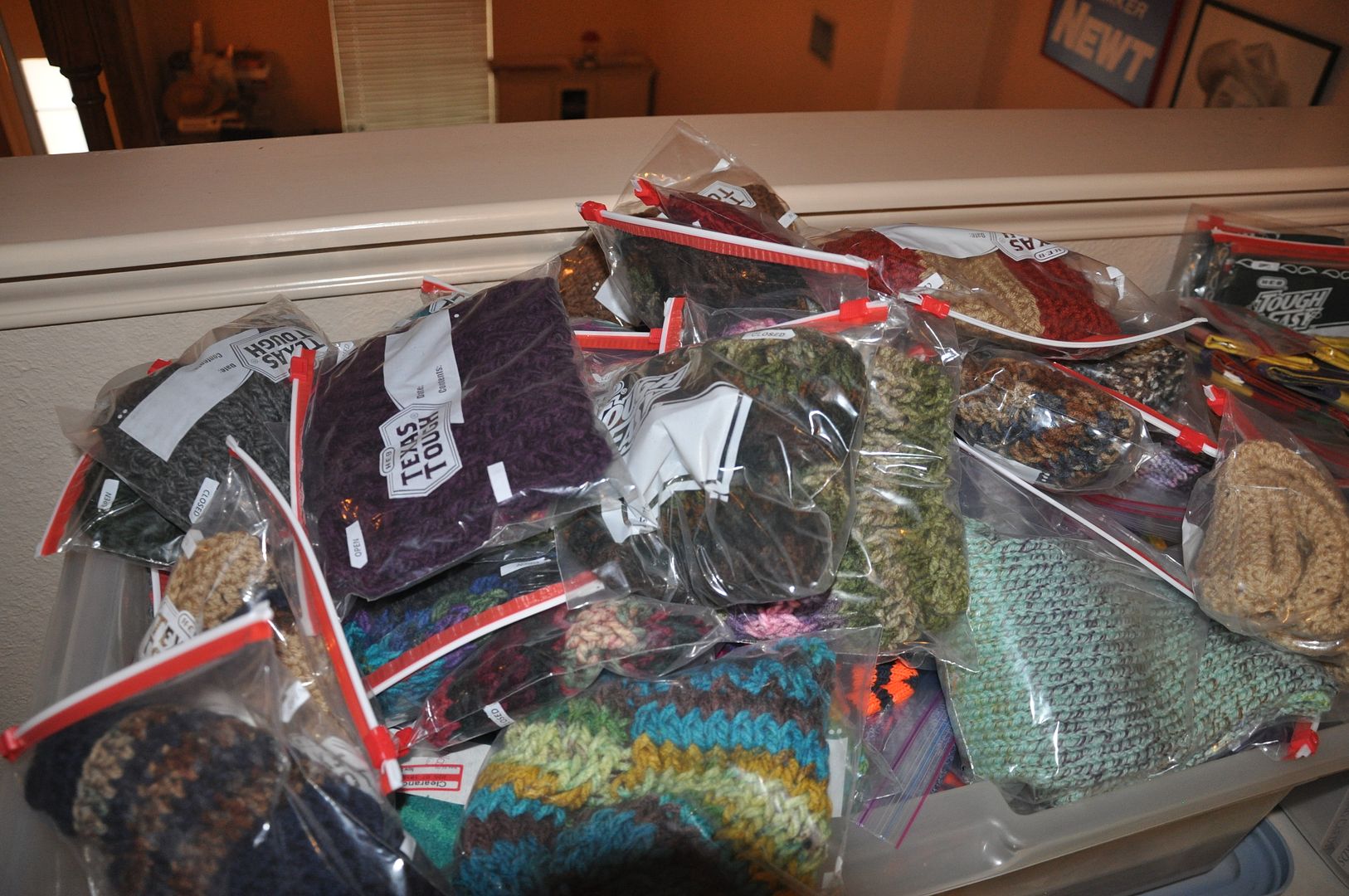 Hats off to Lisa, who knitted (and bagged!) hundreds of beautiful caps, and Sue, who donated many more.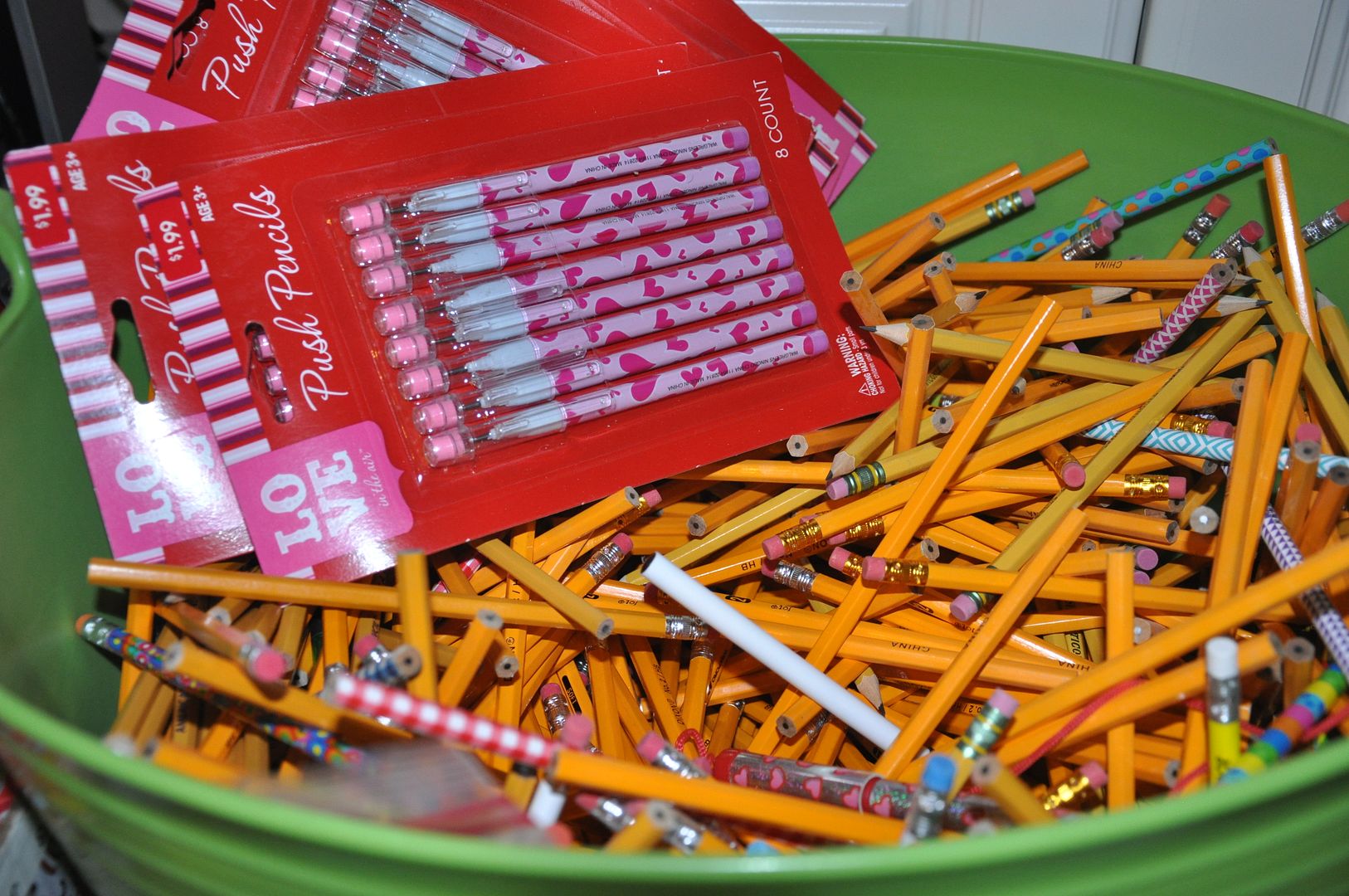 Samaritan's Purse has told of many children able to go or return to school because they got a pencil in their shoe box.  Each of our shoe boxes had at least two or three pencils, plus a sharpener.  Many of the older kids' boxes had mechanical pencils. 

 
400+ individually, doubled-bagged (to keep the soap smell away from the candy) washrags and soap.  If you travel, we'd love to have your unused hotel soaps.  In their Facebook feed this year, a now-adopted Russian orphan talked about the washrag he got in a shoe box one year, "When I got a washcloth in my shoebox I actually thought it was my own personal towel! It was very special because I was the only one who could use it. It was my own personal thing — something that I didn't have before."  Really – if you can save some hotel soap, we can use it.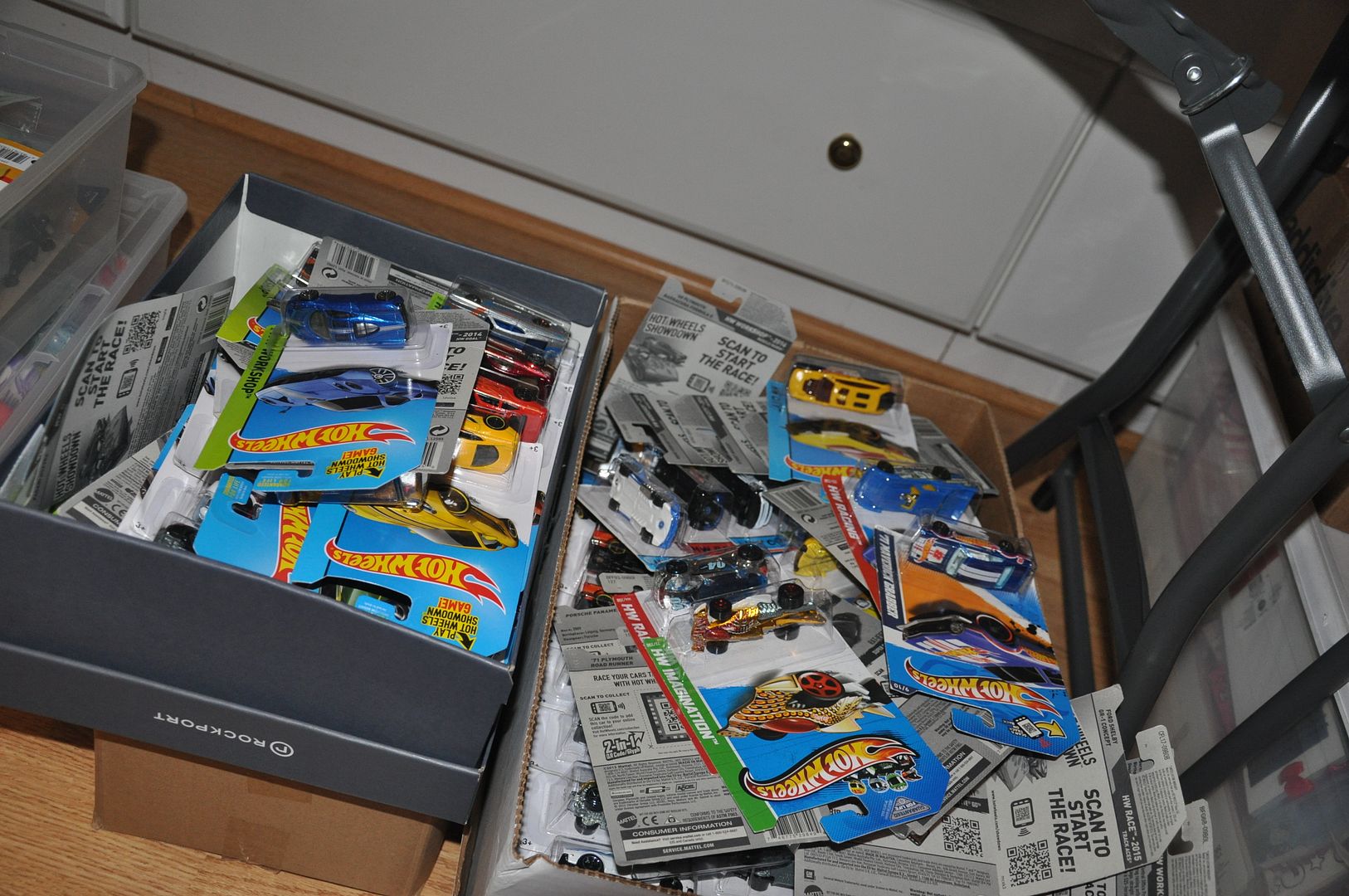 Toy cars!  Wow, these are wonderful.  Boys of all ages love them, and they fit so nicely.  Plus toys are always our sticking point.  Whenever anyone asks, "What do you need," my answer is very often "toys," plus "money for candy and shipping."  Well, if you ask – I'm going to tell you!
 
Tables up, stuff under them, stuff downstairs, stuff in the hallway, pre-labeled boxes in Julia's and Lois' rooms (thanks to friends who came over and did nothing but label boxes) – ready to pack.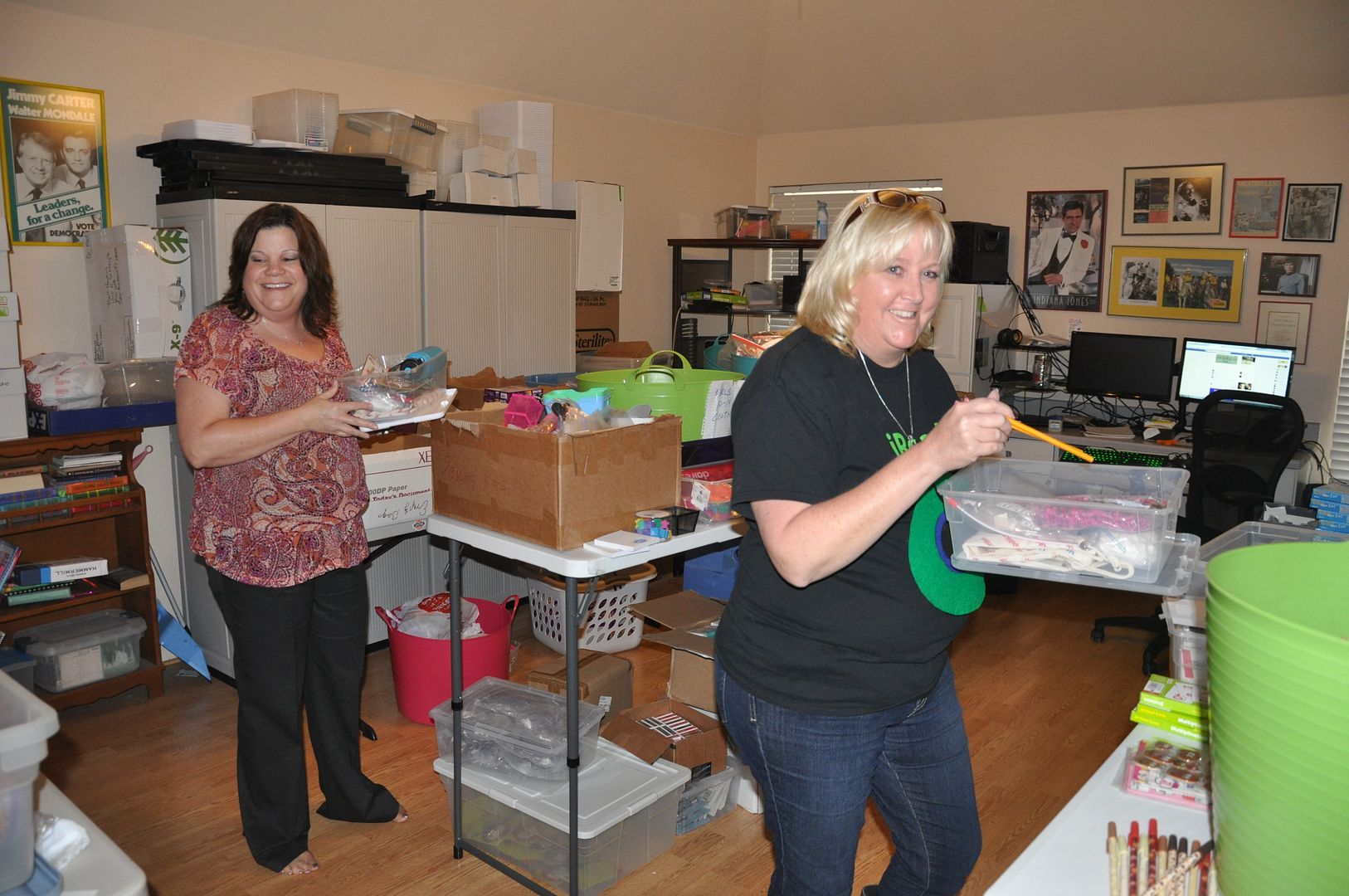 Among our first packers – Dawn and Jill, two of Julia's elementary school teachers (and some of the nicest people you'd ever meet.)

The awesome "Women on Wednesday" class of which I've been a part for years packed 120 boxes.  Special kudos to Sharon (left) who came back Saturday and worked feverishly for five hours on her very tired feet.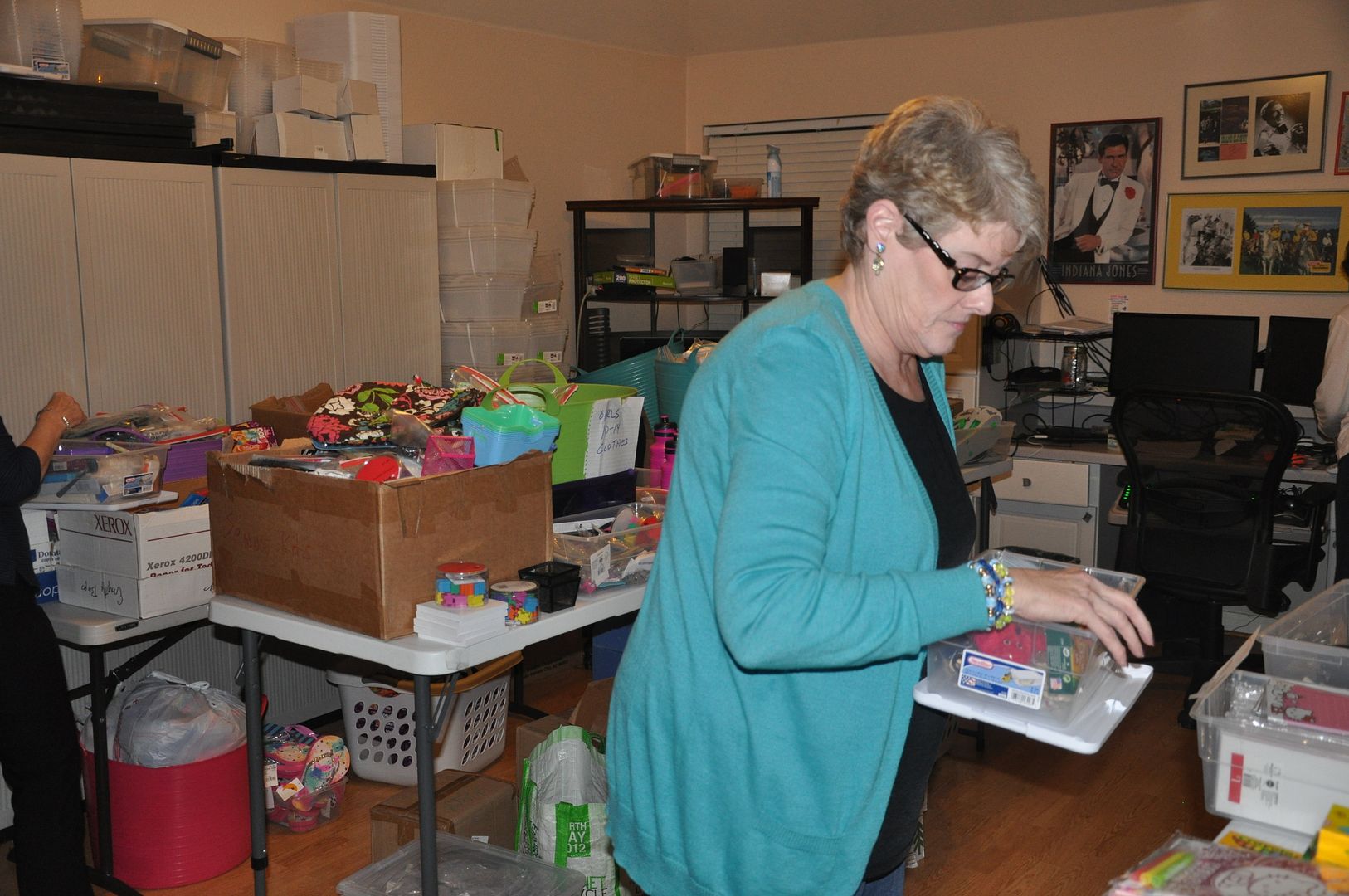 You have to love people like Sue that find stuff for the boxes all year long, then come over to pack after a very long day at work.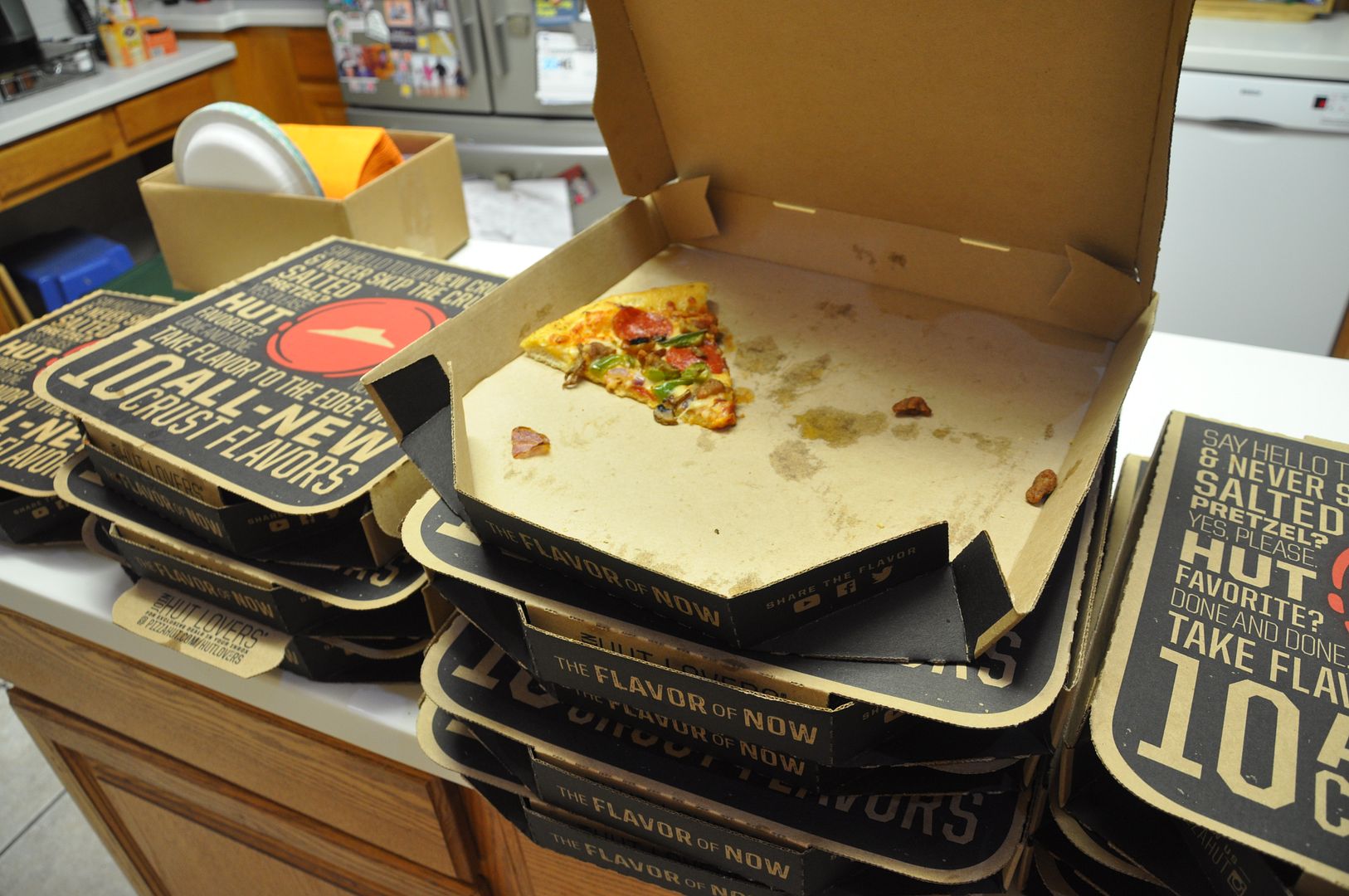 Huge thanks to friend Amy K for dinner Wednesday night, and breakfast Saturday morning.  Just not having to worry with that was a much-appreciated help.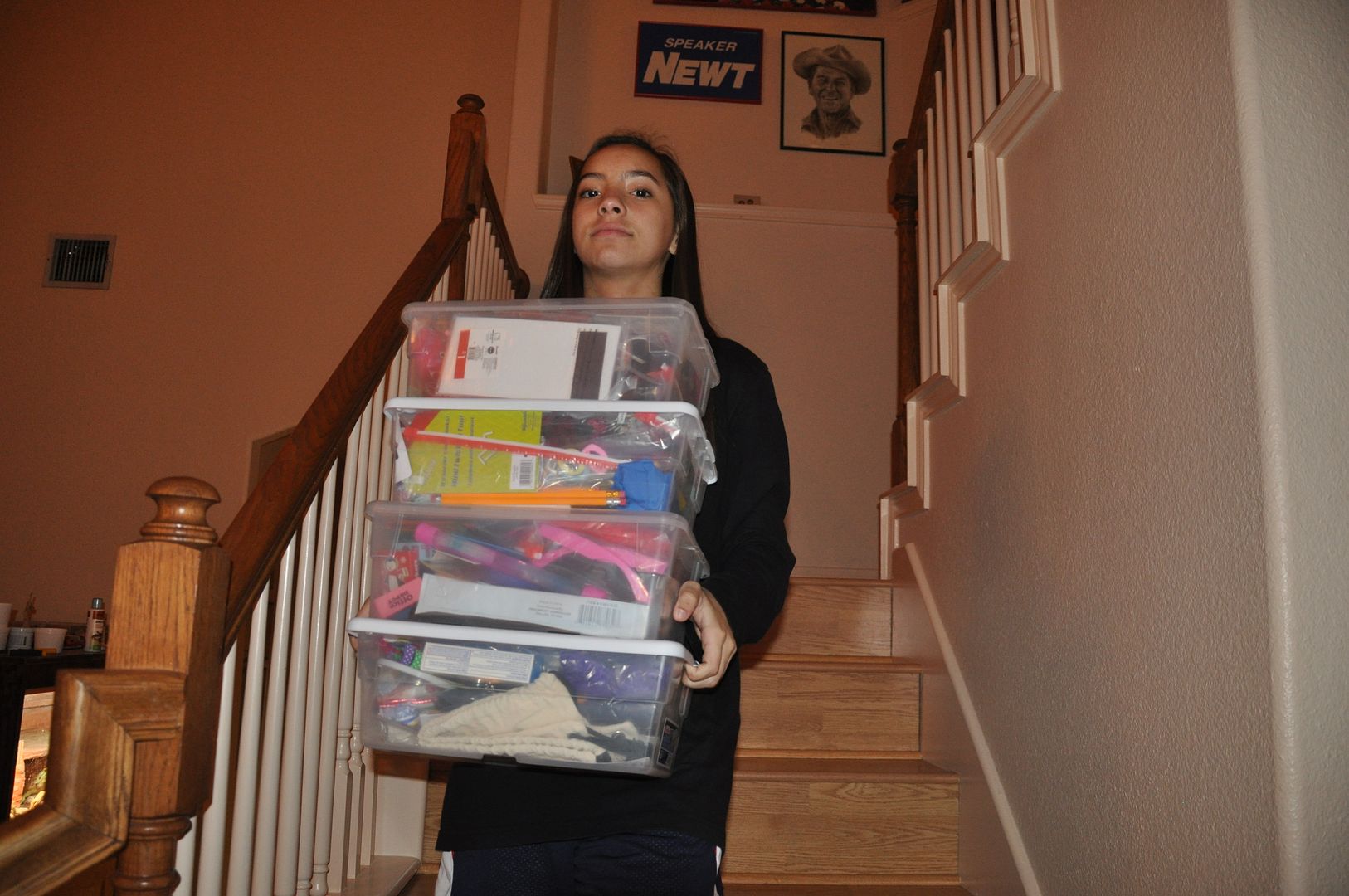 Once the boxes were packed upstairs, young legs brought them downstairs for fit'n'finish.  Julia's joy at one more interruption to homework was often evident.
 
We piled packed – but unfinished – boxes in the dining room.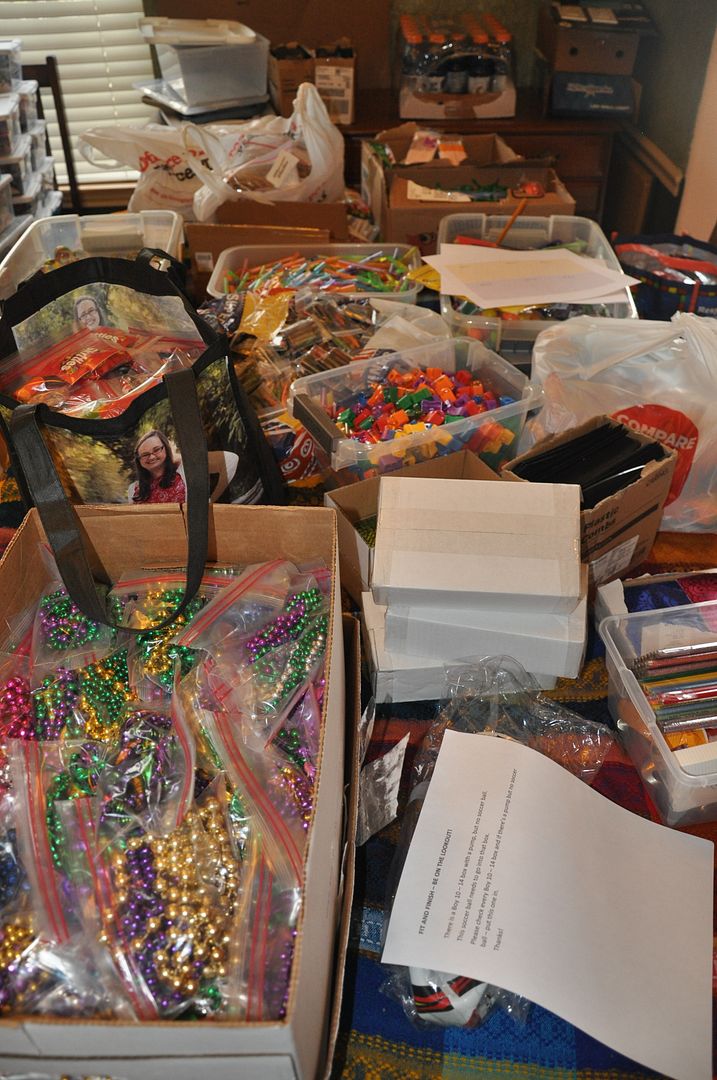 The fit'n'finish (dining room) table – critical!  Just because a box is packed doesn't mean it's ready to go.  It needs little things inserted into it – a comb, a pack or two of Kelley's crayons, maybe beads or small toys, definitely two or more small bags of candy. Plus it has to be rubber-banded, and stroke-tallied.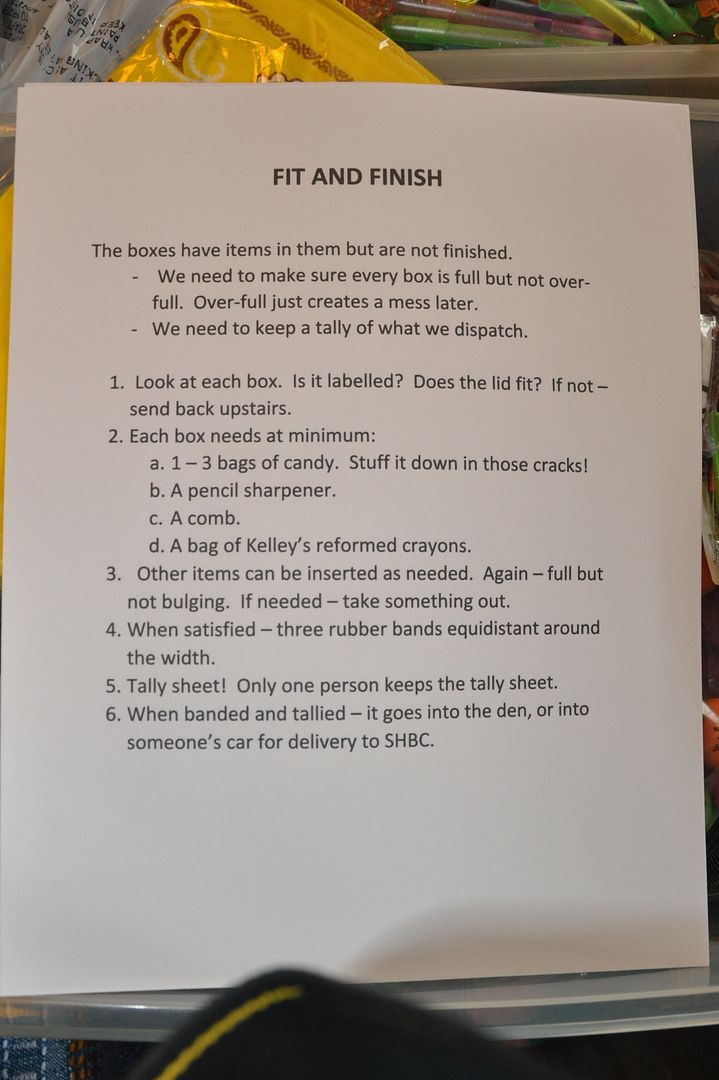 With so many people doing fit'n'finish at different times, it was just easier to write down the instructions.
 
Johnnie – a fit'n'finsh master….

Travis with dad Jay – a fit'n'finish novice.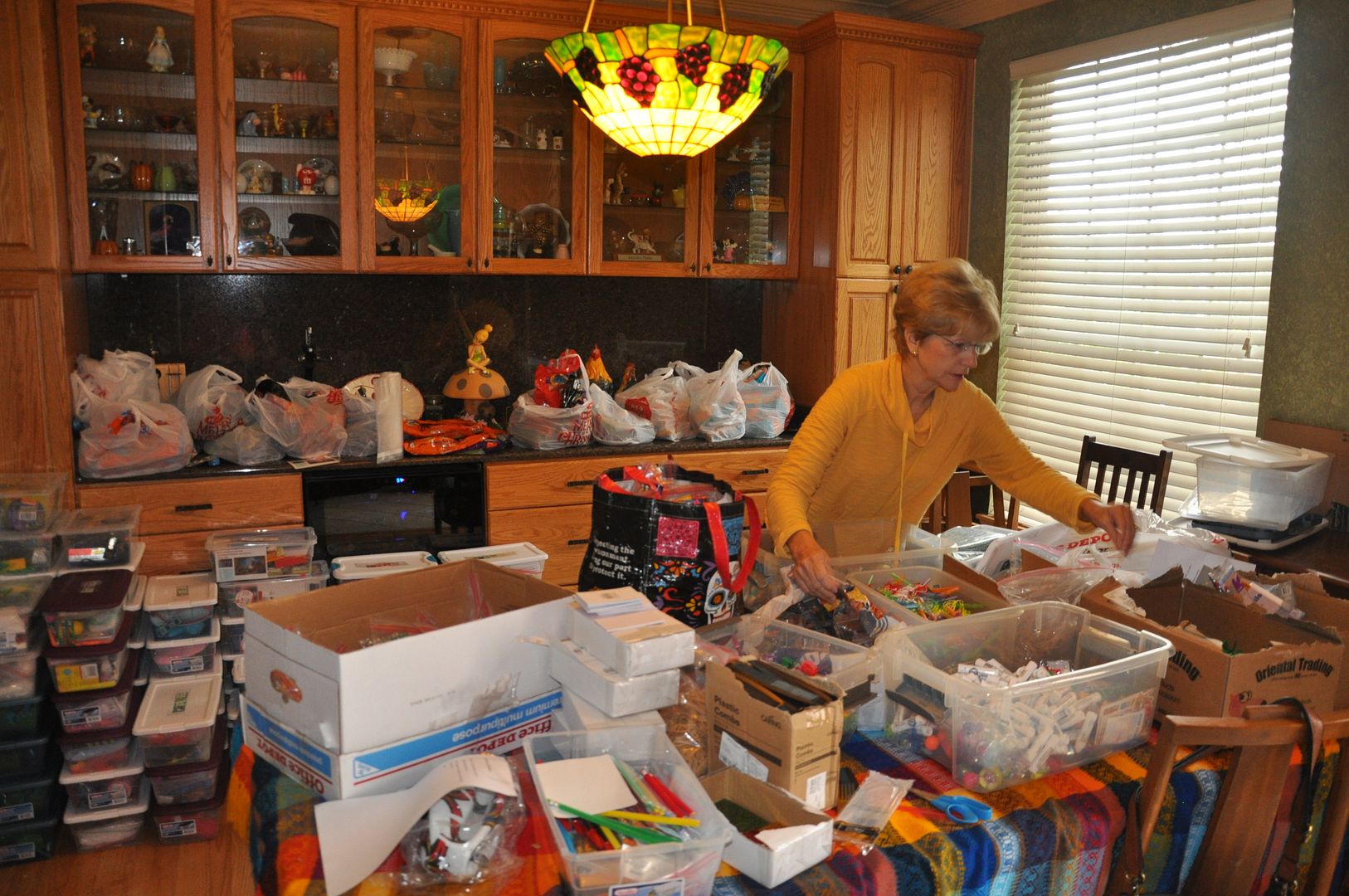 I took four days of vacation so folks could come over during the day.  Phyllis came over mid-day Thursday and finished dozens of boxes, plus took a huge load for later delivery to church.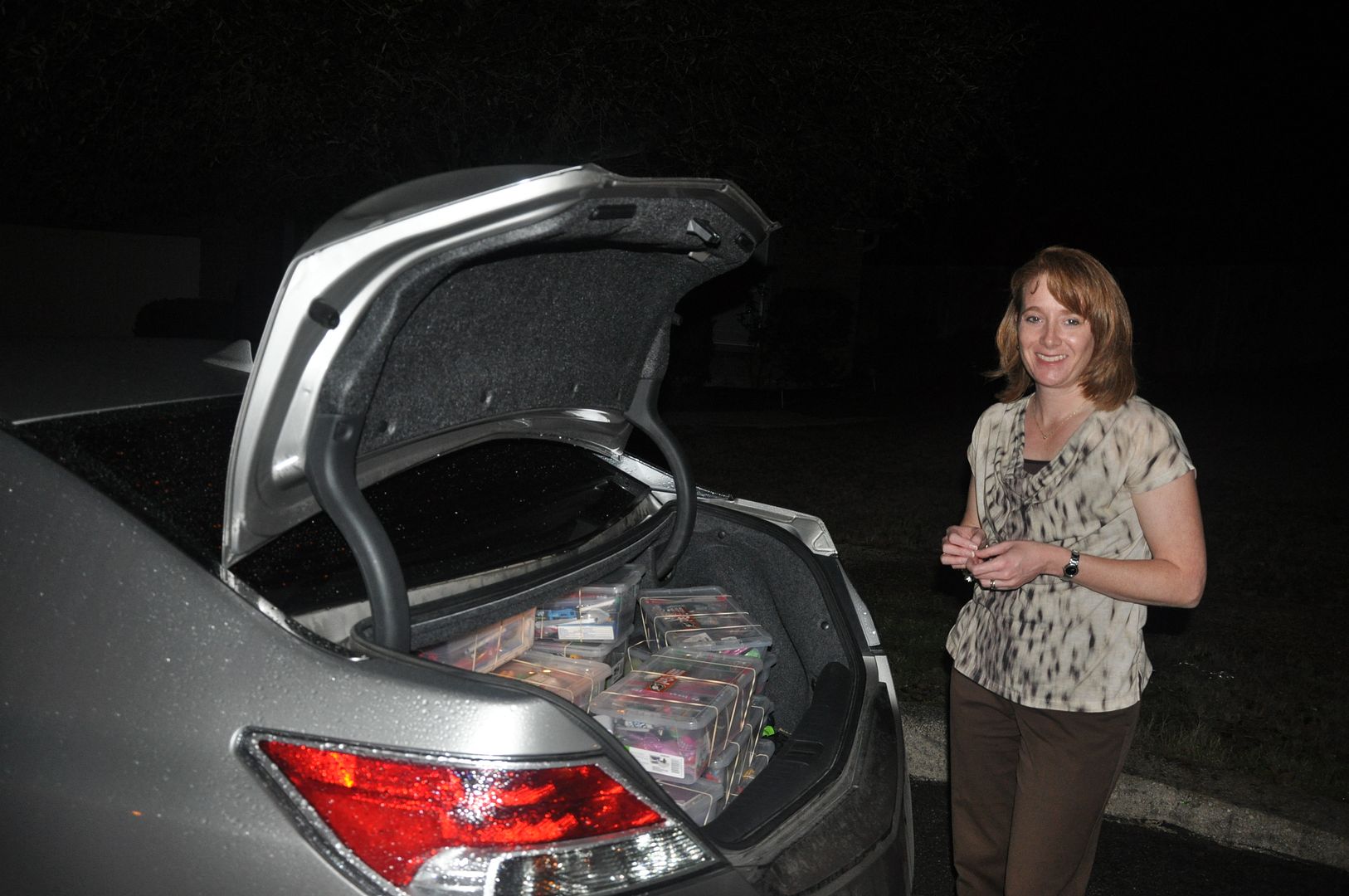 This year – knowing we were going to have an unusual number of boxes and Keith was out of town – I really had to worry about transport logistics.  I asked friends from church who helped pack to please take boxes with them.  The very first boxes to leave the house went with friend Jenae on Wednesday night.  She moved items to the back seat so we could efficiently stuff her trunk.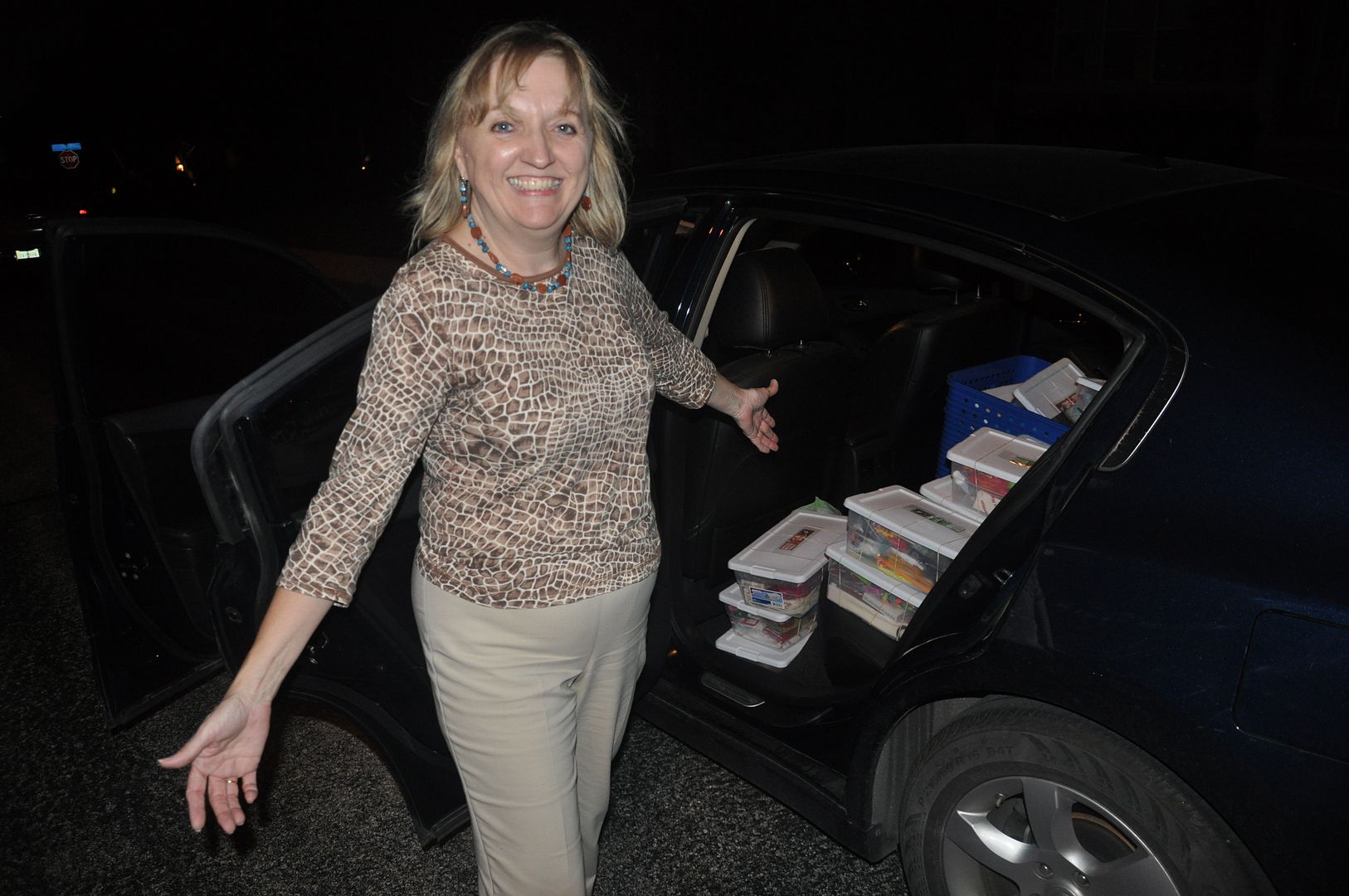 Good-natured Sandra also filled her trunk and back seat, even though she was going out of town soon.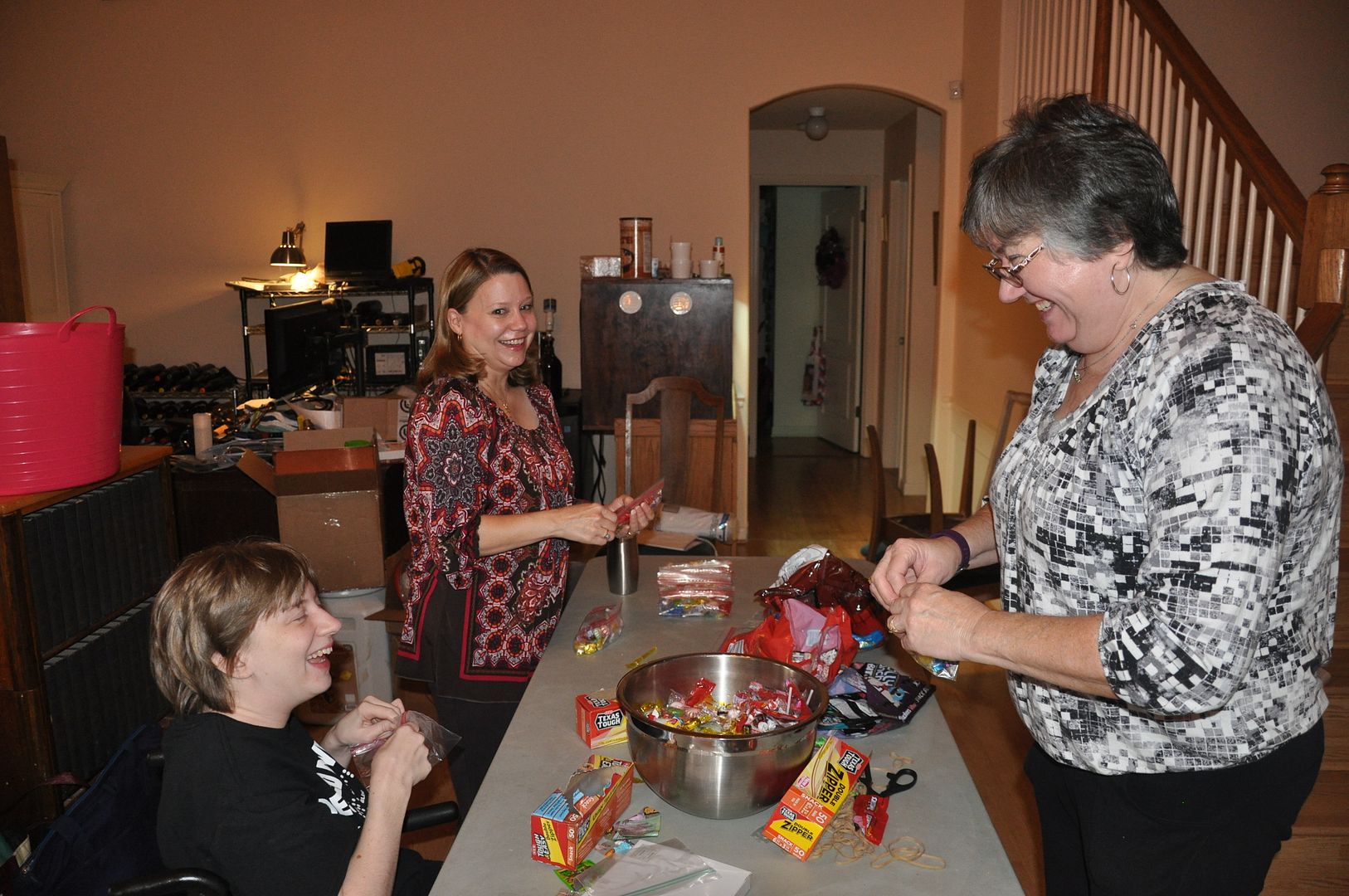 Saturday morning crunch time.  More than 300 boxes had left the house, but we had more than 100 awaiting fit'n'finsh, plus many more to pack.  (l-r) Kelley, Angela and Paula – first on the scene, and bagging more candy.  We used $300+ worth of half-price, post-Halloween candy.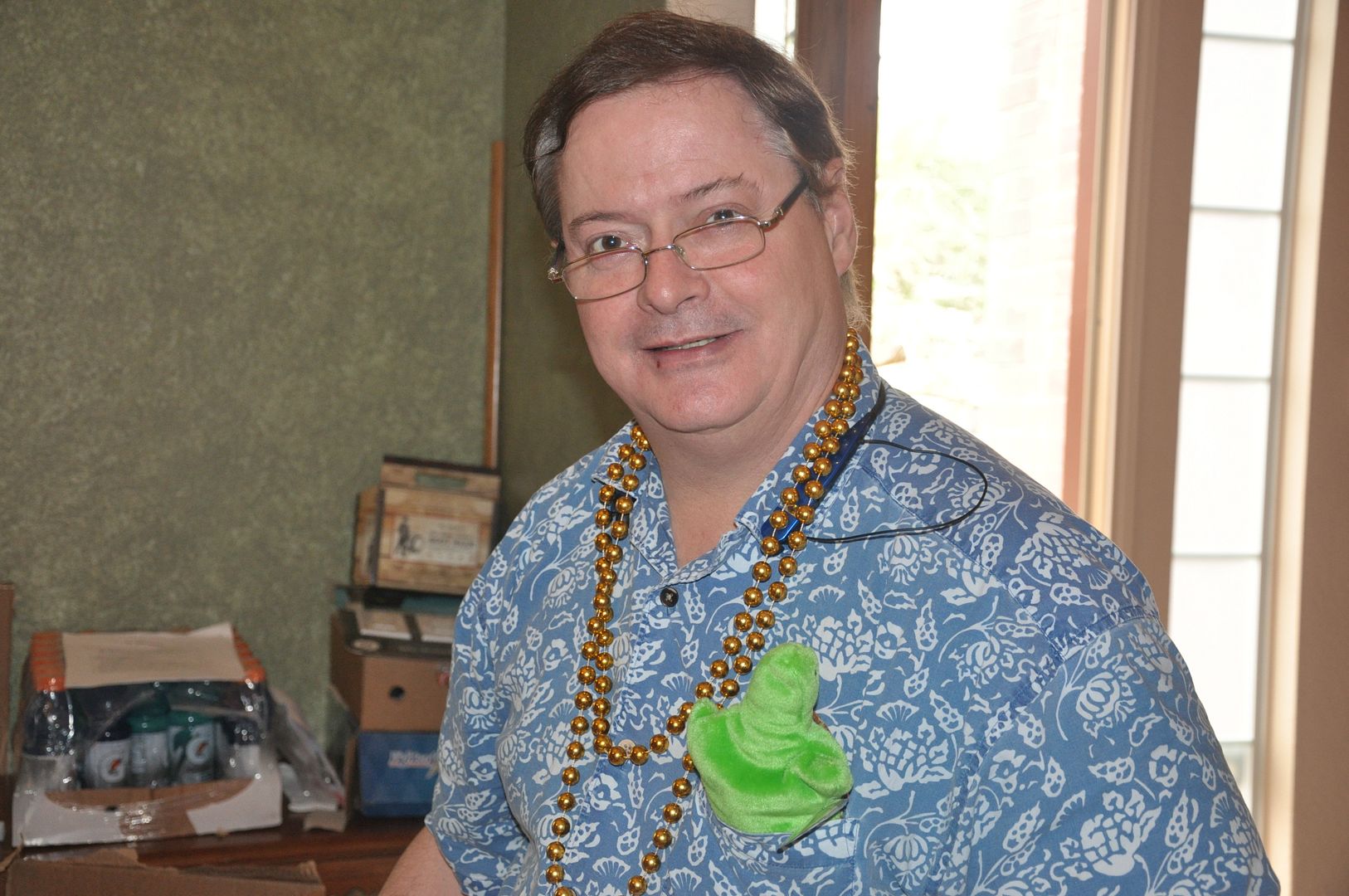 Bart-man to the rescue for final candy packing!  He's the Tootsie Roll King!

The wonderful young legs carrying out boxes to cars.  Julia's friend Emily has helped in years past, too. 
Jim and Sherry responded to my plea to come get boxes.  It helps to have no pride (and have really good friends.)
 
Done!  Friend Amy K and her daughter Heidi were incredible Saturday morning.  Amy came to help pack – took an entire carload of boxes to church – then returned with Heidi to finish, and take another carload.  Unbelievable.  No glamour here, just plain hard work.  And how many boxes did we finish?  Their hands tell the story – 6-0-2.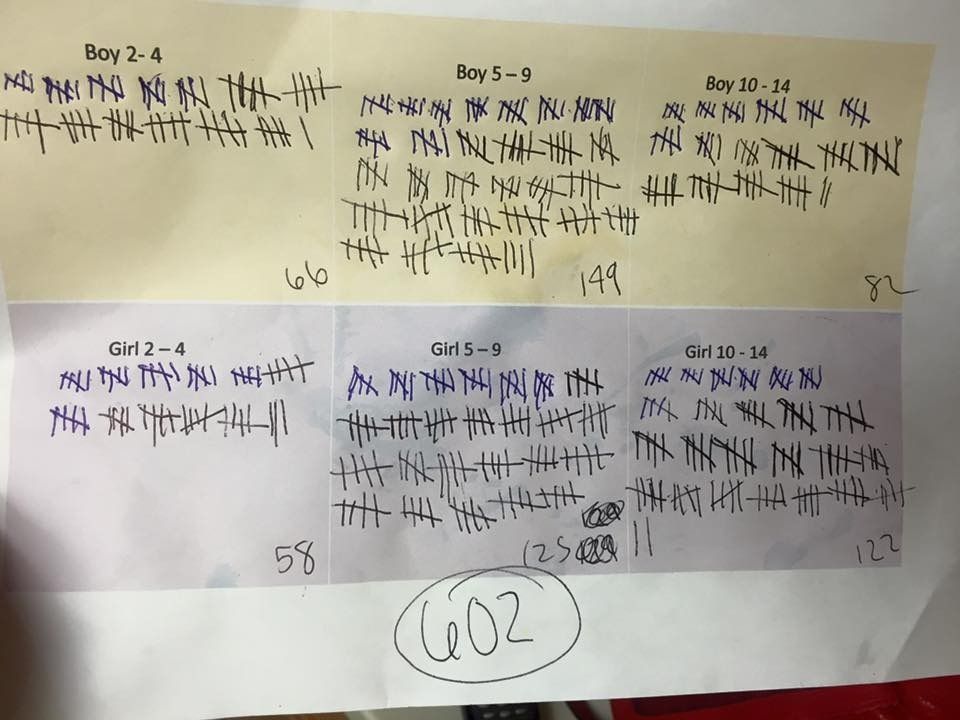 Hannah's stroke sheet gives a little more detail.  We had more stuff for toddlers this year than in all other years combined.  We packed their boxes – and the older kids' boxes – first so we could then make room for ages 5 – 9.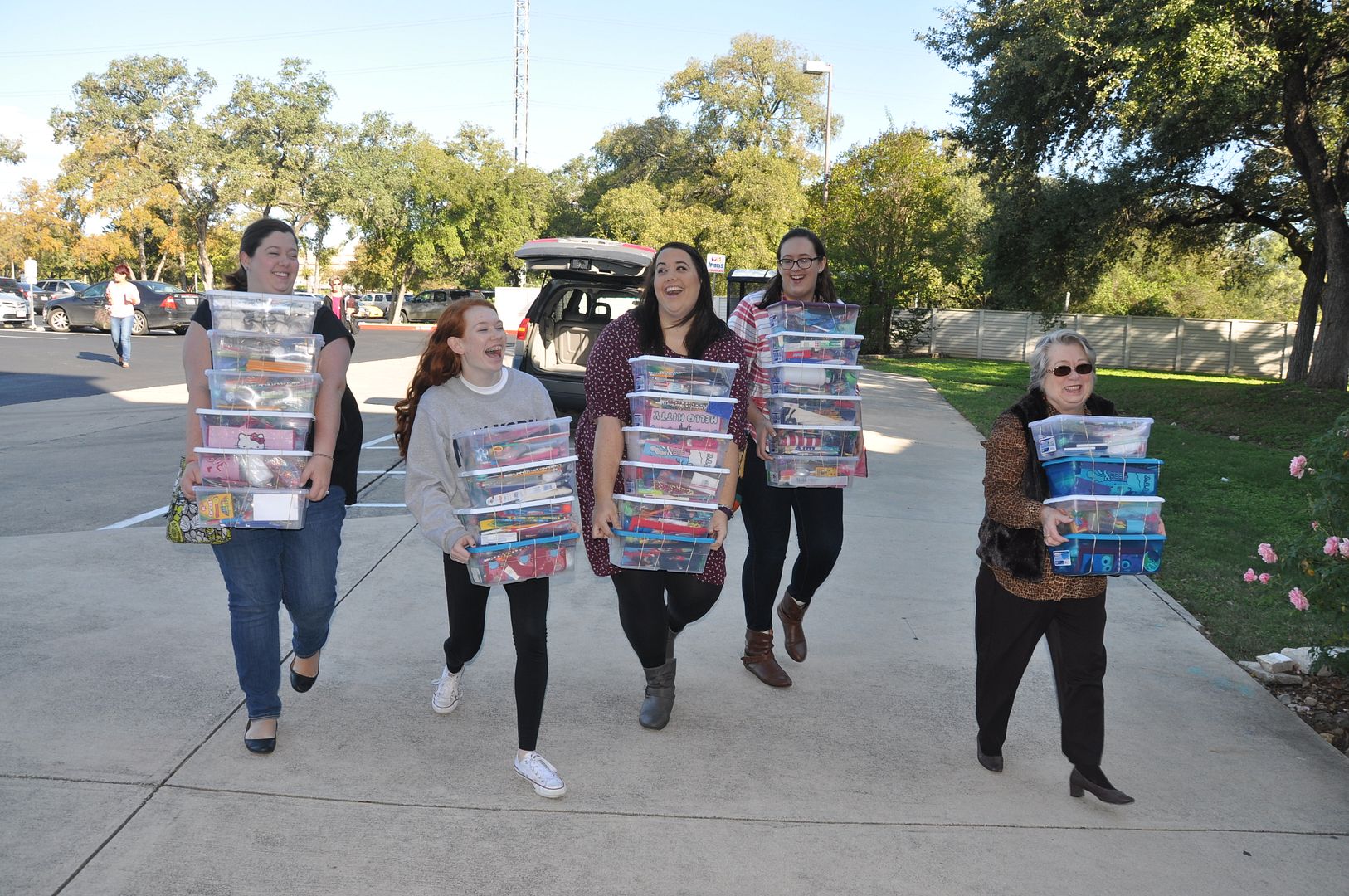 The funny thing was – friends took all our boxes,  We took none to church on Sunday morning!  So we just helped unload people's cars.

All 602 boxes are either in or one their way to processing in Dallas.  And from there -God knows.  Literally.  He knows. 
Thank you to everyone who shopped and stuffed, carried and counted, donated and delivered.
602….WHOO-WHOOOOOOOOO!